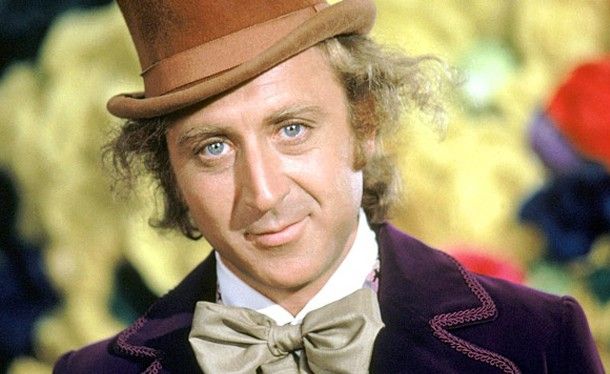 Updated | Gene Wilder, comedian and star of films like Young Frankenstein, Blazing Saddles and Willy Wonka and the Chocolate Factory, died Monday at his home in Stamford, Connecticut, according to his nephew Jordan Walker-Pearlman. Wilder was 83 and had been suffering from Alzheimer's.
Born in Milwaukee, Wilder got his break working with Mel Brooks in the '60s, which led to his starring in 1968's The Producers. His portrayal of Leopold Bloom landed Wilder an Oscar nomination for best supporting actor. He worked with Brooks into the '70s, most notably on 1974's Blazing Saddles and Young Frankenstein, the latter of which earned Wilder another Oscar nomination, this time for adapted screenplay.
But Wilder's most iconic role came in 1971, when he starred as Willy Wonka in Willy Wonka and the Chocolate Factory. Though the film wasn't a commercial success, it has endured as a generation-spanning staple for any child with even a passing interest in rivers of chocolate or little orange men. No one was cooler than Willy Wonka, and no place was cooler than his factory.
Wilder continued to work through the '80s and '90s, most notably with Richard Pryor in Silver Streak (1976), Stir Crazy (1980), See No Evil, Hear No Evil (1990) and Another You (1991). Later in life, Wilder settled in Connecticut with his wife Karen Boyer. They lived in a house willed to Wilder by his third wife, Saturday Night Live's Gilda Radner, who died of ovarian cancer in 1989.
After Wilder's death, his nephew Jordan Walker-Pearlman released a statement detailing his uncle's passing. "It is with indescribable sadness and blues, but with spiritual gratitude for the life lived that I announce the passing of husband, parent, and universal artist Gene Wilder, at his home in Stamford Connecticut," he wrote. "It is almost unbearable for us to contemplate our life without him."
Walker-Pearlman continued to say that they waited until Wilder's death to disclose his Alzheimer's because children would not have to see Willy Wonka on the street and think of illness. "He simply couldn't bear the idea of one less smile in the world," Walker-Pearlman wrote of Wilder.
He also noted that Ella Fitzgerald's "Somewhere Over the Rainbow" was playing as Wilder died. "As our hands clutched and he performed one last breath the music speaker, which was set to random, began to blare out one of his favorites: Ella Fitzgerald. There is a picture of he and Ella meeting at a London Bistro some years ago that are among each or cherished possessions. She was singing 'Somewhere Over the Rainbow' as he was taken away."
Rest in peace, Gene.
This post has been updated.