'Genius' Hack To Keep 'Escape Artist' Puppy in Fence Delights Internet
A puppy's owner has found a way to keep the tiny canine inside a fence using a wooden spoon, and the hack is being applauded by viewers online.
A long-haired red and brown miniature dachshund puppy named Scouty Louise has gone viral for sporting the spoon keeping her safe. The viral TikTok, captioned, "Escape artist no more! #bulls**t #escapeartist #scoutylou #dachshund #dachshundsoftiktok #dachshundpuppy #foryou #fyp #cute #doxiesoftiktok #dachsundpuppies #cutenessoverload," has been viewed 5.6 million times and liked 941,000 times since it was shared on May 29.
TikToker @scouty_lou_themini told Newsweek: "It was just a random TikTok I posted. I've only ever done a handful, and this one blew up! I never expected it to go viral. Scout is my 14-week-old Mini Dachshund puppy, and she is full of spunk!"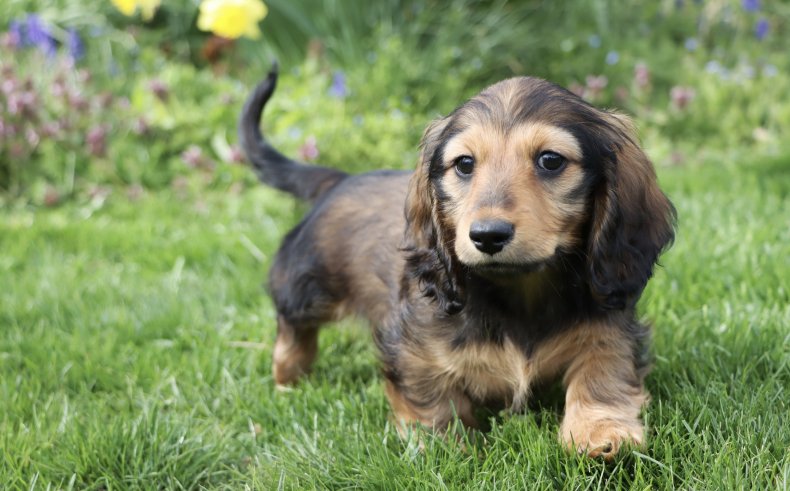 According to Purina, the long-haired miniature dachshund has a lifespan of 12 to 15 years, and they are considered independent and clever. They love their owners and their family, but they often form a strong attachment with one person in particular.
TikToker @scouty_lou_themini shared the 17-second clip with sound effects. The puppy had on a blue vest with a wooden spoon attached to it on her back so that it hung out a few inches on either side of her. The accessory was used as a way to keep the canine within the fence.
"Bulls**t," a little voice could be heard saying as another person laughed.
Scouty got closer to a black metal fence, which had a few inches of space between each of the bars, easily large enough for the puppy to escape through to the other side. Another dog stood nearby as well.
"What is it?" another voiceover said as the TikToker got closer.
Scouty then attempted to go through the bars in the opening by trying to jump through the fence, but the spoon prevented her from doing so as it was larger than the fence opening.
"This is bulls**t," a voiceover chimed in. The puppy stuck her nose out through the opening, but she wasn't able to get free of the gate.
"It works," the TikToker said, and both dogs looked up at her.
Scouty walked around, eventually stopping and rolling over to chew on the handle of the wooden spoon before the video cut off.
TikTok Reactions
Over 6,500 comments poured in over Scouty's accessory, and many people think it's a smart idea. "You're a genius," a TikToker said about Scouty's owner.
Another viewer pointed out Scout's "look of betrayal after the escape attempt," adding, "My friend uses an inflatable donut around his dog's neck for [the] same reason."
While a TikToker admitted they are "amazed almost daily" with the videos they watch. "I would have never thought of this as a solution," they added.
Some people admitted they'll be implementing the same idea now. "I am going to do this with my Yorkie, thanks for posting," a viewer expressed.
Others have also done the same thing before as well. "It does work!" a TikToker confirmed. "I sewed one on to my chihuahua's harness because my other dogs were pulling it out. My chi chewed the spoon off!"
One viewer honed in on the dog's reaction to not being able to get out of the fence. "Lmao he looked back like what happened?" a user weighed in. "Then went for the spoon."
Comments of appreciation included things like, "The power of the wooden spoon," "Great thinking," and "Best dog hack ever. You nailed this assignment."
This isn't the only viral moment involving dogs. The Internet is loving a dog's predator prevention outfit. Another dog took their favorite toy to their grandmother's house. In addition, a dog who sings to the piano has shocked the Internet.