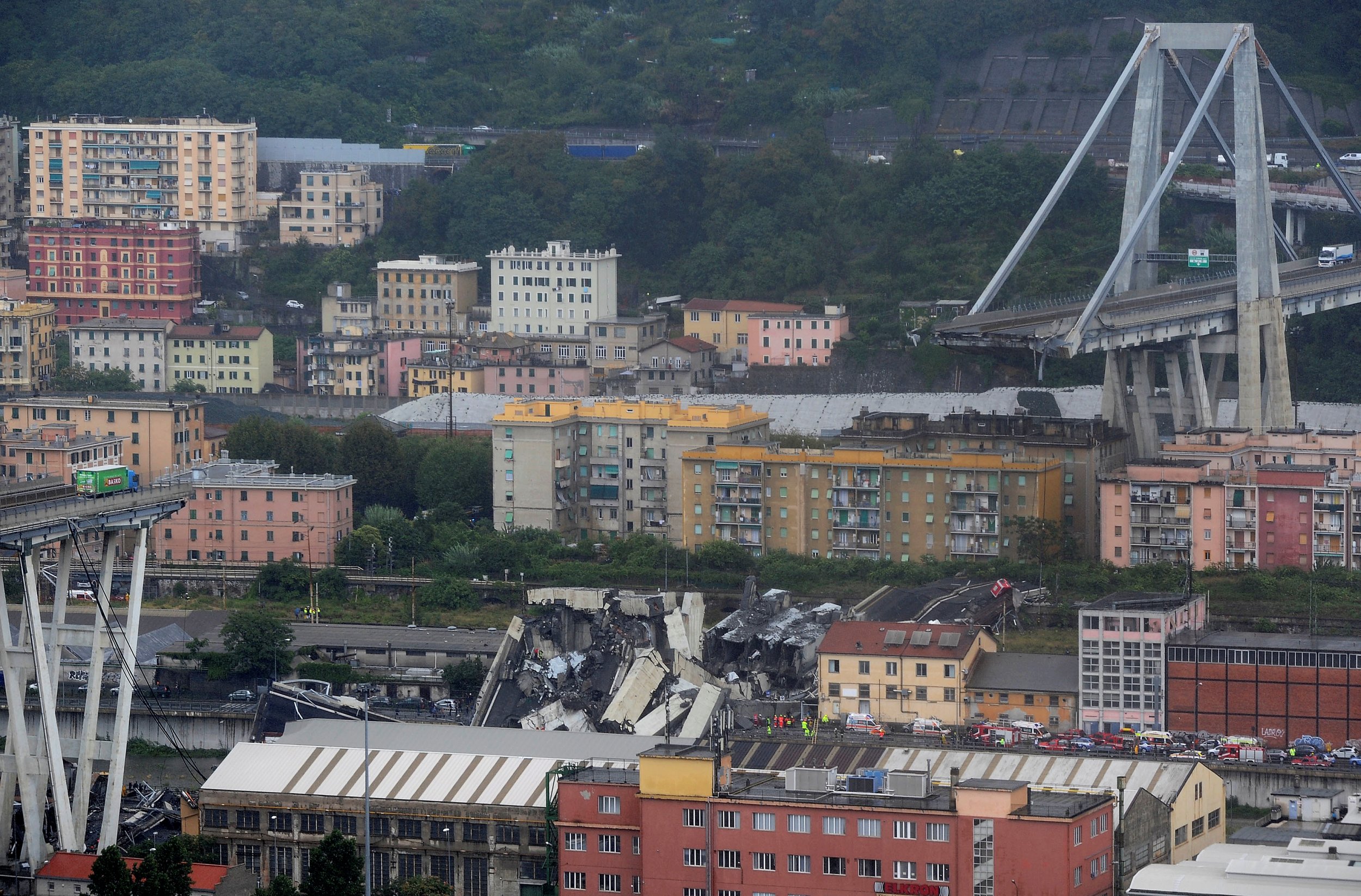 A highway bridge in the historic Italian city of Genoa has partially collapsed resulting in multiple deaths, as rescuers continue to dig through the rubble in search of survivors.
Part of the Ponte Morandi failed late Tuesday morning. At least 22 people are known to have died in the collapse, Reuters reported, quoting Italy's transport minister. A young child is believed to be among the dead.
The cause of the collapse is not yet known, but local media have suggested a structural failure during a violent storm. According to Giornalettismo, the structure was in poor health and subject to constant maintenance works in recent years. Built in the 1960s, the road across the bridge is a vital route to the Italian Riviera and to the southern coast of France.
Video footage taken nearby showed the bridge mid-collapse, with parts of the structure slowly tumbling out of sight as fog enveloped the scene. Onlookers could be heard screaming, "Oh my God! Oh my God!
Roughly 655 feet feet of roadway came down, though reports differ as to the exact length of the destroyed section. The debris fell around 165 feet onto buildings and a railway below. Specialist urban search and rescue teams with dogs have been deployed to the scene to help find survivors. Images posted by the ANSA news agency showed vehicles that had fallen into the stream running below the bridge.
Read More…Video: Genoa Bridge Collapses, 'Dozens' Feared Dead in Italy
Danilo Toninelli, Italy's minister for infrastructure and transport, said he was following the "immense tragedy."
Video taken on the ground below the bridge appeared to show emergency workers performing first aid on a victim. Several smashed vehicles could be seen sat behind them. La Repubblica journalist Riccardo Liguori reported that at least 12 people have been rescued alive from the rubble.
Images and videos posted on social media showed huge chunks of concrete piled up on the ground as dust filled the air. The remnants of the bridge could be seen standing far above the debris, part of its massive span missing. One picture taken from the ground showed a van perched on the very edge of the remaining roadway staring out into the foggy abyss, its driver having made a lucky escape.