George Conway Mocks Donald Trump's 'Easy' Suggestion For Avoiding Tariffs on China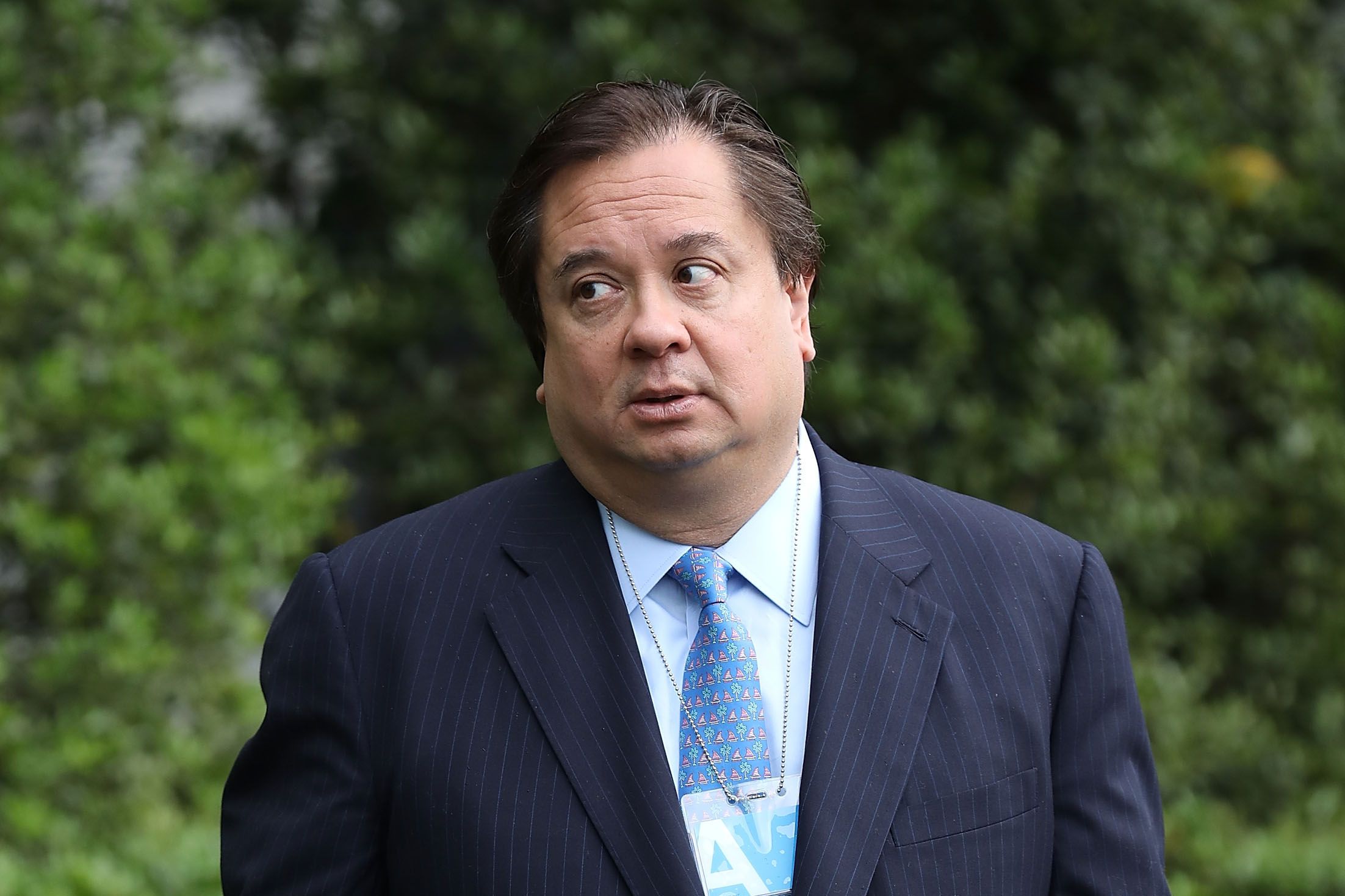 George Conway, attorney and husband to Counselor to the President Kellyanne Conway, on Saturday mocked President Donald Trump's suggestion of an "easy" and "very simple" way to avoid tariffs after the White House once again increased tariffs on goods imported from China.
Critics slammed Trump Friday after he raised tariffs from 10 percent to 25 percent on about $200 billion worth of Chinese products. U.S. Trade Representative Robert Lighthizer later that day said that Trump "ordered us to begin the process of raising tariffs on essentially all remaining imports from China, which are valued at $300 billion."
While most of the goods hit with the 25 percent tariff are industrial or component parts to products made in the U.S., a number of consumer goods are also affected, including backpacks, baseball caps, bicycles and luggage.
The president on Saturday presented what he viewed as a simple option for affected Americans to get around these tariffs.
"Such an easy way to avoid Tariffs? Make or produce your goods and products in the good old USA," Trump tweeted. "It's very simple!"
George Conway, who frequently criticizes the White House, even though his wife is one of its highest-profile staffers, bashed Trump's suggestion.
"Precisely the sort of economic wisdom you'd expect from a man who sent a generation of bankruptcy lawyers' kids to college," he tweeted.
George Conway did not elaborate on his attack on Trump. The lawyer also retweeted MSNBC host Lawrence O'Donnell's reply to Trump's tweet that "Tariffs are NOW being paid to the United States by China" and that "These massive payments go directly to the Treasury of the U.S."
"Wrong," O'Donnell tweeted. "Your tariffs are being paid by American consumers. Countries do not pay tariffs."
Trump posted 10 tweets on Friday defending his tariffs decision.
"Tariffs will make our Country MUCH STRONGER, not weaker. Just sit back and watch!" Trump tweeted. "In the meantime, China should not renegotiate deals with the U.S. at the last minute. This is not the Obama Administration, or the Administration of Sleepy Joe, who let China get away with 'murder!'"
The president argued that Americans could become more reliant on the country's farmers.
"Tariffs will bring in FAR MORE wealth to our Country than even a phenomenal deal of the traditional kind. Also, much easier & quicker to do. Our Farmers will do better, faster, and starving nations can now be helped," Trump tweeted. "Waivers on some products will be granted, or go to new source!"
Trump added that "If we bought 15 Billion Dollars of Agriculture from our Farmers, far more than China buys now, we would have more than 85 Billion Dollars left over for new Infrastructure, Healthcare, or anything else."
The president's views on tariffs have been heavily criticized. Last week, when Trump claimed that China was paying billions of dollars to the U.S. because of the existing tariffs, many people immediately pointed out what a number of economists had already noted: That it was American companies and consumers who ultimately pay for products affected by import tariffs.
Additionally, economic forecasters this week warned of the potential damage a trade war with China could wreak, particularly if China makes good on its threat to retaliate on the increased tariffs.
One estimate from Oxford Economics concluded that Chinese retaliation on this latest round of tariff increases could cost the U.S. economy $62 billion, or $490 per household, in economic output. If Trump eventually raises tariffs on all goods imported from China and there is retaliation, the estimate of economic damage increasese to $100 billion, or around $800 per household.
Bank of America this week warned against the possibility of a trade creating the "potential to enter bear market territory in a global recessionary scenario."