George Conway Says Republicans Earn 'Merit Badges' By 'Telling Lies' for Donald Trump
Attorney George Conway took aim at Republicans on Monday morning, suggesting that politicians with the conservative party earn "merit badges" like in the Scouts for "telling lies" in support of President Donald Trump.
Although Conway is married to Trump's senior adviser Kellyanne Conway, who routinely defends the president in the media, George has become one of the president's harshest critics and has strongly advocated for impeachment. He previously identified as a Republican, but became an independent in 2018, largely due to his opposition to Trump.
Conway's Monday criticism came following comments made by House Minority Leader Kevin McCarthy to Fox News Sunday, in which the Republican from California claimed that the FBI "spied" on Trump's 2016 campaign and tried to "cover it up." The GOP leader argued that this was a "modern-day Watergate."
"You see, it's like merit badges in the Boy Scouts and Girl Scouts, except that instead of earning them by doing good deeds, with IMPOTUS @realDonaldTrump you earn them by telling lies to the public for his benefit, the bigger the better. #IMPOTUS," the conservative attorney wrote on Twitter, sharing a tweet from MSNBC host Stephanie Rhuel calling out McCarthy.
"THIS IS A LIE," Ruhle wrote. "Why would @GOPLeader go on tv and choose to tell this lie?"
Newsweek has reached out to McCarthy's press secretary via email for comment.
McCarthy's remarks were a reference to the FBI surveillance of Trump's 2016 campaign. An investigation was launched by the Justice Department into the origins of the FBI surveillance, as the president and his supporters have argued it was politically motivated. However, inspector general Michael Horowitz's findings, which were released earlier this month, showed that the surveillance was "opened for an authorized investigative purpose and with sufficient factual predication."
Horowitz's report noted that the FBI did not insert any "spy" into the campaign, although FBI meetings with several campaign officials took place. It did not find any evidence of political bias influencing the investigation, although it noted that lower-level FBI officials had acted in a highly improper manner to obtain a FISA warrant for Trump campaign aide Carter Page. But the FBI leadership did not act improperly, the report said.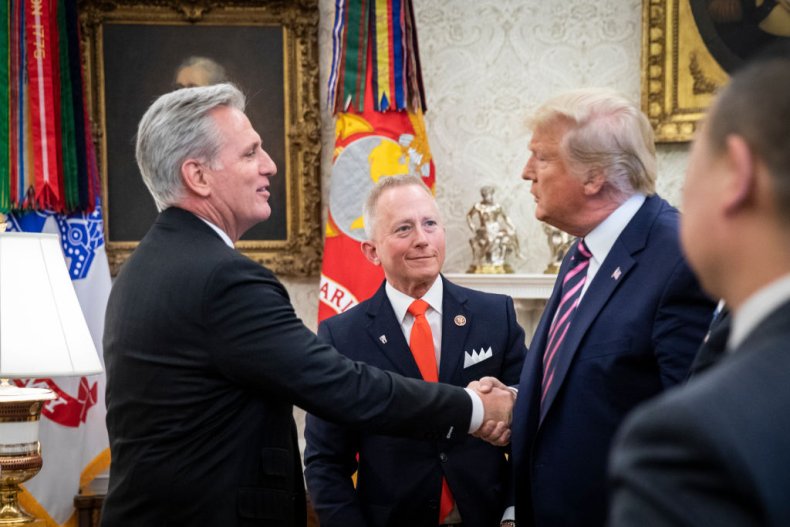 The investigation against Trump's campaign was launched based on credible concerns about Russian interference in the 2016 election. Although special counsel Robert Mueller, in a separate investigation, did not find that Trump's team had conspired with Russia, he concluded that the Kremlin had worked to promote the president's candidacy, as have other U.S. intelligence agencies. Top Trump campaign officials had numerous questionable contacts with Russian officials and agents, leading to the FBI's concern.
Trump and some of his supporters have continued to insist that the FBI acted in a politically motivated manner and "spied" on the president's campaign. Notably, former FBI Director James Comey, who was later fired by Trump, was also accused of political bias by supporters of Democratic presidential candidate Hillary Clinton, as he held a public press conference just ahead of the election, in which he criticized the former Secretary of State's handling of sensitive emails. Comey concluded, however, that Clinton's actions did not warrant criminal charges.