George Conway Says Trump Is a 'Malignant Narcissist': He's 'Both Mentally Disordered and Evil'
Attorney George Conway — husband of high-ranking White House aide Kellyanne Conway and near-constant critic of his wife's boss Donald Trump — this week attempted to assess the president's psychiatric condition and concluded that he is a "malignant narcissist."
Conway engaged in a Twitter thread between several doctors and neurologists on Thursday discussing Trump's psychiatric condition. "The word 'insane' is not currently in vogue and has nonspecific meaning both psychiatrically and legally. It is usually used for people with psychosis. Trump is delusional, but not psychotic," Eliot Ivanhoe, a classical acupuncturist and neurologist, tweeted." He is, however, nuts, crazy, mad, bonkers, and certainly not sane. I call him 'INSANE.'"
In response, Conway argued that Trump "is legally and diagnostically sane." "But he suffers impairment from at least two diagnosable personality disorders, and needs a full workup for possible onset of dementia. He's obviously unfit. He'd be drummed out of any other job," the lawyer explained. "Colloquially, though, we can say he's nuts."
Later, Conway responded to another tweet discussing whether Trump is "crazy" or "evil." "Malignant narcissists, virtually by definition, are both mentally disordered and evil," Conway tweeted.
The lawyer followed up his tweet by sharing links to two Amazon books titled The Dangerous Cause of Donald Trump: 37 Psychiatrists and Mental Health Experts Assess a President and Trump on the Couch: Inside the Mind of the President. These are "essential reading," he wrote.
The White House did not immediately respond to Newsweek's request for comment.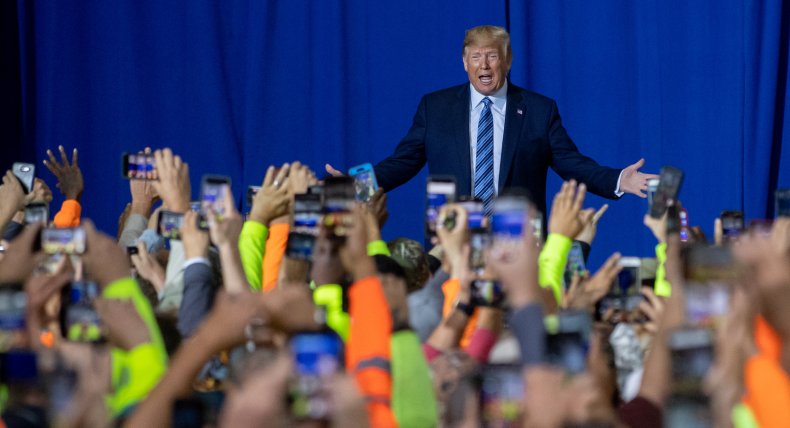 Conway was not the first public figure to have questioned the president's allegedly deteriorating health in recent weeks. Last Friday, former White House communications director Anthony Scaramucci called his former boss "worse than racist" and claimed the president's mental health is in decline.
"I think the guy is losing it, mentally," Scaramucci told Vanity Fair. "He has declining mental faculties; he's becoming more petulant; he's becoming more impetuous. Okay, you see just by the way he's sweating, his body's not doing well."
Speculation about the state of Trump's mental health has been ongoing since he took office in January 2017. Last year, Yale psychiatrist Bandy Lee told Newsweek that a longtime family friend of the Trumps and two officials from the president's administration approached her with concerns about the president's health.
Lee wrote in an article published in The Conversation that the president showed "psychological symptoms reflective of emotional compulsion, impulsivity, poor concentration, narcissism and recklessness."
"My current concern is that we are already witnessing a further unraveling of the president's mental state, especially as the frequency of his lying increases and the fervor of his rallies intensifies," she wrote. "I am concerned that his mental challenges could cause him to take unpredictable and potentially extreme and dangerous measures to distract from his legal problems."