George Conway Slams Trump for Apparently Confusing Name of Air Force One with Putin's 'Aircraft One'
Attorney George Conway — husband of high-ranking White House aide Kellyanne Conway and near-constant critic of his wife's boss President Donald Trump — celebrated his 4th of July by poking fun at the latest gaffe from the commander-in-chief.
Ahead of his Independence Day celebration on the National Mall Thursday, President Trump tweeted that "Aircraft One" could make an appearance at the event, a comment that prompted confusion online. Trump later deleted the tweet and replaced it with one that had the correct spelling of "Air Force One."
"People are coming from far and wide to join us today and tonight for what is turning out to be one of the biggest celebrations in the history of our country, SALUTE TO AMERICA, an all day event at the Lincoln Memorial, culminating with large scale flyovers of the most modern and advanced aircraft anywhere in the World," Trump wrote in the since-deleted tweet, adding "perhaps event Aircraft One will do a low & loud sprint over the crowd."
Although the president corrected the mistake a short time later by amending the term to "Air Force One," frequent Trump critic George Conway — whose wife Kellyanne Conway serves as Counselor to the President — and several other Twitter users pointed out that "Aircraft One" is the name of Russian President Vladimir Putin's presidential jet.
"But here's something about a plane that apparently *is* called 'Aircraft One,'" Conway tweeted on Thursday afternoon, alongside a link to the description of a Russian state TV documentary about Putin's plane called Aircraft One.
"Called 'Kremlin-In-the-Air', it carries Russia's most important passenger — the President. Set in the context of real historical events, the film reveals unique facts about life and work aboard the Aircraft One," the description read.
In light of Special Counsel Robert Mueller's 18-month-long investigation into whether Trump's 2016 campaign conspired or coordinated with the Russian government in its election interference activities, some users in the responses to Conway's tweet accused the president of a "Freudian slip" when he wrote that Aircraft One may fly over the crowd on the National Mall.
"Of course a Freudian Slip.. Trump's probably went aboard also. It figured," one user tweeted.
"Coincidence that 'aircraft one' is Putin's plane. I don't think so," another wrote.
Twitter user Florence Gyomery added: "Maybe it is code name for the mother ship? and it is coming to take him away...."
Conway wasn't the only person that pointed out the apparent Kremlin connection in Trump's deleted tweet on Thursday. Breakfast Media White House correspondent Andrew Feinberg tweeted: "'Aircraft One' is what Putin's plane is known as in Russia. For those who are curious, there's a Russian state TV documentary about Putin's plane (available on streaming services) called 'Aircraft One.'"
Volume I of the redacted 448-page Mueller Report, released to the public by the Department of Justice on April 18, concluded that the investigation failed to establish sufficient evidence that the Trump campaign "coordinated or conspired" with the Kremlin "in its election-interference activities."
Mueller, however, also noted that deleted, unsaved and encrypted communications evidence, as well as false or declined testimonies meant that his team were only able to paint an incomplete picture of what had happened. Due to this, investigators declined to pursue charges for others beyond Paul Manafort and Rick Gates under legislation governing foreign agents or conspiracy.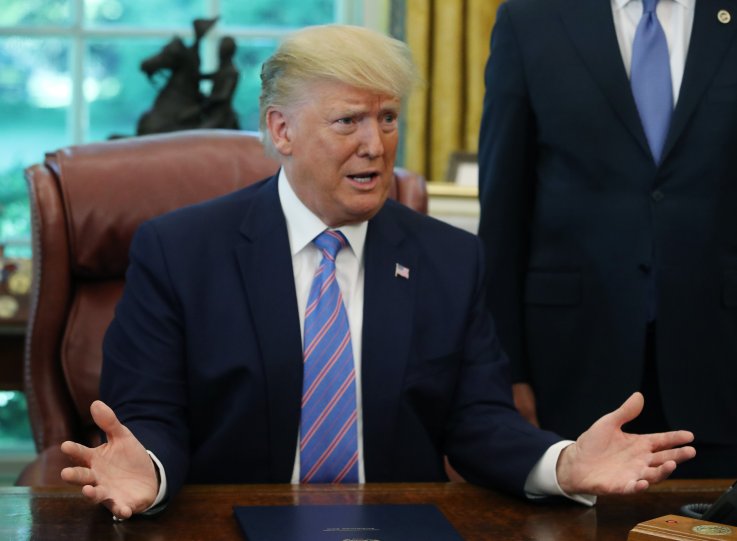 George Conway Slams Trump for Apparently Confusing Name of Air Force One with Putin's 'Aircraft One' | Politics