George Conway Slams Trump's Claim That Dems Have No Case Against Him, Asks Why Are You 'Scared' to 'Let All Your People Testify?'
As President Donald Trump continued to claim there is no case for impeachment against him, attorney George Conway took to Twitter Tuesday to ask the president why none of his "people" were allowed to testify during the hearings.
Not only did Trump himself refuse to participate in the impeachment hearings against him, he also forbade members of his administration to testify. After the articles of impeachment were passed by the House of Representatives in December, House Speaker Nancy Pelosi then announced that she would not send the articles to Congress until some witnesses who refused to involve themselves with the impeachment hearing would testify at the actual trial.
Conway, who is the husband of Counselor to the President Kellyanne Conway, has publicly disagreed with Trump on more than one occasion.
"Read the Transcripts!" Trump tweeted Tuesday. echoing a theme he has often returned to.
"I did," replied Conway. "They damn you. They make clear that you're a criminal. Is that why you don't want testimony at your upcoming trial?"
"Remember when Pelosi was screaming that President Trump is a danger to our nation and we must move quickly," Trump tweeted. "They didn't get one Republican House vote, and lost 3 Dems. They produced no case so now she doesn't want to go to the Senate. She's all lies. Most overrated person I know."
"If there's really no case, @realDonaldTrump, then why not let all your people testify?" Conway asked. "What are you so scared of?"
Trump also tweeted early Tuesday morning that the Democrats did not want to go trial at all, an accusation Conway called "gaslighting."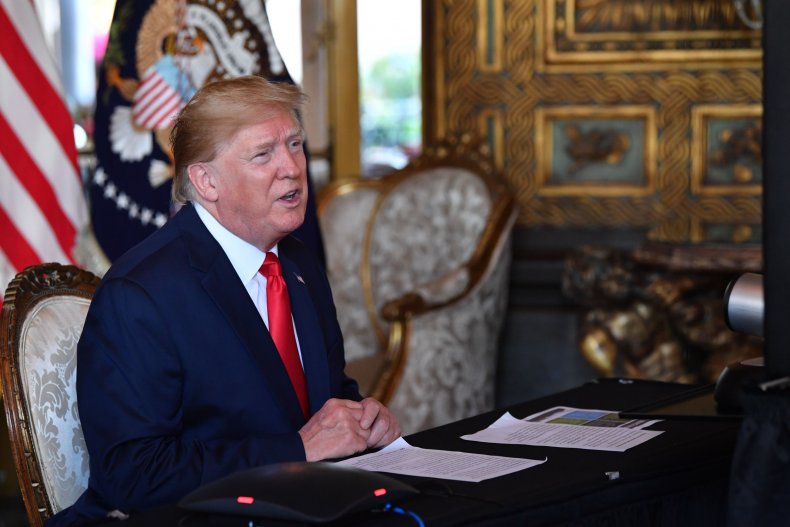 "The Democrats will do anything to avoid a trial in the Senate in order to protect Sleepy Joe Biden, and expose the millions and millions of dollars that 'Where's' Hunter, & possibly Joe, were paid by companies and countries for doing NOTHING," Trump said. "Joe wants no part of this mess."
"It's gaslighting," Conway said, "another pathological lie."
Conway was replying to another tweet from Constitutional lawyer Laurence Tribe, who called Trump's theory "baseless and nutty."
"As one of the originators of the idea of temporarily withholding the Articles of Impeachment from the Senate, I can say with 100% certainty that Trump's accusation is totally baseless and nutty," Tribe tweeted. "It bears no connection at all to reality."
As previously reported by Newsweek, Conway called Trump an "unhinged, delusional narcissistic psychopath" on Twitter Monday.
After Trump went on a Twitter tirade about New York, claiming "New York City and State are falling apart" and that "all they want to do is investigate to make me hate them even more than I should," Conway said Trump was a "pathological narcissist."
Newsweek reached out to Conway for further comment but did not receive a response in time for publication.