George Floyd Tributes Pour in on What Would Have Been His 47th Birthday
Tributes have poured in online on what would have been George Floyd's 47th birthday, as people gathered at the Minneapolis memorial on Wednesday night.
Floyd died on May 25, aged 46, during an arrest in which a police officer kneeled on his neck for more than eight minutes. The officer, Derek Chauvin, is now facing second-degree murder and manslaughter charges.
His death sparked Black Lives Matter protests across the U.S. and internationally, and his birthday sparks fresh calls for change.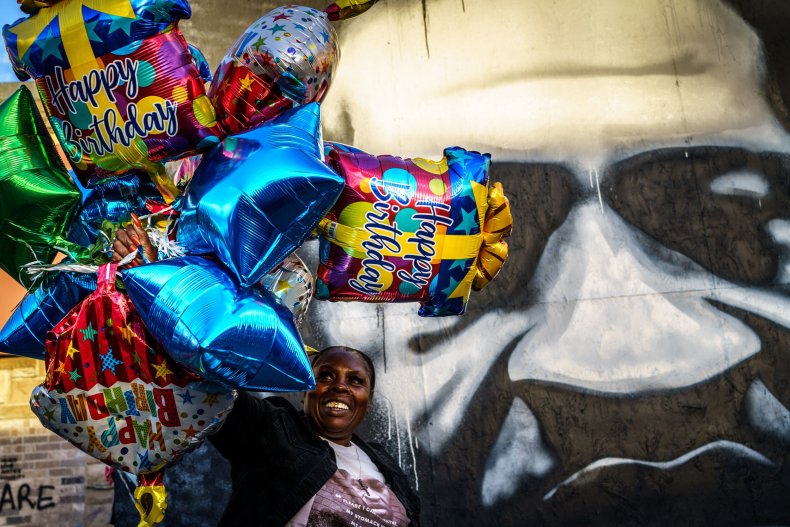 Politicians, including Joe Biden and Kamala Harris, have paid tribute to Floyd online and have pledged to continue to fight for justice and change in his honor.
Former vice president and presidential candidate Biden said: "Today would have been George Floyd's 47th birthday, and he should be alive to celebrate it. I made a promise to his family that I won't let him become just another hashtag — and I'll work every day as president to keep that promise."
California senator and vice-presidential candidate Harris said: "Today would have been George Floyd's 47th birthday. He should still be alive today celebrating another year with his family and friends. We need justice and to ensure that this never happens again—starting with banning chokeholds and creating a national standard for use of force."
Ilhan Omar, the U.S. representative from Minnesota's 5th congressional district, said: "Today would have been George Floyd's 47th birthday. He should be celebrating with friends and family. Instead, he was murdered by the hands of Minneapolis police. We must dismantle the systems of oppression that exist in our society and build a just America."
Others are urging Americans to vote in the upcoming presidential election in honor of Floyd's birthday.
Attorney Benjamin Crump said: "In honor of George Floyd's 47th birthday, George's sister Bridgett asks that you take action and VOTE! And we both agree that Joe Biden is the change we need! George's death will not be in vain because we will vote to make change!"
Martin Luther King III said: "George Floyd should be celebrating his 47th birthday today with his family. Instead, his family continues to mourn his loss. We must continue our fight against police brutality and systemic racism so there is never again a death like George Floyd's. #SayHisName"
Bernice King quoted Floyd's daughter and said: "'Daddy changed the world.' ~Gianna Floyd about her father, George Floyd. George should be celebrating his 47th birthday today."
In Minneapolis, people have decorated Floyd's memorial with birthday balloons and flowers. People gathered at the memorial to sing happy birthday, release balloons, eat cake, and light a candle in Floyd's memory.
The memorial is under threat as the city council will consider two proposals next week that could reopen the intersection, which would dismantle the memorial. However, the council voted last month to rename the part of Chicago Avenue where Floyd died as "George Perry Floyd Jr. Place," with $100,000 allocated to the creation of a permanent memorial.