George Floyd's Brother Has 'Faith' Derek Chauvin Will Be Convicted
George Floyd's brother says he has faith that Derek Chauvin, the officer charged in the Black man's death, will be convicted.
Speaking hours before opening statements were set to begin in the former Minneapolis police officer's trial, Philonise Floyd urged people to focus on the widely shared video of his brother's final moments.
"I have faith that he will get convicted. Just like everybody who's seen that video because the video is the proof," he said at a news conference before a prayer vigil on Sunday evening.
Floyd, 46, died after Chauvin, who is white, kneeled on his neck for almost nine minutes on May 25 last year. At the time, Floyd was handcuffed and repeatedly said he couldn't breathe.
Chauvin is charged with second-degree murder, third-degree murder and manslaughter. Three other former officers involved in Floyd's death are charged with aiding and abetting, and will be tried separately.
Hours before proceedings in Chauvin's trial were due to get underway, a prayer vigil was held at Greater Friendship Missionary Church in Minneapolis that was attended by George Floyd's family.
Speakers included Philonise Floyd, the Rev. Al Sharpton and civil rights attorney Ben Crump, who represents the Floyd family.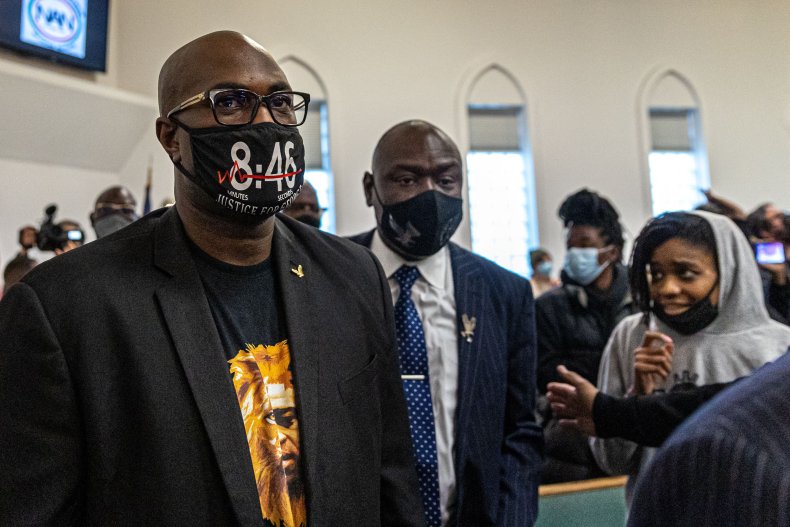 "This is not a difficult case," Crump said at the service. "This is not a hard case… Nobody can tell me if that was a white citizen down there on the ground who the police have restrained and handcuffed face down with their knee on his neck for eight minutes and 46 seconds that this would be a hard case. Nobody would say that."
He added: "This murder case is not hard when you look at that torture video of George Floyd."
"My brother, he didn't ask for this," Philonise Floyd said at the news conference. "I didn't ask to be a part of this fraternity that nobody wants to be a part of. I think about my brother every day, every night. I think about his kids."
Recalling his brother's final words, he said: "He begged for his mama. He said tell my kids I love them. No man should have to do that."
He continued: "This world is divided, we need to come together. That's the only way that we will get justice for George, because I have a big hole right now in my heart. It can't be patched up... We need justice for George, we need a conviction."
Philonise Floyd also urged unity, saying the word had just one race: the human race.
"It's not Black versus white, it's not Asian versus white, it's not anything like that," he said. "People of color need to learn how to live with each other and love each other."
Sharpton, the founder and president of the National Action Network, added that the prayer service was being held as a show of support for the Floyd family, who he said have a "very painful" few weeks ahead of them.
"It is not only bad enough that they had to lose their brother, their loved one, but now they have to in front of the world see this over and over again," he said at the news conference. "We'll be standing with them through the trial."
Sharpton also called for police accountability.
"If we can't see justice in this case, then what will it take?" he said. "We hope for justice in this case, we also hope to stop seeing these cases, but we've seen killing since George, which is why we gonna keep on fighting."
Their words echoed those of speakers at a rally in downtown Minneapolis earlier on Sunday.
They urged people to take part in protests calling for Chauvin and the other three other former officers to be convicted, The Star Tribune reported. They also urged people to demand that charges against those who were arrested during last summer's protests be dropped.