George Floyd's 4-year-old great-niece, Arianna Delane, was asleep in her bed when she was shot in the early hours of New Year's Day.
Houston Police said several shots were fired into an apartment in the 3300 block of Yellowstone Boulevard in Houston shortly before 3 a.m. on January 1 while four adults and two children was inside.
"My daughter jumped up and said, 'Daddy, I've been hit' and I was shocked until I seen the blood and I realized my 4-year-old daughter was really hit," her father Derrrick Delane told ABC13. "She didn't know what was going on. She was asleep."
The girl, who was struck in the torso, was taken to hospital by her mother.
She remains hospitalized in a stable condition after undergoing surgery.
She sustained a punctured lung and liver as well as three broken ribs, her family said.
Derrick Delane said police didn't arrive at the scene until 7 a.m., more than four hours after the shooting occurred.
Houston Police Chief Troy Finner has launched an Internal Affairs investigation into the department's response.
"I am aware and have concerns regarding the delayed response time in this incident and have initiated an Internal Affairs investigation," Finner said in a statement. "I ask the city continue to pray for this child's full recovery and assist in providing information that would lead to the arrest of the suspect or suspects responsible."
Police said they don't have a suspect description and have not determined a motive in the shooting.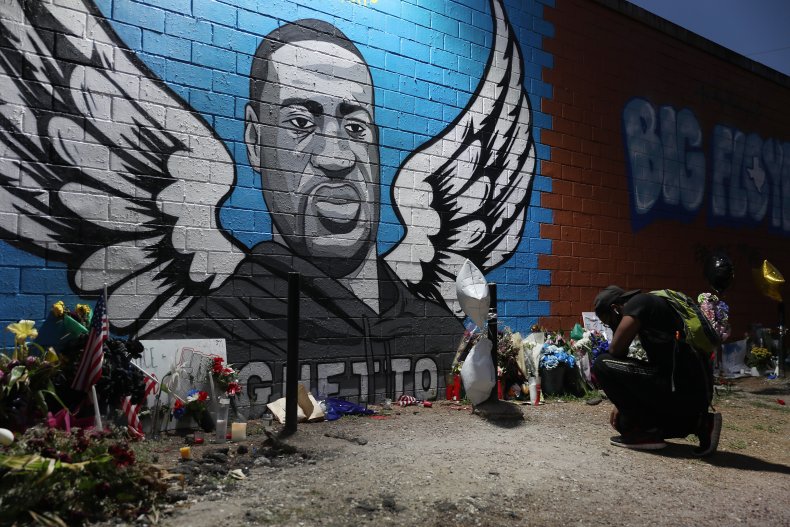 Arianna Delane is the granddaughter of Floyd's sister LaTonya Floyd. According to ABC13, she attended several marches and rallies in the wake of Floyd's killing in Minneapolis.
Floyd, 46, died on May 25, 2020, after a white Minneapolis officer kneeled on his neck for more than nine minutes as he gasped for air.
Video of his killing that was captured by a bystander circulated widely, touching off unrest in the city that quickly spread across the country and other parts of the world. The officer, Derek Chauvin, was fired and later sentenced to over 22 years in prison for Floyd's murder.
The trial of three other former Minneapolis police officers charged with aiding and abetting in Floyd's death will take place later this year.
Arianna Delane's family and the Houston Police Department have been contacted for additional comment.
Anyone with information in the shooting in Houston is urged to contact the HPD Major Assaults & Family Violence Division at 713-308-8800 or Crime Stoppers at 713-222-TIPS.
Update at 3:55 a.m. on 1/5/22: This article has been updated with additional information.