Nearly 1,400 Arrested in Protests, Stoking Fears of Second Coronavirus Wave in U.S
Growing civil unrest, riots and protests are raising the possibility of a second wave of the coronavirus outbreak, city and state officials warned, as the violence and public gatherings intensified into Sunday morning.
Thousands have gathered across multiple states to demonstrate following the death of George Floyd, who died after a police officer put his knee on his neck while arresting him in Minneapolis.
According to an Associated Press tally, nearly 1,400 arrests have been made across the nation during the demonstrations, amid concerns some are attending the protests not to demonstrate but as a springboard for violent actions. Clashes have broken out with police using tear gas and rubber bullets against the crowds.
Atlanta Mayor Keisha Lance Bottoms, who had encouraged those involved to go home, on Saturday evening, said: "If you were out protesting last night, you probably need to go get a COVID test this week. There is still a pandemic in America that's killing black and brown people at higher numbers."
In Minneapolis, where protests were first held near to the scene of Floyd's arrest, there had previously been warnings the gatherings could prompt further coronavirus cases.
Minneapolis Mayor Jacob Frey spoke of there being "two crises that are sandwiched on top of one another," as he spoke of peaceful protests earlier in the week changing as people from outside of the city coming to join the gathering, stating they had created a shift to violence.
Minnesota Health Commissioner Jan Malcolm told reporters earlier this week: "I'm understanding the forecast is for very large protests this weekend, with a lot of people coming in from across the state and around the country and gathering in large groups.
"That's almost sure to have an impact on furthering spread.
"As we know, large gatherings do pose a risk in any epidemic, but certainly where we stand today with the state of COVID-19 spread in our community. Knowing that we have community spread, we just want to again encourage folks who gather to be mindful of the risk."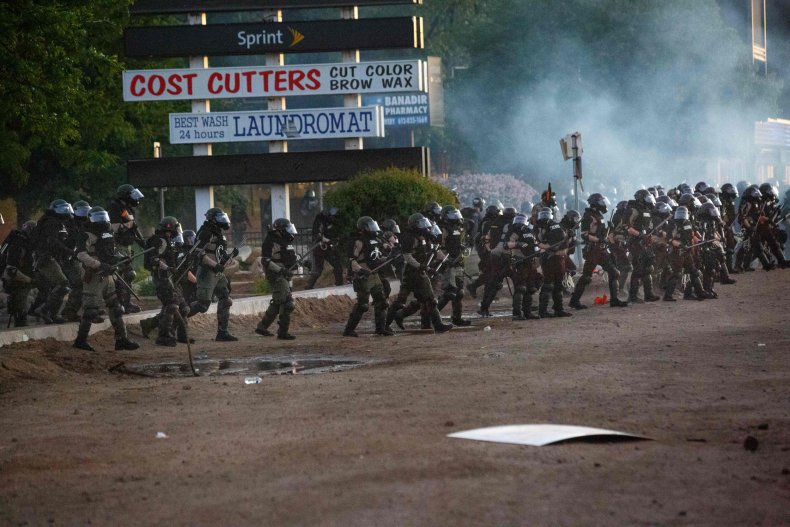 In a statement released by the Minnesota Health Department, she urged people "to take steps to limit the risk of COVID-19 spread."
"This is essential not only to protect themselves but also to protect their loved ones and the larger community. This includes wearing masks when in public and maintaining social distancing as much as possible," she said. The death toll linked to coronavirus in Minnesota topped 1,000 according to figures on Saturday, while the tally of confirmed cases hit 21,490.
New York Governor Andrew Cuomo also raised concern over the potential spread at protests, addressing an absence of face masks among some of those gathered.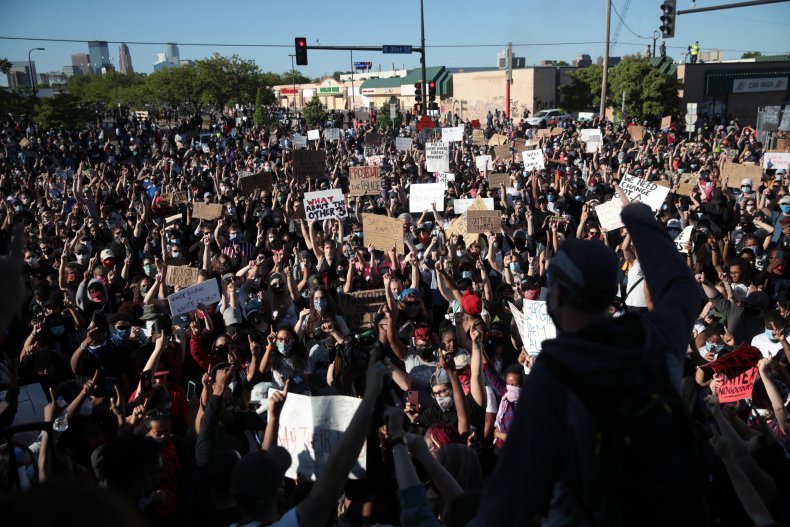 "You have a right to demonstrate, you have a right to protest—God bless America," he said Saturday. "You don't have a right to infect other people. You don't have a right to act in a way that's going to jeopardize public health."
As states across the U.S. lift lockdown measures, concerns have been raised that COVID-19 cases could again spike as communities return to normality.
Guidance for people to wear masks and to maintain social distancing has been issued in order to try and stem the potential spread.
Newsweek has contacted the Minnesota Health Department, the New York Governor's office and the Atlanta Mayor's office for comment.