George Floyd Protests in Minneapolis Turn Violent as Man Shot Dead, Rioting and Looting Breaks Out
Minneapolis was rocked by a second night of violent protests following the death of George Floyd, a black man who was seen in a video struggling to breathe as a white police officer knelt on his neck.
Protesters clashed with riot police on Wednesday for a second consecutive day over the killing of 46-year-old Floyd, shortly after Minneapolis Mayor Jacob Frey called for the officer involved to face criminal charges.
In a tweet early on Thursday, Frey called for calm after a man was shot dead during a night of rioting and looting.
"Please, Minneapolis, we cannot let tragedy beget more tragedy," he said. "The area along Lake has become unsafe. We are asking for your help in keeping the peace tonight."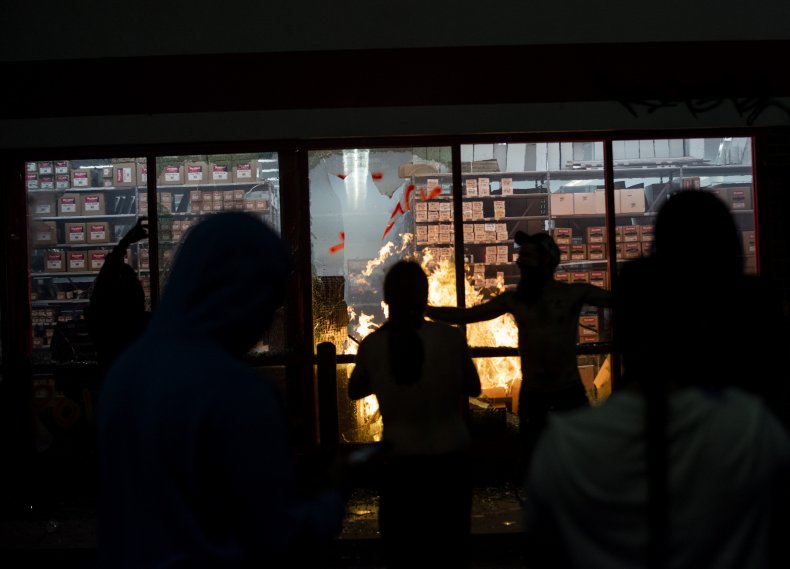 A large crowd of protesters—some in masks—gathered on Wednesday outside the 3rd Precinct station, chanting Floyd's name and slogans including "I can't breathe."
Riot police, including officers stationed on rooftops, used tear gas and rubber bullets in a bid to disperse protesters who smashed windows at the precinct and threw objects at police vehicles and officers.
In an interview with Fox9 as the protests raged on, Police Chief Medaria Arradondo said some demonstrators had been peaceful, but others had thrown Molotov cocktails.
As night fell, a number of nearby stores were looted and large fires were set in the street.
News footage from the area showed people running out of a Target store with clothing and carts full of stolen goods while other businesses, including an auto parts store, were set ablaze.
Police said officers had responded to a reported stabbing in the vicinity of Bloomington Avenue and Lake Street shortly after 9 p.m. on Wednesday and found a wounded man lying on the sidewalk.
"Officers checked and found that the man had trauma present and he was not breathing, nor did he have a heartbeat," Minneapolis police spokesman John Elder said in a statement provided to Newsweek.
Officers began life-saving measures and the man was transported to Hennepin County Medical Center, where he was pronounced dead on arrival, Elder said.
An examination of his body revealed he had actually been shot, not stabbed as originally thought, he said. One man has been taken into custody in connection with the incident.
"The circumstances surrounding this death are currently being looked into and the Minneapolis Police Department has initiated a death investigation," Elder added.
The fatal shooting took place during the looting of a nearby pawn shop and the shots were fired by the store's owner, according to the Star Tribune.
A Cub Foods and a Dollar Tree were also among the stores damaged by looters. Videos on social media showed the ransacked, smoky interior of the Target store, where people were seen trying to break into cash registers.
A Target spokesperson told Newsweek that the store on Lake Street will remain closed until further notice. "We are heartbroken by the death of George Floyd and the pain it is causing our community," the spokesperson said.
They said the decision was made to close the store earlier on Wednesday and the company "worked to ensure all of our team members were accounted for and safe."
She added: "Our focus will remain on our team members' safety and helping our community heal. Until further notice, our store will remain closed."
According to Reuters, a smaller, peaceful protest was held outside the home of one of the police officers who was present at the scene of Floyd's death.
The anger over Floyd's death also fueled a protest that turned violent in downtown Los Angeles on Wednesday afternoon. A crowd marched onto a nearby freeway and blocked traffic, then attacked two California Highway Patrol cruisers and shattered their windows, according to local media reports.
The Minneapolis Police Department has been contacted for additional comment.
This article has been updated with a statement from Target.