George Floyd's Brother Reacts to Verdict: 'No Family in History Ever Got This Far'
Rodney Floyd, the youngest brother of George Floyd, said Tuesday that the verdict reached in the Derek Chauvin trial is "for everyone that's been in this situation."
"I'm feeling tears of joy, so emotional that no family in history ever got this far," he told MSNBC as he stood beside Rev. Al Sharpton. "You know, to get a guilty charge on all accounts...This right here is for everyone that's been in this situation, everybody."
Rodney added, "I know that we're not done yet."
Chauvin, a former Minneapolis police officer, was found guilty on all three charges: second-degree unintentional murder, third-degree murder and second-degree manslaughter. His bail was revoked and he was ordered back to jail.
Judge Peter Cahill read the jury's verdict shortly after 5:00 p.m. Eastern time. The jury deliberated for roughly 10 hours over the course of two days after both sides presented their closing arguments on Monday.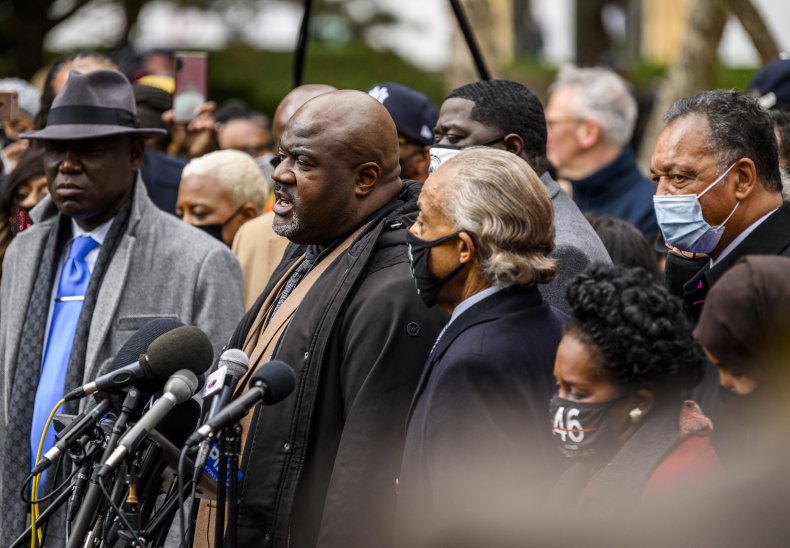 A crowd that had gathered outside the Hennepin County Courthouse could be seen cheering after the verdict was announced.
George Floyd, a 46-year-old Black man, died after being arrested on suspicion of using a counterfeit $20 bill by police outside a shop in Minneapolis on May 25, 2020. His death sparked protests worldwide as well as calls for change in the nation's policing and criminal justice systems.
Graphic footage of the arrest shot by witnesses showed Chauvin kneeling on Floyd's neck for over nine minutes. Floyd, who was already handcuffed, could be heard saying "I can't breathe" and calling out for his deceased mother before going motionless.
The video was played for the jury by prosecutors on the first day of the trial. During closing arguments, prosecuting attorney Steve Schleicher told the jury that they could "believe your own eyes."
Medical experts for the prosecution said Floyd died of asphyxia, or lack of oxygen, because his breathing was constricted by the way he was held down on his stomach. Several policing experts also testified that Chauvin's use of force was excessive, unnecessary and went against police training.
Philonise Floyd, George's brother, was inside the courtroom and had been seen praying ahead of the verdict. When asked by a pool reporter after the announcement what he had been praying for, he answered: "I was just praying they would find him guilty. As an African American, we usually never get justice."
Attorney Ben Crump and the Floyd family released a statement following Chauvin's conviction, stating: "Today's verdict goes far beyond this city and has significant implications for the country and even the world."
They added, "This case is a turning point in American history for accountability of law enforcement and sends a clear message we hope is heard clearly in every city and every state."