George Floyd's Family Holds Prayer Vigil Outside Courthouse on Day 7 of Derek Chauvin Trial
Members of George Floyd's family marked the seventh day of former Minneapolis police officer Derek Chauvin's trial by holding a prayer vigil with members of the public gathered outside the Hennepin County Courthouse.
The prayer was led by the Reverend Al Sharpton, a national civil rights leader, who said Tuesday that "we pray not only for the family's strength, we pray for people around the country that are suffering with them."
He continued, "We wept through many cases, from Rodney King to Eric Garner to Michael Brown—some never reached the courthouse. But here we are now, in the shadows of a courthouse, praying for justice."
Sharpton added, "Give this family strength that they can bear the recurring sight of seeing their brother with a knee on his neck. A knee that represents the perpetual knee on the necks of all Black Americans and brown Americans."
Floyd died after Chauvin, a white, 19-year veteran of the department, kneeled on his neck for nearly nine minutes during an arrest on May 25, 2020. Footage of the arrest, which was aired during the trial, showed Floyd pleading with officers and calling out for his deceased mother.
Chauvin is charged with second-degree murder, third-degree murder and second-degree manslaughter. He has pleaded not guilty.
The three other responding officers involved in the arrest have been charged with aiding and abetting murder. They will be tried jointly in August. All four officers involved were fired by the Minneapolis Police Department the day after Floyd's death.
Sharpton said Tuesday that the family decided to hold the vigil because so many people were suffering anxiety during the trial.
Philonise Floyd, George Floyd's brother, told reporters following the prayer that "after we get the verdict and we get this conviction, we'll be able to breathe."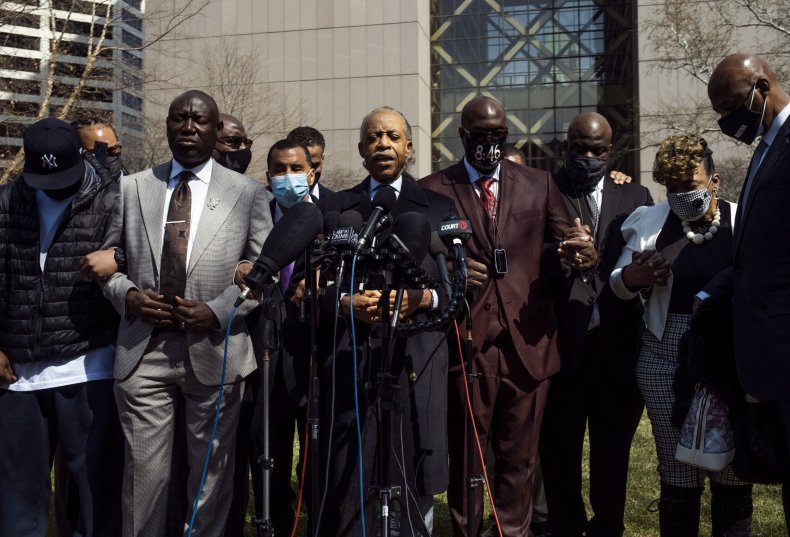 Minneapolis Police Lieutenant Johnny Mercil, a use-of-force trainer, testified Tuesday that Chauvin's use of his knee on Floyd's neck was not a proper neck restraint. Mercil also said that, based on his experience, it normally takes less than 10 seconds to render someone unconscious using a neck restraint.
"However, I will add that we don't—we tell officers to stay away from the neck when possible, and if you're going to use body weight to pin, to put it on their shoulder and be mindful of position," Mercil said.
Mercil's testimony follows that of Minneapolis Police Chief Medaria Arradondo on Monday, who said the restraint of Floyd "absolutely" violates policy. Arradondo added that the restraint should have stopped "once Mr. Floyd stopped resisting" and "once he was in distress and verbalized it."
This story has been updated to include additional information about the seventh day of Derek Chauvin's trial.