George Hill on NBA's New COVID-19 Rules—'I'm Gonna Do What I Wanna Do'
Oklahoma City Thunder guard George Hill has questioned the NBA's decision to tighten its coronavirus protocols, indicating that the need for stricter guidelines casts doubts on the league's decision to play through the pandemic.
On Tuesday the NBA announced new protocols that severely limit movement of players and staff during road trips. Both are now prohibited from leaving their hotel for non-team activities and players are barred from having non-team guests in their room. Until Tuesday, players were allowed to host a maximum of two guests in their room, as long as they were family members or close friends.
Speaking after the Thunder's 112-102 loss to the San Antonio Spurs, however, Hill said: "I'm a grown man, so I'm gonna do what I wanna do. If I wanna go see my family, I'm gonna go see my family."
"They can't tell me I have to stay in the room 24/7. If it's that serious then maybe we shouldn't be playing. It's life. No one's gonna be able to just cancel their whole life for this game. That's how I think about it."
The NBA was the first major league to suspend its season because of the COVID-19 outbreak in March last year and was widely praised for its handling of the pandemic when proceedings resumed in July in a bio-secure bubble in Orlando, Florida.
Sailing hasn't been as smooth since the regular season began in late December, however. Since Sunday, the NBA has postponed five games because of coronavirus-related issues, including the Boston Celtics' home games against the Miami Heat and Orlando Magic and the Celtics' road game against the Chicago Bulls.
The Dallas Mavericks' home game against the New Orleans Pelicans was also postponed, as was the Utah Jazz's road game against the Washington Wizards.
On December 23, the NBA had postponed the Houston Rockets' home game against the Thunder.
The Celtics are just one of the teams that have struggled to have the required minimum of eight players available on game day because of positive tests or contact tracing protocols—the Heat, Mavericks, Bulls, Wizards and Philadelphia 76ers have been hit by similar issues.
As a result, the league has imposed stricter protocols, which also minimize interaction with opposing players before and after the game. The rules, which are in force indefinitely, ban "extended socializing" after games, ruling out the tradition of players mingling with former teammates or friends.
Players are also required to wear a mask at all times they aren't playing, including while on the bench and in the locker room.
Although Hill maintained that players were determined to play, he suggested the need for tighter protocols brought into question the wisdom of continuing the season.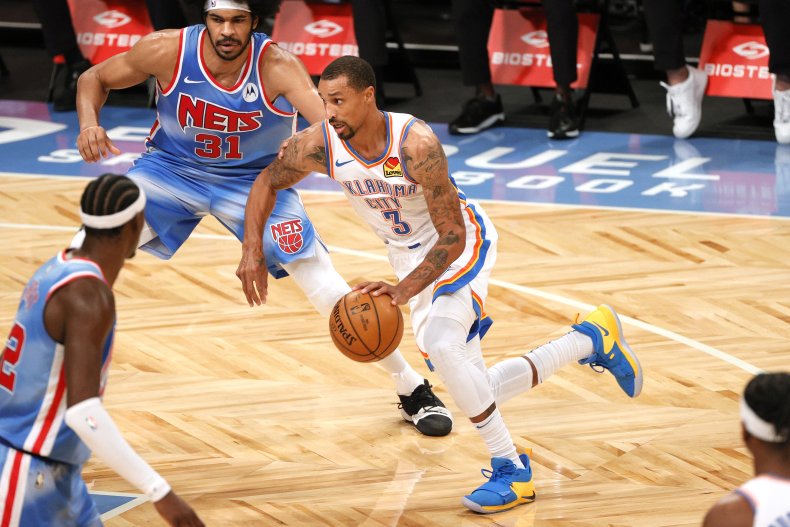 Two of Hill's teammates, Shai Gilgeous-Alexander and Al Horford, weighed in on the new protocols.
Like Hill, Horford suggested that the need for stricter protocols raised questions about the NBA season.
"In order for all of this to work we have to continue to cooperate and do the things that are asked of us," he said.
"We're at a point now that we have to reevaluate or the NBA has to reevaluate and see how everything is going.
Gilgeous-Alexander, meanwhile, sounded more willing to embrace the regulations.
"It's what's necessary, and I'm willing to do whatever it takes to get rid of this COVID thing," he said.
"If it means I have to wear a mask on the bench the whole time, it is what it is and I'm gonna do it. I want to get back to normal living, and whatever it takes to get back, I'm going to do it."
To complicate the picture for the NBA, ESPN reported on Tuesday that "multiple players" who had previously tested positive for coronavirus had recently returned a positive test for a second time.
As per the Centers for Disease Control, an individual is defined as being "reinfected" when he or she gets the virus, recovers and then becomes infected again.
As of Wednesday morning, more than 22.8 million cases of coronavirus have been reported in the U.S—the highest tally in the world—according to Johns Hopkins University.
More than 1.96 million fatalities have been recorded worldwide, with almost 380,800 of those in the U.S.
There have been over 91.6 million confirmed cases globally since the outbreak of coronavirus was first identified in Wuhan, China.