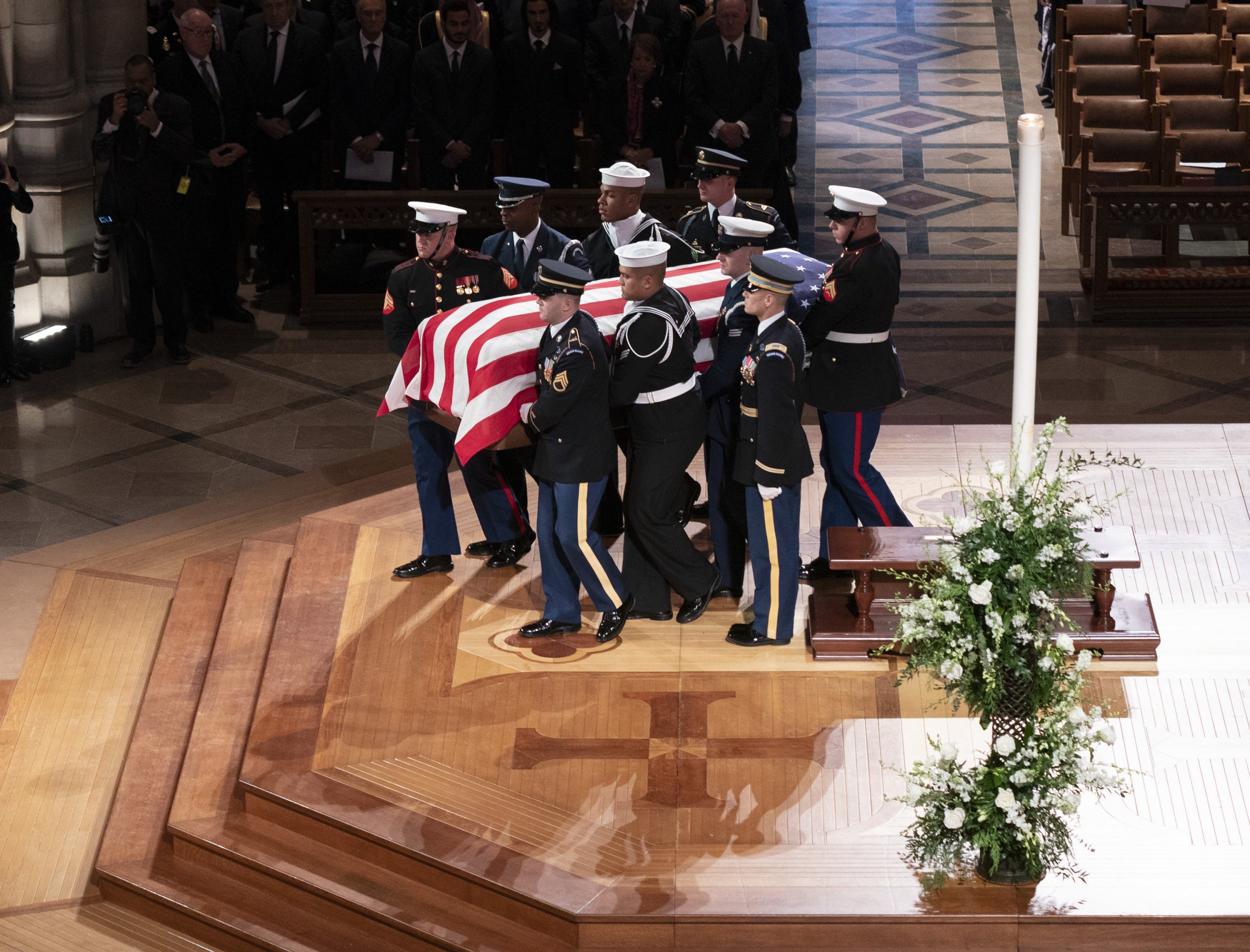 A funeral for George H.W. Bush will be held Thursday in Houston, following the 41st president's state funeral at the Washington National Cathedral in the nation's capital on Wednesday.
The funeral is scheduled to begin at 11 a.m. ET. Following the funeral, the former president's body will be taken to his final resting place on the grounds of his presidential library at Texas A&M University in College Station, Texas.
The schedule for Thursday is as follows, according to The Associated Press:
- 11 a.m. ET: Funeral Service St. Martin's Episcopal Church

- 12:15 a.m. ET: Departure Ceremony St. Martin's Episcopal Church

- 1:30 p.m. ET: Departure Ceremony Union Pacific Railroad Westfield Auto Facility

- 4:45 p.m. ET: Arrival Ceremony Texas A&M University

- 5:15 p.m. ET: Arrival and Interment at George H.W. Bush Presidential Library and Museum
Bush died last Friday at the age of 94. He was mourned on Wednesday, with every living president attending his state funeral in Washington. His son, former President George W. Bush, deliverd one of the three eulogies for his father, mitigating some of the grief and sadness with trademark Bush humor.
"Through our tears, let us know the blessings of knowing and loving you, a great and noble man. The best father a son or daughter could have," Bush said, as he fought back tears.
In one particularly emotional moment, Bush described his final conversation with his father.
"Dad, I love you, and you've been a wonderful father," Bush said he told his father in a final phone call. Bush Sr. responded with what were his final words: "I love you, too."
Bush joked about his father's imperfections.
"To us, he was close to perfect—but not totally perfect," Bush said. "His short game was lousy. He wasn't exactly Fred Astaire on the dance floor. The man couldn't stomach vegetables, especially broccoli. And, by the way, he passed these genetic defects on to us."
Family and friends and fellow Texans will honor the late president again on Thursday, with more than 12,000 people having already come to paid their respects, according to KTRK-TV in Houston.
You can watch the service live via Texas station KSAT here or simply watch the embedded feed below.