George Conway Admits Wife Kellyanne Is a Cheerleader for 'Psychologically Unwell' Trump
In a Twitter exchange Friday morning, George Conway agreed with a reporter who called his wife, White House aide Kellyanne Conway, "a cheerleader" and "an enabler" of President Donald Trump.
Conway was replying to criticism from New York Post reporter Larry Brooks, who'd responded to an earlier tweet by Conway criticizing President Donald Trump. "Your wife is an enabler. Your wife is a cheerleader. What kind of game do you think you're playing?" Brooks asked.
"She's both but that doesn't mean I'm playing a game," Conway replied.
The exchange began when Conway, a frequent critic of the president despite his close ties to the White House, theorized about what future students will learn about the Trump administration after the president's interview on Fox & Friends. "I have little doubt that, within the lifespans of many reading this tweet, students throughout the world will learn in their history books that a deeply psychologically unwell man—also a criminal—was president of the United States in the late 2010s," he tweeted.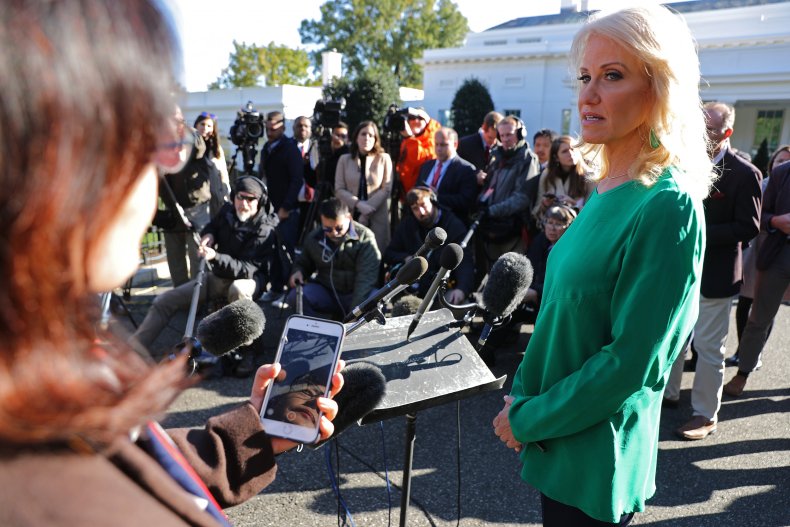 The media has previously pointed to Conway's tweets about Trump as a possible point of contention between Conway and his wife. In October, conservative outlet the Washington Examiner released a phone call Kellyanne Conway had made to a reporter after publishing a story that mentioned George Conway's tweets. "So I just am wondering why in God's earth you would need to mention anything about George Conway's tweets in an article that talks about me as possibly being chief of staff," she said. Kellyanne Conway also took umbrage at CNN anchor Wolf Blitzer for saying her marriage had "issues" during an interview earlier in November
Trump also weighed in on the Conways' marriage during his interview with Fox & Friends. "Kellyanne is great, but she is married to a total whack job," he said. "She must have done some bad things to him, because that guy is crazy."
George Conway has consistently criticized the president and Republicans who support him on Twitter, frequently offering his professional opinion on the president's many legal troubles. He called impeachment hearing testimonies from Vice President Mike Pence's adviser Jennifer Williams and Lt. Col. Alexander Vindman "absolutely devastating." He previously called statements made by Trump's personal attorney Rudy Giuliani "devastatingly incriminating" for the president.
During an MSNBC appearance earlier this month, Conway expressed no sympathy for the GOP members who, like his wife, have stood squarely behind Trump throughout the impeachment inquiry. "Look at what you would have done if Donald Trump were a Democrat," he said. "If Barack Obama had done this, they'd be out for blood, and they'd be right."