Comedian George Lopez Under Fire for Instagram Joke About $80-Million Bounty for Trump's Head
Comedian George Lopez has come under fire for an apparent joke about an $80 million bounty for President Donald Trump's head.
The 58-year-old comic wrote, "We'll do it for half," responding to an Instagram post about the purported bounty, which was suggested at a funeral procession for Iranian general Qassem Soleimani on Sunday. Soleimani was killed in a U.S. airstrike Friday.
A eulogist at the procession, broadcast live on Iran's state-owned Channel One television network, apparently called for the $80 million bounty while addressing crowds in the city of Mashhad. "We are 80 million Iranians. If each one of us puts aside one American dollar, we will have 80 million American dollars, and we will reward anyone who brings us [Trump]'s head with that amount," the unidentified man said.
There is no indication the bounty is endorsed by the Iranian government or Iran's Supreme Leader Ayatollah Ali Khamenei.
On Sunday, the Instagram account @chicanoworldstar, which has over 170,000 followers, posted about the supposed bounty. The post, which erroneously attributed the reward to Iranian officials, said: "#Iranian authorities have put a bounty on American President Donald Trump's head during the televised funeral of General #QasemSoleimani after he was assassinated last week. What are your thoughts?"
Lopez responded: "We'll do it for half."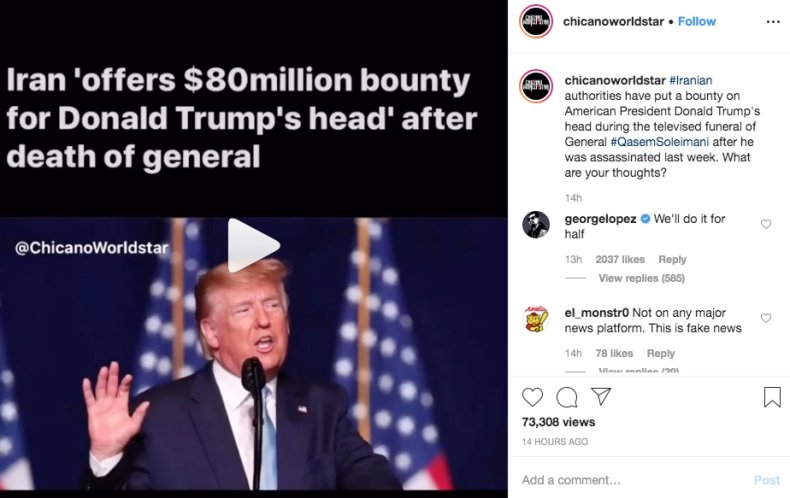 The apparent joke is currently the top comment on the post and was quickly seized upon by right-wing social media users, who claimed Lopez was issuing a death threat against the president. Lopez's spokesperson told Newsweek: "It was absolutely a joke and that's it."
Ryan Fournier, co-chair of Students For Trump, tweeted: "George Lopez just said he'd assassinate President Trump for half of the $80 million dollar bounty. @SecretService should take a look at this. The Left is sick."
However, others defended Lopez, including comedian Kathy Griffin, who, in 2017, also faced backlash for holding up a bloodied Trump mask in a photoshoot.
"Calm down trump cult! @georgelopez is a professional comedian and...OH F**K OFF. THIS JOKE IS HILARIOUS & you all know it," wrote Griffin.
Chris D'Elia wrote: "George Lopez is a really big comedian maybe you're not aware."
Lopez is a comedian best known for the ABC sitcom George Lopez, which ran for six seasons between 2002 and 2007. Lopez also hosted the short-lived TBS talk show Lopez Tonight between 2009 and 2011.
In July 2018, Lopez, an outspoken Trump critic, made headlines for pretending to urinate on Trump's star on the Hollywood Walk of Fame using a water bottle. The footage went viral on Twitter and prompted similar right-wing offense to this latest incident, including calls for Lopez's arrest.
This article has been updated to include a comment from Lopez's spokesperson.