Qassem Soleimani Eulogist Offers $80 Million Bounty For Donald Trump's Head During Iranian General's Funeral
A eulogist speaking during funeral events for assassinated Iranian general Qassem Soleimani has called for a multi-million dollar bounty on President Donald Trump as mourning continues for the slain Islamic Revolutionary Guard Corps commander.
Huge crowds packed the streets of Tehran on Monday as the regime held a funeral service for Soleimani, who was killed in a U.S. drone strike in Baghdad on Friday. He was the commander of the IRGC's Quds Force, and oversaw Iran's foreign military strategy and covert operations.
His funeral procession travelled through various cities and sites in Iraq and Iran on its way to Tehran. In the eastern Iranian city of Mashhad, enormous crowds attended the event, which was broadcast live on Iran's state-owned Channel One TV station.
At one point, an unidentified eulogist called for a bounty to be placed on Trump's head. "We are 80 million Iranians," he said. "If each one of us puts aside one American dollar, we will have 80 million American dollars, and we will reward anyone who brings us [Trump]'s head with that amount."
There is no indication that the proposal was endorsed by the regime, though some initial media reports claimed that was the case. The Iranian government has promised revenge for Soleimani's killing, though no official has personally threatened the president.
Trump and Secretary of State Mike Pompeo said the decision to assassinate Soleimani was taken in response to an imminent threat to American lives. The administration is yet to provide evidence to support the assertion, despite intensifying pressure from lawmakers and the media.
The strike came after a week of tit-for-tat escalations between the U.S. and Iran in Iraq, including a rocket attack that killed an American civilian and the storming of the American embassy in Baghdad.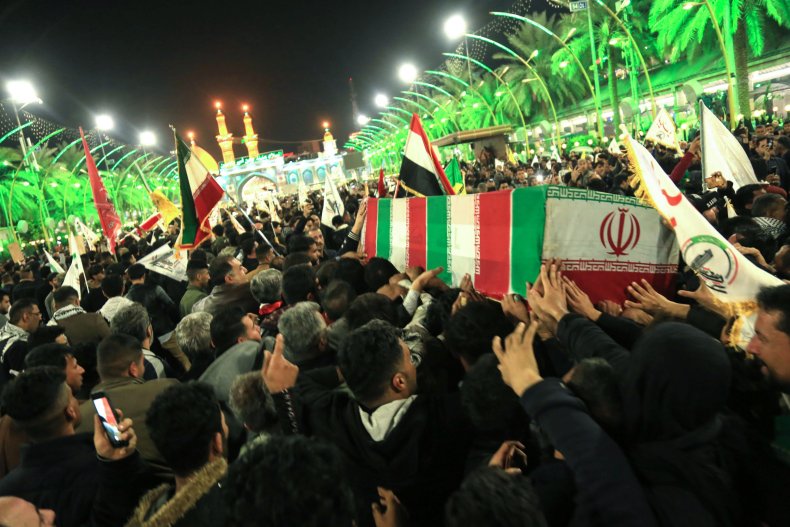 Soleimani was one of the most influential figures in Iran and widely popular. Quds Force commander since 1997, he was considered the second most powerful member of the regime and reported directly to Supreme Leader Ayatollah Ali Khamenei, with whom he long enjoyed a close relationship.
He was credited with masterminding Iran's military strategy across the Middle East, training, funding and directing proxy militias to support Iranian interests and undermine the U.S. and its allies.
He drove Iranian strategy in Iraq, building Tehran's influence in Baghdad and attacking American interests. During the U.S. occupation he lead the effort to train and arm insurgents to attack U.S. troops. The Pentagon has said this Iran is directly linked to the deaths of more than 600 service members during the occupation.