Make the Streets Safe by Deporting Police, Says Comedian George Lopez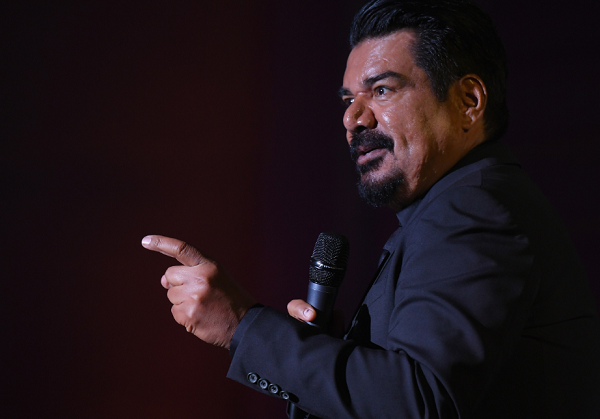 George Lopez has never been shy to share his opinions on President Donald Trump or his administration's policies. So it wasn't a big surprise when the 56-year-old comedian offered the 45th president some candid advice in regard to making America safer: Deport the police.
In an Instagram post on Friday, Lopez addressed Trump's strong-armed approach toward immigration policy, which has sparked a large amount of fear from some undocumented immigrants living in the United States.
"The Trump administration is deporting Latinos to make the streets safer… You wanna make the streets safer deport the police," Lopez wrote, adding in a follow-up post, "This is not an indictment of all Law Enforcement, some still beat you. '#gacho#georgelopezonhbo #TheWall ( @momorodriguez #gracias.'"
Lopez received an outpouring of backlash following his comments from angry Trump supporters who suggested he was promoting dangerous anti-Trump and anti-police rhetoric, which caused Lopez to later delete the posts and make his Instagram account temporarily private.
However, on Monday, Lopez took to his social media again to clarify his comment by posting a photograph of the British rock band, The Police.
"I hope this clears up any misunderstanding. Comedy has a way of healing, but I also realize it can hurt too, so let's let cooler heads prevail #georgelopezonhbo," he wrote.
This isn't the first time the Mexican-American actor has provoked controversy with comments relating to Trump. During the 2016 presidential campaign, Lopez told TMZ that he wouldn't be at all shocked if the hotel magnate won the election because "there's enough racists in this country for him to get elected."
Following Trump's win in November, TMZ photographers caught up with Lopez again and asked if he'd give the new president a chance to win him over, to which Lopez responded: "I'll give him a chance to suck my a**."
Within the first 100 days of Trump's presidency, arrests of undocumented immigrants were up 38 percent compared to the same time period in 2016, according to Immigration and Customs Enforcement data released in May. Seventy-five percent of those arrested had a criminal record.
Trump also seemed to target Latino migrants during the third presidential debate against Democratic nominee Hillary Clinton, when he said one of his first acts as president would be to "get out all the drug lords in the country."
Although he didn't specify the ethnicities of the drug lords, Trump went on to refer to them as "bad hombres," which means "men" in Spanish. He continued to suggest that the U.S. could stem the flow of illegal drugs from entering the country by building a wall along the U.S.-Mexico border.
Despite 54 percent of all Hispanics saying they felt "confident about their place in America" in a February Pew Research Center survey, 55 percent of non-citizens and non-resident Latinos said they had "serious concerns" regarding their place in America.