George Santos Accused of Sexual Harassment by Former Volunteer
U.S. Representative George Santos has been accused of sexual harassment by a man who spent a week volunteering in his congressional office in January, while hoping for a permanent job.
Derek Myers, a former journalist, claimed Santos groped his groin without consent and invited him round as Santos' husband was out of town, on January 25, when he was "alone with the Congressman in his personal office."
Myers made the claims on Friday in a Twitter thread, which included a copy of a letter he sent to the House Ethics Committee formally complaining about Santos' conduct. He also said he had reported his allegations to the United States Capitol Police.
In the letter to the House Ethics Committee, Myers wrote: "On Wednesday, January 25, I was alone with the Congressman in his personal office going over mail correspondence from constituents and making my recommendations for which letters we should respond. The Congressman earlier in the day had asked me if I had a 'Grindr' profile, which is widely-known as an LGBTQ+ social networking app, more commonly used for sexual intercourse. The Congressman shared with me that he, himself had a profile.
"While in his personal office reviewing the mail, he called me 'buddy' and insisted I sit next to him on a small sofa. I proceeded to move forward with the discussion about the mail, but the Congressman stopped me by placing his hand on my left leg, near my knee and saying, 'Hey buddy, we're going to karaoke tonight. Would you like to go?
"I kindly declined the invitation by telling the Congressman I was not a fan of clubs and bars and that I was not a good singer. The Congressman proceeded to take his hand and move it down my leg into my inner-thigh and proceeded to touch my groin.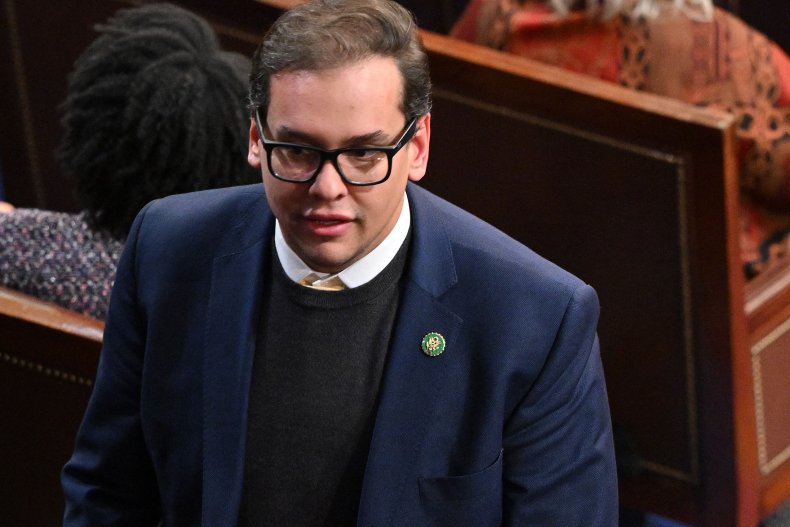 "He proceeded to look at me and say, 'My husband is out of town tonight if you want to come over' and went on to tell me where the Congressman lived.
"I quickly pushed the Congressman's hand away and grabbed the mail from the table and proceeded to discuss the topic of constituent correspondence. Shortly thereafter, I left the personal office and returned to my desk."
Myers added he hoped the "police and the ethics committee" would respond to the "sexual harassment I endured in the office of the Congressman."
Newsweek has contacted Representative George Santos, his chief-of-staff and his attorney asking for comment on the allegations, along with the United States Capitol Police and House Ethics Committee.
On Thursday Talking PointsMemo (TPM) released what it claimed was audio footage from inside Santos' congressional office, secretly recorded by Myers.
In the clip a voice, identified by Myers as Santos, admitted to lying, including to his chief of staff.
He said: "I've obviously f***** up and lied to him, like I lied to everyone else.
"And he still forgave me and gave me a second shot, unlike some other people."
Newsweek has not independently confirmed the recording is of Santos and has contacted him for comment.
Myers told TPM he had initially been offered a $50,000 a year job on Santos' team, but this was withdrawn after they found out he had been charged for wiretapping in October 2022, after the former journalist allegedly published leaked audio from a murder trial.
Santos is under pressure to resign after it emerged he fabricated much of his resume, including his educational and employment background.
Earlier this week Santos announced he had recused himself from two House committees, pending the outcome of an ongoing ethics investigation.