George Santos Says He 'Lied to Everyone' in Leaked Audio
George Santos admitted he had "lied to everyone else" during a conversation with a prospective employee, according to leaked audio obtained by Talking Points Memo (TPM).
The House Republican is battling calls to resign after it was revealed he'd fabricated large chunks of his resume, including having graduated from Baruch College, worked for leading Wall Street firms, and lost four employees in the 2016 Pulse nightclub mass shooting in Orlando.
Secretly recorded audio purportedly of Santos was given to TPM by Derek Myers, a former journalist who spent a week volunteering in his congressional office and had been seeking a permanent position.
Newsweek has not independently confirmed the recording is of Santos and has contacted him for comment.
In the footage, a voice Myers identified as Santos admitted to lying, including to his chief of staff Charley Lovett.
He said: "I've obviously f***** up and lied to him, like I lied to everyone else.
"And he still forgave me and gave me a second shot, unlike some other people."
Whilst Santos was unaware he was being recorded, he did warn Myers not to tape him during the discussion.
The New York Republican said: "From my understanding, recording in this building is a federal crime, and you get seven years. Have fun at your peril!"
Myers told TPM he was initially offered a post on Santos' team, as a $50,000 per year staff assistant, but this offer was later withdrawn when they learned about his background.
In October 2022 Myers was charged with wiretapping in Ohio after his website, the Scioto Valley Guardian, allegedly published leaked audio from a murder trial.
The case sparked outrage among civil liberty campaigners, with the Committee to Protect Journalists calling on authorities to "immediately drop all charges" against Myers.
However, according to TPM the allegation unnerved Santos' team, with Myers being called in for a meeting to discuss the situation, which he secretly recorded.
In the leaked audio Santos can be heard saying: "I've made bad judgment calls, and I'm reaping the consequences of those bad judgment calls."
Referring to Myers he added that it is "bad enough that I have to answer for myself these days, I don't want to have to answer, prospectively, for you."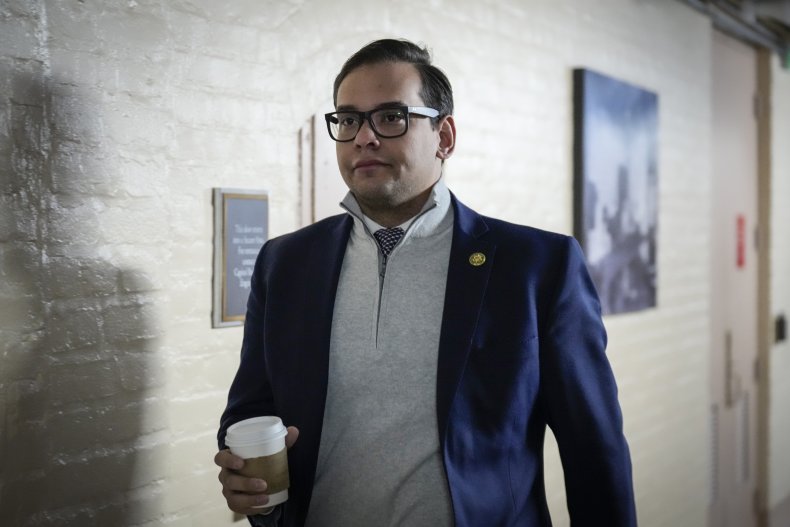 Myers was later contacted by Lovett, who said the job offer had been rescinded.
Speaking to TPM he expressed his exasperation at the decision, commenting: "I'm thinking to myself, I'm a threat and concern to this institution—George Santos, you're George Santos."
On Tuesday Santos announced he would recuse himself from the House science and small business committees, to which he had been appointed, whilst he waits for the outcome of an ethics investigation.
The Congressman is also facing pressure to explain his campaign finances, after an investigation by Mother Jones couldn't find any record of "more than a dozen" of his donors actually existing.