George Santos Dodges Questions About His Donors as Pressure Ramps Up
George Santos refused to answer questions about his campaign donors on Monday, as pressure on the Republican Congressman continues to mount over his election finances and fabrications on his resume.
Last week, an investigation by Mother Jones found there was no record of "more than a dozen" of those Santos listed as his campaign donors actually existing.
Santos ignored a number of questions from CNN chief congressional correspondent Manu Raju on Monday, whilst making his way around the Capitol Hill complex.
Raju asked the New York Republican why he'd "had two donors who said you defrauded them?"
He continued: "Can you also explain why you said you worked at Citigroup and Goldman Sachs? Sir, when do you plan to have a press conference addressing all these allegations? You said you would sir. Sir, why did you say your grandparents fled the Holocaust Mr Santos? Can you explain this to your voters?"
Santos didn't answer any of the questions but, accompanied by another man, carried on walking until they got into a lift.
Newsweek has contacted Raju to clarify which two donors claim Santos defrauded them, as the details of this allegation, which does not appear to be on the CNN website, are unclear.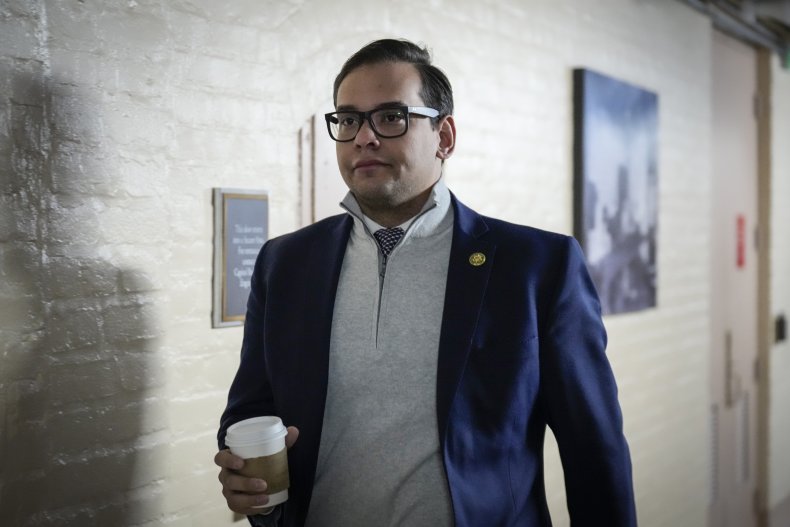 On Friday, Mother Jones published its investigation into Santos' campaign finances, which concluded there is no record of "more than a dozen" of his reported donors actually existing.
As an example, Santos claimed he's received a $2,800 donation from Victoria and Jonathan Regor, from 45 New Mexico Street in Jackson Township, New Jersey. However, this address does not appear to exist, and there is no record of anyone by the names given living in the U.S.
The Santos campaign updated its Federal Election Commission campaign finance report on January 24, in which he listed experienced operative Thomas Datwyler as his treasurer, with what appeared to be his signature added.
However, speaking to ABC News, Datwyler's attorney said he had turned down the job, and his signature had been used without consent.

The attorney, Derek Ross, commented: "On Monday, we informed the Santos campaign that Mr. Datwyler would not be serving as treasurer.
"It appears that there's been a disconnect between that conversation and the filings today, which we did not authorize."
Santos has admitted to fabricating sections of his resume, including his claims to have attended Baruch College and worked at both Goldman Sachs and Citigroup.
Speaking to the New York Post, the Trump-supporting Republican claimed he "never worked directly" for either of them, describing his original claim as a "poor choice of words."
Santos has also been accused of falsely claiming to be the "grandson of Holocaust refugees," and having lost four "people that work for me" in the 2016 Pulse nightclub mass shooting in Orlando.
House Speaker Kevin McCarthy met with Santos on Monday, though it is unclear what was discussed. According to CNN he told the GOP conference he will voluntarily rescind himself from serving on committees.
McCarthy had previously argued he does "not have the power" to move against Santos, because he was elected, but did say the New Yorker would be removed from Congress if found to have "broken the law."
George Santos has been contacted for comment.