George Santos Has Had Another Terrible Week
Embattled Representative George Santos, a New York Republican, has endured yet another week in Congress amid an avalanche of allegations over his campaign funding and an embellished background.
The newly-elected GOP lawmaker faced calls to resign from Congress, including from his local Republican Party, when it emerged he lied about his background, including that his mother was in the World Trade Center during the 9/11 terrorist attacks.
He has been unable to quash calls for his resignation when further allegations piled up this week namely about his campaign finances and his admission that he dressed up as a drag queen in Brazil.
Santos has hit out at reports of the allegations, including in tweet earlier this month that read: "From interviewing clowns to creating fake 'posts' the media continues to down spiral as their attempt to smear me fails. I am getting the job I signed up for done, while you all spiral out of control."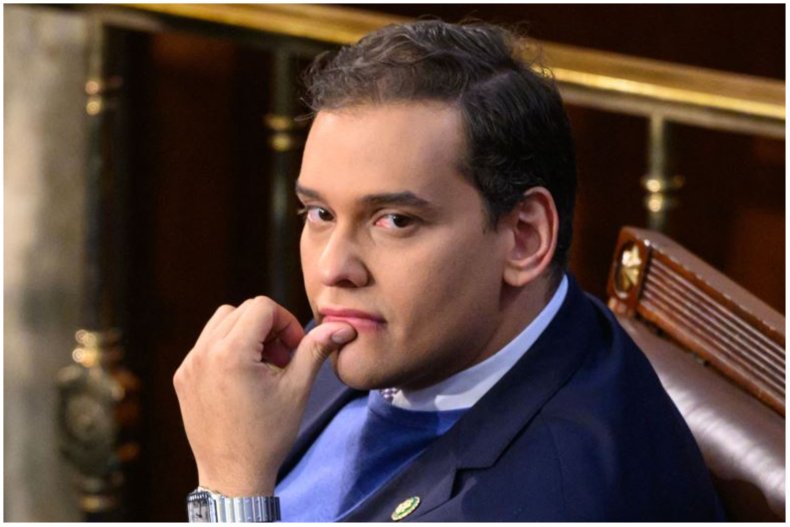 Here is a roundup of yet another terrible week for the freshman congressman:
Allegations Santos Used Fraudulent Signature
An updated campaign finance report filed by Santos on Tuesday to the Federal Election Commission (FEC) found that financial consultant Thomas Datwyler had been listed as his new treasurer, along with his signature.
However, Datwyler's attorney, Derek Ross, told ABC News that his client would not be taking the position.
"On Monday, we informed the Santos campaign that Mr. Datwyler would not be serving as treasurer. It appears that there's been a disconnect between that conversation and the filings today, which we did not authorize," Ross said.
It would be illegal for Santos's campaign to use Datwyler's signature without his permission, according to Adav Noti, senior vice president at the nonprofit Campaign Legal Center.
Drag Queen Admission Fallout
Santos admitted in an interview with ABC 7 last Saturday that he dressed in drag, after several images of him emerged online. He claimed, however, to have only dressed in drag once at a festival in Brazil.
"I was young and I had fun at a festival. Sue me for having a life," he told the local news station.
The congressman had previously denied claims he had performed in drag as "outrageous" and "categorically false."
Santos's admission he had dressed in drag is not an issue in itself, but it does risk placing the Republicans in a difficult position. Republicans have been relentless in their push against transgender and further LGBTQ rights and expression.
States, namely Arizona, Idaho, Michigan, Montana, Missouri, Oklahoma, Tennessee, and Texas, have all proposed anti-drag bills in recent months.
Questions About Donors
Mother Jones raised questions on Friday about top donors who contributed money to Santos's campaign.
The publication checked various databases to find whether the names matched with addresses shared by Santos's failed 2020 congressional campaign, finding no one lived at the properties with those names listed.
It said the donations checked, which accounted for more than $30,000 of the $338,000 that Santos had raised from individuals, had not been previously reported.
Federal campaign finance law states that it is illegal to donate money under a false name, or under the name of someone else.
Newsweek has contacted Santos's office for comment.