George Santos Snaps at Reporter After Being Grilled About Fake Signature
Rep. George Santos from New York on Thursday snapped at a reporter who asked him why he listed a man as his campaign treasurer against his wishes, accusing the journalist of "lying to the American people."
Santos' campaign updated its campaign finance report, submitted to the Federal Election Commission, on Tuesday in which it listed Thomas Datwyler as his treasurer. The filing was signed with Datwyler's name.
However, Datwyler's attorney, Derek Ross, told ABC News his employer had made it clear he wouldn't be taking the position, and the signature was used without consent.
He said: "On Monday, we informed the Santos campaign that Mr. Datwyler would not be serving as treasurer.
"It appears that there's been a disconnect between that conversation and the filings today, which we did not authorize."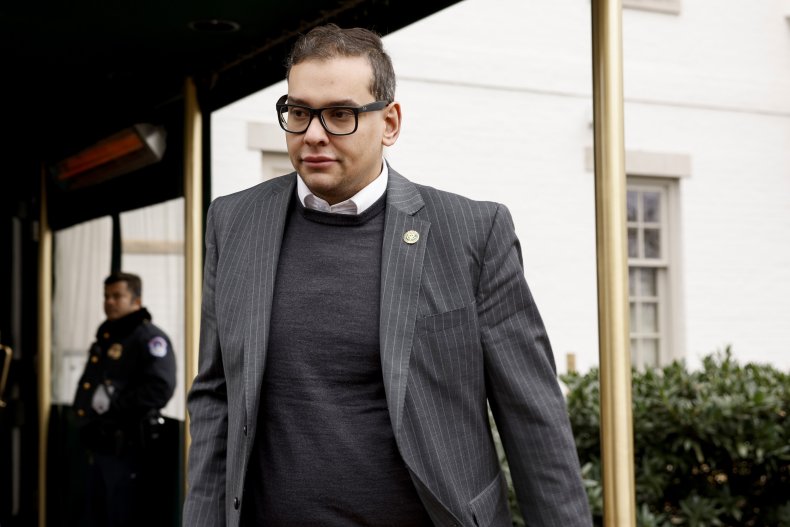 Newsweek has reached out to Santos and Datwyler for comment.
CNN's Manu Raju posted a video of Santos refusing to answer questions on the subject on Thursday, while he was being pursued through a Capitol Hill complex.
In the clip, he asked: "Mr Santos you listed the wrong name of your treasurer, why did you list the wrong name of your treasurer on your campaign finance forms?"
In response, the Republican said: "I'll have this conversation with you when you become a better, honest reporter. You're a dishonest reporter and you know that."
Raju continued to question the congressman including about his claim to having been a "star" volleyball player at Baruch College, which he has since admitted he didn't graduate from.
In response, Santos said: "You're lying to the American people."
Since being elected, Santos has admitted to fabricating large chunks of his resume, including the claims that he and his family owned 13 properties and that he worked at two top Wall Street firms.
Santos has also been accused of lying about being the "grandson of Holocaust refugees," and about losing his mother in the 9/11 terrorist attack.
The New York congressman is facing calls to resign, including from leaders of his local Nassau County Republican Party.
Speaking at a press conference on January 11, Joseph Cairo, Nassau County GOP chair, said: "He's disgraced the House of Representatives, and we do not consider him one of our congresspeople.
"His lies were not mere fibs. He disgraced the House of Representatives. He's not welcome here at Republican headquarters."
House Speaker Kevin McCarthy has thus far refused to move against Santos, arguing he does "not have the power" as his constituents voted him in.
However, the Republican leader has indicated Santos would be removed if it's found he's "broken the law."
The Campaign Legal Center reported Santos to the Federal Election Commission earlier in January, highlighting concerns about his campaign finances.