George Santos to Step Down From Committees as Support Craters
George Santos is stepping down from House committees as the vast majority of constituents on both sides of the political aisle in New York's 3rd Congressional District want him to resign.
The first-term congressman will recuse himself from his assigned House Small Business and Science committees seats as he awaits the results of an ethics investigation, NBC News and other media outlets reported Tuesday.
The decision was reportedly shared during a closed-door meeting with the House GOP Conference, according to two lawmakers who were present.
A Siena College/Newsday poll published Tuesday showed that 78 percent of registered district voters, including 72 percent of independents and 71 percent of Republicans, believe Santos should resign due to his numerous lies uncovered since his election victory in November.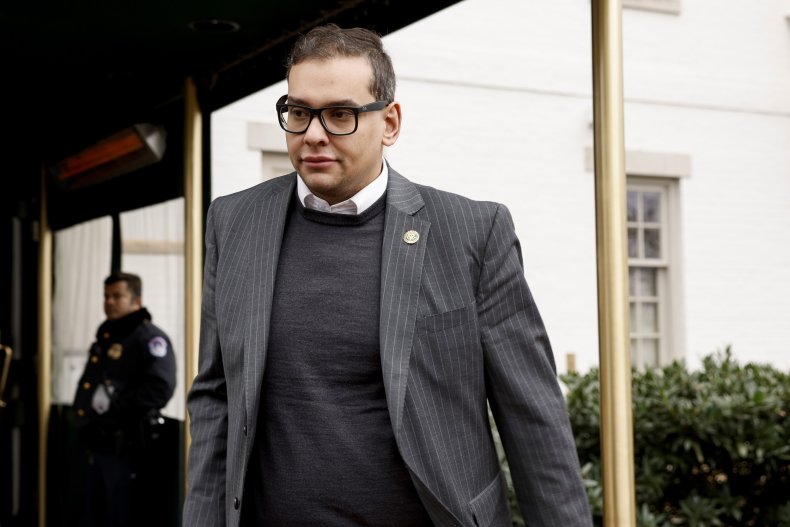 Santos is also viewed in an unfavorable light by 83 percent of the same constituents, 78 percent of them Republicans. Only 7 percent of respondents view him favorably.
Siena College Poll Director Don Levy told Newsweek that "the district has turned dramatically against him," adding that the only New York politician in recent memory whose numbers were this bad was Anthony Weiner following his sexting scandals more than a decade ago.
"It's overwhelming," Levy said. "This is a poll of registered voters in his district. People are overwhelmingly familiar. It's striking how someone can go from little known—[election] turnout was at or below 50 percent—but everyone in his district knows who he is. The favorability number is jarring."
The poll of 653 voters in the district, conducted between January 23 and 26, also found that, by a margin of 63 percent to 31 percent, they would not have voted for Santos knowing what they know now.
Also, 75 percent of respondents said Santos will not be effective in his role in Congress. Santos' "best" number was 25 percent who believe he can still be effective.
As for the two committees Santos recused himself from, the poll showed that 71 percent of respondents said it was wrong for House Speaker Kevin McCarthy to have seated Santos in the first place.
Timothy Weaver, associate professor of political science at the University of Albany, told Newsweek prior to Santos' committees recusal that McCarthy has remained relatively silent about Santos because of the GOP's razor-thin House majority.
"Now, [McCarthy] really needs every vote and, therefore, every seat," Weaver said. "Therefore, he's trying to keep at arm's length."
Weaver views the GOP House faction as one that will breed infighting, division and dysfunction. He attributed that to "irreconcilable poles within the GOP" based on moderate Republicans and hard-liners, the latter of whom are less beholden to traditional government institutions.
The debt ceiling battle will showcase such fissures, he added.
"It could led to McCarthy's demise....Given that he had to dilute his powers to win the votes of the hard-right, he is now beholden to them," Weaver said. "As such, he has made himself something of a hostage to fortune. Therefore, the speakership may turn out to be something of a hollow prize."