Kevin McCarthy Called Out by Host Over Rambling George Santos Answer
House Speaker Kevin McCarthy struggled to answer questions about his backing of controversial congresswoman Marjorie Taylor Greene and his support for sitting embattled representative George Santos on committees on CBS on Sunday.
Grilled by host Margaret Brennan on CBS's "Face the Nation" about the two candidates—as well as other issues within the new Congress— McCarthy avoided directly answering the questions, saying in one case that there was "no simple answer."
Talking of Americans' approval rating of Congress, which according to the latest Gallup survey is at 22 percent, Brennan asked McCarthy, in a video available online: "Doesn't it further wear down credibility when you put someone who's under state, local, federal and international investigation as a representative of your party on committee?"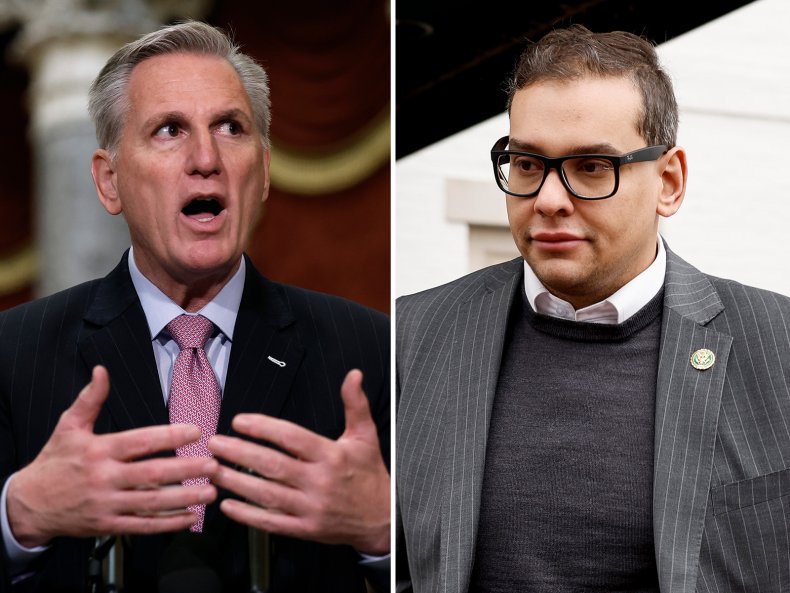 Newly elected congressman Santos, who has been hit by several scandals since he was found to have lied about much of his biography during his electoral campaign, has been reportedly assigned to the small business committee and the science, space and technology committee.
The House Speaker responded: "You want to bring up Santos, let's talk about the institution itself. I agree wholeheartedly that Congress is broken."
As McCarthy embarked in an explanation of proxy voting, Brennan interrupted him: "But I'm asking you about George Santos."
"You asked me a question, I'd appreciate if you let me answer [...] because it's not one simple answer" the California Republican said, as he continued talking about proxy voting.
"So you're just not going to answer the question I've asked," Brennan said. "I don't think you've said the name George Santos like once," she added, laughing.
The House Speaker, together with national party leaders, has ignored calls for Santos to quit from several Republican members of Congress, likely keen to avoid losing the narrow majority the GOP enjoys in the House.
McCarthy similarly struggled to directly reply to a question about the assignment of Greene to other House committees.
Questioned about the number of election deniers among the Republicans assigned to House committees by the new GOP-controlled Congress—including the Georgia congresswoman— McCarthy talked instead of Democrats who in 2000 allegedly denied election results.
"They are my choices, but they are the conference's choices," he said. "But I'm also asking you, when you look to see just Republicans, Democrats have done the same thing. So maybe it's not denying, maybe it's the only opportunity they have to have a question about what went on during the election."
Greene—who was banned from committee assignments for the past two years—has been assigned to the House Homeland Security Committee and the Oversight and Accountability Committee.