George Santos Staring Down Barrel of 3 Criminal Investigations
New York Republican Representative George Santos is facing three criminal investigations following numerous allegations made against him involving campaign funding and lies about his background.
On Wednesday, Politico reported that the FBI has opened an investigation into allegations that Santos was involved in a GoFundMe campaign and took money that was raised for a disabled U.S. Navy veteran's service dog.
According to Politico, Richard Osthoff, the U.S. Navy veteran, said that he was recently contacted by FBI agents working with the U.S. Attorney's Office in Brooklyn, New York, about claims that Santos helped set up a GoFundMe in 2016 to raise money for a surgery that Osthoff's service dog needed. However, Santos allegedly took the money that was raised and Osthoff's dog died a few months later.
In a tweet last month, Santos responded to allegations about the GoFundMe scheme and said, "The reports that I would let a dog die is shocking & insane. My work in animal advocacy was the labor of love & hard work. Over the past 24hr I have received pictures of dogs I helped rescue throughout the years along with supportive messages. These distractions won't stop me!"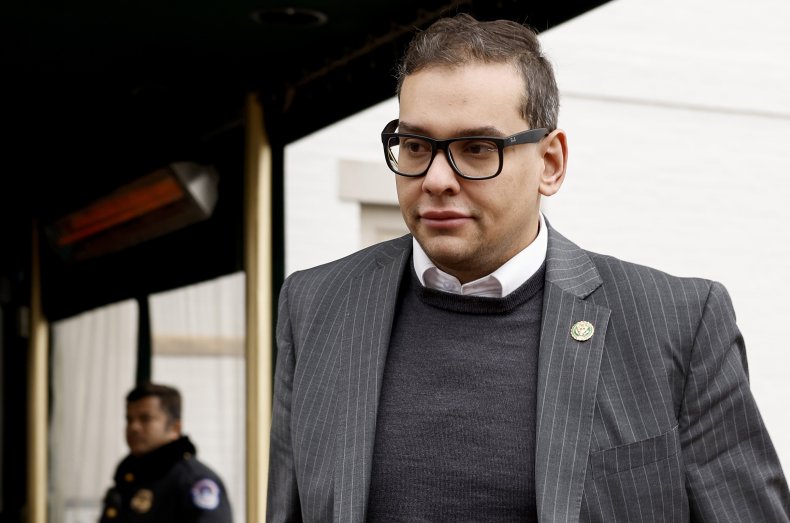 The report on Wednesday came as Santos is facing two other investigations as well as criticism from many of his colleagues.
In December, Santos spoke to the New York Post and admitted that he lied about several aspects of his past experiences, such as his college degree and his religious affiliations.
"I'm embarrassed and sorry for having embellished my resume," Santos said. "I never claimed to be Jewish....I am Catholic. Because I learned my maternal family had a Jewish background I said I was 'Jew-ish.'"
Shortly after his interview with the New York Post, the Nassau County District Attorney's office announced that it was launching an investigation into Santos' past.
"The numerous fabrications and inconsistencies associated with Congressman-elect Santos are nothing short of stunning," Nassau County District Attorney Anne T. Donnelly said in a statement sent to Newsweek.
Last month, the Washington Post reported that the U.S. Department of Justice signaled that it was likely looking into Santos' campaign financing after it requested that the Federal Election Commission pause any possible enforcement action. The New York Times reported in December that prosecutors in the Eastern District of New York were looking into some of Santos' past financial dealings.
While Santos has rebuked calls for his resignation, on Tuesday he announced that he was recusing himself from two House committees.
"With the ongoing attention surrounding both my personal and campaign financial investigations, I have submitted a request to Speaker McCarthy that I be temporarily recused from my committee assignments until I am cleared," Santos said in a statement.
Newsweek reached out to Santos' office and his attorney for comment.