George Santos Doubles Down on Making AR-15 the 'National Gun' of the U.S.
New York Congressman George Santos has defended his decision to co-sponsor a bill that would declare the AR-15 firearm the "national gun" of the U.S.
Santos, who for weeks has faced calls to resign from office after admitting to lying about his personal, professional, and educational history amid concerns about his campaign finances, is facing fresh criticism for co-sponsoring the bill brought forward by Alabama Rep. Barry Moore.
The bill, which is also co-sponsored by Colorado's Lauren Boebert and Georgia's Andrew Clyde, calls for an AR-15 style rifle chambered in a .223 Remington round or a 5.56x45 mm NATO round to be "the National Gun of the United States."
Speaking to ABC7's Eyewitness News Extra Time, the embattled congressman defended calling for a weapon used to carry out school shootings and terror attacks to be celebrated as the "national gun."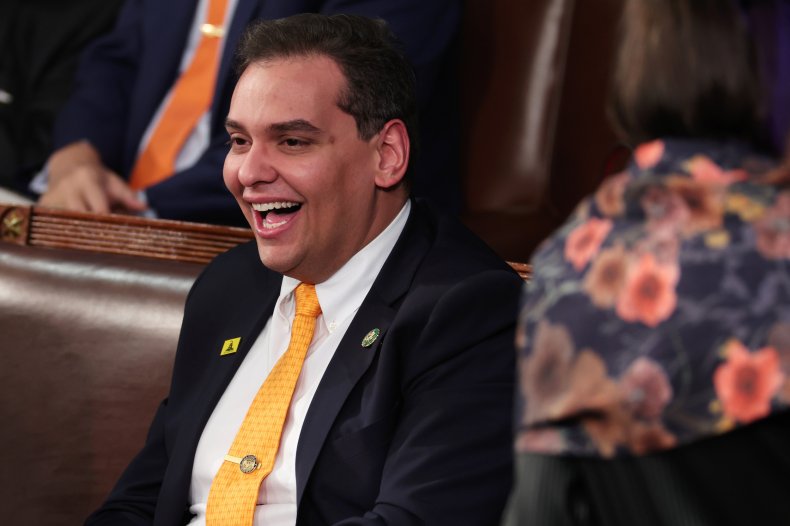 "It's more about recognition. This is a gun manufactured in the United States, creates jobs in the United States, it's a made-in-America gun," Santos said.
"We have national everything, why not have a national gun? It saves lives on a daily basis, and it's not reported. And I think it's good to have that contrast."
New York Governor Kathy Hochul was among those who condemned Santos for sponsoring the bill, saying the congressman's actions are "outrageous and appalling."
"This weapon of war has been used in mass shootings across the United States—from my hometown of Buffalo, where the shooter used a modified AR-15 to murder 10 people in a despicable act of white supremacist terrorism, to Parkland, Florida, where the shooter killed 17 innocent people with an AR-15-style weapon," Hochul said.
"This bill, which attempts to glorify the weapons that have been part of such horrific tragedies, adds unforgivable insult to injury for those families. It should never become law, and Congressman Santos should immediately remove his name from it, if he has any respect for New Yorkers."
Santos dismissed the criticism from Hochul as "nothing but rhetoric."
When asked how he feels about his own constituents who are upset about the "national gun" bill, Santos told Extra Time: "Every member of Congress is going to have half of their constituents that are going to agree with what you do and half that are not."
"I have received a lot of support for acknowledging and recognizing this bill. And I've received criticism, but that's just part of the gig," Santos added.
Santos and another Republican, Rep. Anna Paulina Luna, were previously criticized for wearing assault rifle lapel pins on the House floor.
It later emerged that they were provided to the lawmakers by fellow "national gun" bill co-sponsor Rep. Clyde.