House Republicans Criticized over Assault Weapon Lapel Pins: 'Mortifying'
House Republicans have been slammed for sporting lapel pins shaped like assault rifles.
Rep. Andrew Clyde of Georgia on Thursday took credit for the pins that colleagues Rep. George Santos of New York and Rep. Anna Paulina Luna of Florida have been photographed wearing.
"I hear that this little pin that I've been giving out on the House floor has been triggering some of my Democratic colleagues," Clyde said in a video posted on Twitter. "Well, I give it out to remind people of the Second Amendment of the Constitution and how important it is in preserving our liberties."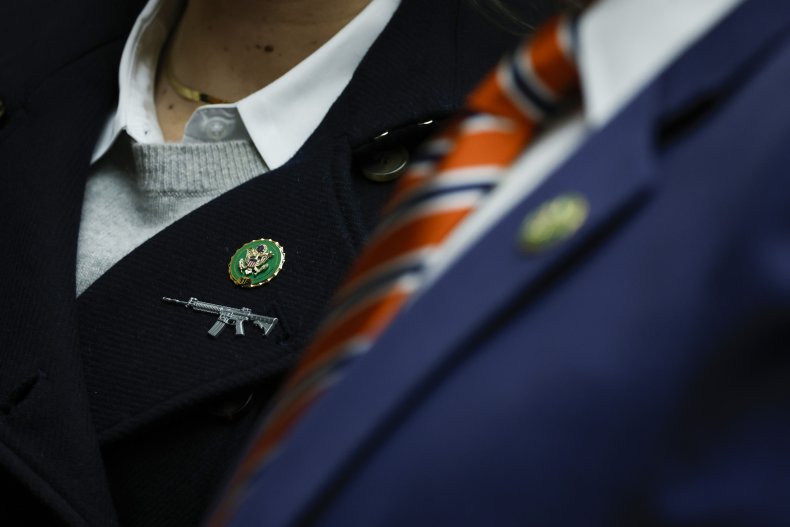 The pins sparked outrage from Democrats and others on social media, coming in the wake of a series of mass shootings and during National Gun Violence Survivors Week.
Rep. Jimmy Gomez, a Democrat from California, said on Twitter that Clyde did not mention that he owns a gun store.
"Not only are you mocking gun violence survivors during #GVSurvivors Week, but you're making a profit off of mass shootings too," he wrote.
In another tweet, he noted Luna wore the pin less than 48 hours after a mass shooting in her state.
"You can't make this s*** up. This isn't the flex you think it is," he wrote.
In a tweet on Friday, Gomez said: "It is not lost on me that several Republicans wore assault weapon pins on #GVSurvivorsWeek.
"After a series of mass shootings in California and across our country. After we saw kids murdered by weapons of war in Uvalde, Parkland, Sandy Hook and more. When will they treat the gun violence epidemic with the urgency it deserves?"
Rep. Cori Bush wrote: "While gun violence continues to be the leading cause of death for children in our country, @GOP members are wearing assault rifle pins during #GVSurvivorsWeek. Shameful."
Nevada Rep. Dina Titus added: "Weapons of war have no place on our streets, much less on our lapels."
Others on Twitter also criticized the lapel pins, with journalist Helen Kennedy referring to Clyde as "the clown giving out gun pins to fellow congressmen."
Kennedy added: "I wish the rest of the world couldn't see this. So mortifying."
Will Bunch, an opinion columnist for The Philadelphia Inquirer, tweeted: "Imagine the reaction if members of Congress had worn Boeing 747 lapel pins after 9/11, or a replica of a U-Haul rental truck after the OKC bombing.
"Then explain how wearing an AR-15—the killing machine that's gunned down hundreds of innocent Americans—is any different."
The House Judiciary Democrats account on Twitter noted that Democrats had reintroduced the assault weapons ban following a string of mass shootings.
"Republicans showed their obedience to the gun lobby with AR-15 lapel pins," the tweet said.
According to the Gun Violence Archive, the U.S. has seen 55 mass shootings so far in 2023, a figure that is outpacing previous years. More than 600 mass shootings took place across the country in 2022.
Newsweek has contacted the lawmakers for further comment.