George Santos' Constituents Furious With 'Greatest Fraud in U.S. History'
George Santos has been branded a "swindler" and the "greatest fraud in U.S. history" by a campaign group from within his New York constituency, who are demanding he is ousted from Congress.
Santos flipped New York's 3rd congressional district in November 2022, in a win that helped the Republicans gain control over the House of Representatives.
However, the representative is under pressure to resign following accusations he lied about much of his backstory, including his education, employment history and claim to be the "grandson of Holocaust refugees."
The Concerned Citizens of NY-03 is a "nonpartisan" group from within Santos' Long Island constituency, which is campaigning for him to be booted out of office.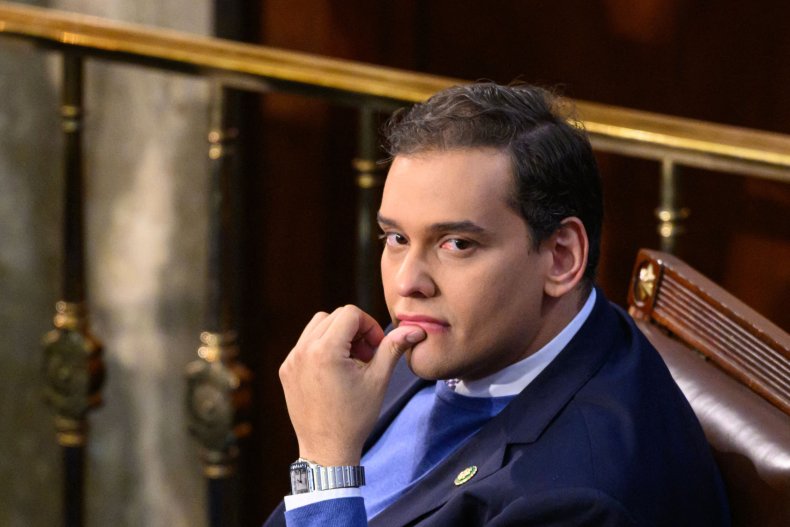 Speaking to Newsweek, a spokesperson for the group urged House Speaker Kevin McCarthy to move against Santos, claiming that "until he is expelled, we have no representation in Washington."
Referring to a protest the group held outside Congress on Tuesday, they said: "We are frustrated and angry. We had to take off from work to travel to D.C. to make this point, because it seems that Speaker McCarthy could not hear us from Long Island. Just like every American, we are entitled to meaningful, effective representation in Washington.
"People are shocked to learn that there are few guardrails to keeping a liar, fraudster, charlatan, and probable criminal from infiltrating the highest levels of our government."
Santos has not been convicted of any crime he has been accused of, including a number of potentially illegal campaign finance violations. In 2017, he was charged with stealing thousands of dollars from Pennsylvania dog breeders using bad checks written in his name, though the case was later dropped. He has denied any wrongdoing in both cases, and insisted his check book disappeared in 2017 and the checks were written by somebody else.
A former volunteer who worked in Santos' congressional office in January has alleged that the House Republican groped his groin without consent, and has made a complaint to the United States Capitol Police, and the House Committee on Ethics.
Santos told a CNN reporter the allegation is "comical," and that he "100 percent" refutes the claim against him.
The Concerned Citizens of NY-03 is being advised by Jeffrey Wiesenfeld, a Republican operative who worked for Alfonse D'Amato and George Pataki during their time as a GOP representative and the governor of New York respectively.
Addressing Newsweek via the group, Wiesenfeld said: "I believe that not only is George Santos the greatest fraud in the history of the U.S. Congress, but in the fullness of time, he will be charged and convicted of serious crimes in multiple jurisdictions.
"As an institutionalist, I am appalled by his presence. As a Republican, I believe that every day he is not removed—there is already more than enough proven to declare him unfit—is damaging to the Republican Party. I have asked Speaker McCarthy—along with my fellow 3rd CD [congressional district] voters—that the speaker commence Santos's removal with all due hast."
To avoid another "swindler" being elected to Congress, the Concerned Citizens of NY-03 group is backing the proposed Stopping Another Non Truthful Office Seeker Act, which has been proposed by two New York House Democrats.
The legislation, also named the SANTOS Act, would require future congressional candidates "to file additional information including educational background, military service, and employment history, with a $100,000 penalty or one year prison for willful violation."
Newsweek has contacted George Santos for comment.