George Santos Sexual Assault Accuser Says Ethics Committee Is Investigating
Members of George Santos' congressional team are being interviewed by the House ethics committee, according to the former volunteer who accused the New York congressman of "sexual assault."
Derek Myers spent a week working in Santos' congressional office in January while seeking permanent employment.
During this time he alleges Santos subjected him to sexual harassment, including one incident where he "proceeded to touch my groin" without consent.
Santos strongly denied the allegations, which Myers said on Monday that he reported to United States Capitol Police and the House ethics committee.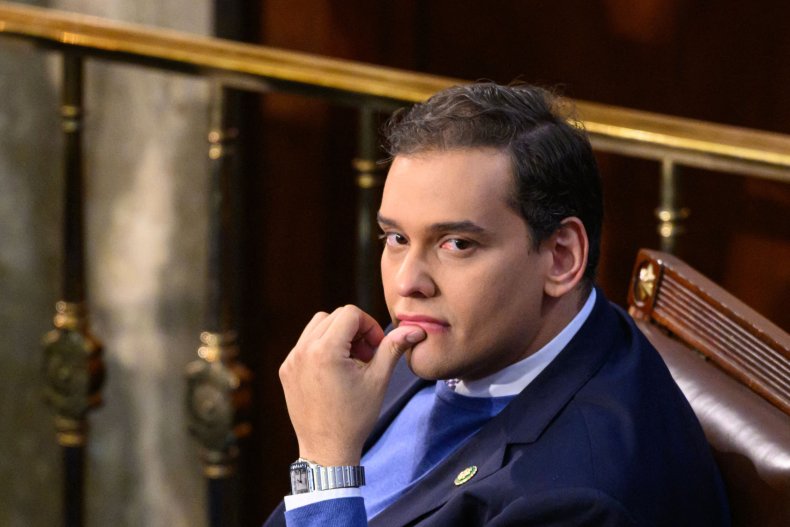 Speaking to CNN reporter Kit Maher on Monday, the Republican representative said he "100 percent" refutes the allegations, adding: "It's comical. Of course, I deny that claim."
During an interview with Newsweek Myers hit back at Santos and said he believes members of the congressman's team may already have been interviewed by the House ethics committee.
"Sexual harassment is not 'comical.' These are serious offenses," he told Newsweek. "Filing a false police report would be a crime. I would suspect that statistics prove the majority of victims don't come forward because they are afraid of being shamed, embarrassed, or called a joke.
"This is no joking matter and from what I understand, the ethics committee has begun interviewing former co-workers of mine," he said.
On Monday, CNN's Melanie Zanona said the House ethics committee had "begun questioning staffers for Rep. George Santos," though added: "It is unclear what exactly the committee asked these staffers about."
Regarding the claim, Zanona reported that Santos told Maher: "No, I don't know. I don't know if they are being interviewed."
When approached by Newsweek, the House ethics committee declined to comment on whether any of Santos's staffers have been interviewed.
Santos, who flipped a previously Democratic-held district, has been facing calls to resign since December when it first emerged large parts of his resume were fabricated.
These included his claims to have graduated from Baruch College, worked for both Citigroup and Goldman Sachs, and that four "people who work for me" were killed in the 2016 Pulse nightclub massacre in Orlando.
Santos has also been criticized over his claim to be the "grandson of Holocaust refugees" who had fled from Ukraine and Belgium after The Forward found documents indicating they were born in Brazil prior to World War II.
The congressman is also under pressure to explain his campaign financing after an investigation by Mother Jones couldn't find any record of "more than a dozen" of those listed as his donors actually existing.
Last week Santos recused himself from two assigned committee seats while waiting for the outcome of an ethics investigation.
Newsweek reached out to George Santos for comment.