George Santos Volunteer Talks Sexual Assault Claim: 'No One Should Be Violated'
Derek Myers, the former George Santos volunteer who alleges he was sexually assaulted and harassed by the House Republican, has told Newsweek about his experiences.
Myers spent a week volunteering in Santos' congressional office last month, while hoping for permanent employment.
During this time, Myers alleges he faced "sexual assault," and "sexual harassment," from the New York congressman, including having his groin grabbed without consent.
Newsweek has reached out to George Santos several times in the past 24 hours for comment on the allegations, through his chief of staff, his attorney and his media email. The only response came from his attorney Joe Murray, who simply said, "No comment."
The allegations were first made in public by Myers on Friday, when he shared a letter he'd written to the House Ethics Committee to formally complain about Santos' behavior on Twitter. Myers also said he had reported Santos' alleged behavior to the United States Capitol Police.
Speaking to Newsweek about the allegations, Myers said: "Sexual assault is not something anyone should be subjected [to]; no matter the level. There are victims of violent assaults who have to live with trauma everyday for the rest of their lives because they were taken advantage [of].
"My brush with assault was non-violent and my thoughts are with those who have to live with nightmares from their horrific experiences. No one, no matter the extent should be violated."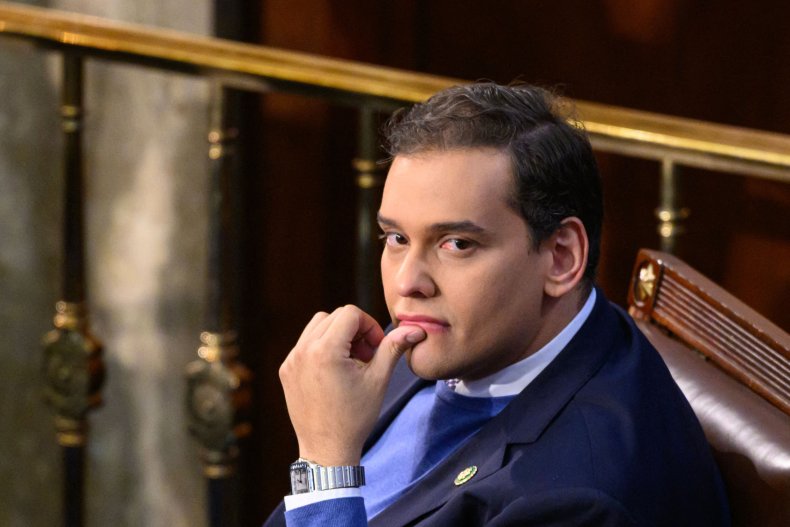 Myers also alleged Santos broke the House ethical code of conduct, by having him perform "staff duties" despite being "an unpaid volunteer." Whilst Myers had been seeking a full-time job in Santos' office, he said he was "released after several days of work without compensation."
During the Newsweek interview, he added: "The Speaker was quoted in media in January saying if ethical violations were found to have been committed by Congressman Santos then Santos would be expelled. All the previous allegations and ethical complaints filed against him by outside agencies and other members of Congress mostly pertain to his conduct prior to taking the oath and arguably can't be used to expel. The claims I have filed have occurred while he has held office."
However, Myers questioned whether House Speaker Kevin McCarthy would actually move against Santos, as this could cost the Republicans a seat.
He said: "If the GOP and leadership wanted to expel him, they now have the ability under his own admissions. I don't believe they are willing to compromise the majority. The precedent for such violations have been slaps on the wrist, but then again, Santos isn't your average member and many want him gone. The opportunity is here and it's up to the Speaker to decide."
In addition to the repeated attempts to contact Santos and his team, Newsweek has contacted the United States Capitol Police and House Ethics Committee for comment.
Santos has been facing calls to resign since it emerged he invented a large chunk of his resume, including his claims to have graduated from Baruch College, worked for top Wall Street banks and lost employees in the 2016 Pulse nightclub mass shooting.
A Siena College survey published last month found 59 percent of New Yorkers want Santos to resign, against just 17 percent who believe he should stay in post.