Kevin McCarthy Kicks the George Santos Can Down the Road
Rather than be a staunch voice on behalf of his caucus, Republican House Speaker Kevin McCarthy is letting the new head of the House Ethics Committee deal with Representative George Santos.
McCarthy has toed the line of commenting on the controversial new congressman and his litany of lies uncovered since his November election victory. On Monday, the speaker of the 118th Congress announced that Mississippi Republican Michael Guest will chair the committee composed of five Republicans and five Democrats.
Aside from providing mandatory ethics training for House members, the committee is responsible for investigating alleged violations of House rules by members. That includes reviews of financial disclosure statements, which are among numerous questions surrounding Santos' pre-congressional days.
"I'm proud to reappoint Michael Guest to the Ethics Committee," McCarthy said Monday in a statement. "As chair, he will work to maintain standards and restore the integrity of this institution. He will put the mission of the People's House above all else and will help deliver transparency to the American people."
As New York Democratic representatives Ritchie Torres and Dan Goldman have requested that the House Ethics Committee look into Santos' financial disclosures, McCarthy has stayed away from calling for Santos' expulsion.
"I try to stick by the Constitution....The voters elected him to serve," McCarthy said, according to Roll Call. "If there is a concern, and he has to go through the Ethics, let him move through that."
In his own statement, Guest called it "necessary" to "maintain the ethical standards of the people who elected us."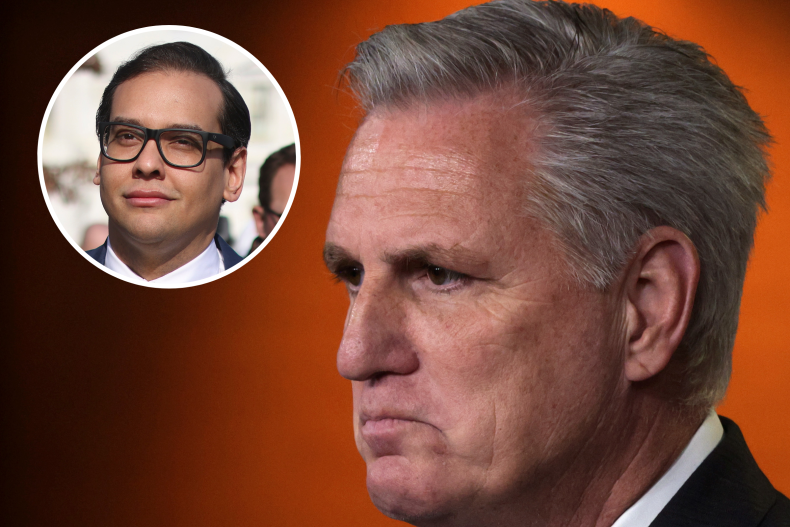 Roll Call said that Guest's partisanship is higher than average, voting with his party 98 percent of the time compared to an average of 93 percent for Republicans overall.
Not only has he been a strong supporter of former President Donald Trump, Guest voted against certifying the electoral votes of Arizona and Pennsylvania following the 2020 election. He did condemn the January 6, 2021, Capitol riot.
The 34-year-old Santos has faced intense scrutiny on a national scale since defeating Democrat Robert Zimmerman in November to represent New York's 3rd Congressional District, flipping the district red and helping to provide the GOP with a slim majority.
Elements of his resume that Santos has described as "embellishments" included not graduating from college, not working for Goldman Sachs, not owning 13 properties, and misrepresenting a Jewish heritage.
Most recently, he has been embroiled in controversy stemming from allegedly performing in Brazil some 15 years ago as a drag queen named Kitara Revache—an allegation Santos vehemently denied as "categorically false."
Casey Burgat, an assistant professor and director of the legislative affairs program at the Graduate School of Political Management at The George Washington University, told Newsweek that McCarthy's appointment of Guest is somewhat surprising because politics should be "as far removed as possible" within that committee.
But given McCarthy's razor-thin majority and his drawn-out fight for the speakership, Burgat said Santos remains a guaranteed McCarthy vote and will aid the GOP caucus during this "honeymoon" period.
"There's not a lot of wiggle room for [McCarthy] to lose votes, despite the potential embarrassment of other shoes to fall [for Santos]," Burgat said, adding that McCarthy could point to the ethics committee rather than take blame himself. "Santos is that loyalist vote."
Aside from ethics probes already being conducted on a state level, and even in Brazil associated with an alleged stolen checkbook in 2008, Santos has been called out by members of his own party to resign.
"He deceived the voters of the Third Congressional District, he deceived the members of the Nassau County Republican Committee, elected officials, his colleagues, candidates, his opponents, and even some of the media," Nassau County Republican chairman Joseph Cairo said this month.
A new Siena College survey published Monday revealed that 59 percent of New Yorkers believe Santos should resign, with only 17 percent believing he should keep his seat.
Newsweek reached out to McCarthy for comment.