George Santos Given Hard Deadline to Address Major Glaring Issue
Nancy Marks—the treasurer for distressed Congressman George Santos' campaign—resigned from her job last month, leaving Santos' office with a gaping hole in its staff as it faced mounting scrutiny for Santos' numerous financial transgressions as a candidate.
By law, the campaign was required to have a replacement lined up within 10 days of Marks' resignation. However, more than two weeks later, nobody has yet stepped up to fill her shoes. And the Federal Elections Commission—the agency responsible for policing money in politics—is taking notice.
On Thursday, the FEC sent a letter to Santos' office giving him a little more than one month to fill Marks' spot or risk the FEC freezing its accounts, barring it from raising or spending any money.
Not that there's much left. According to his campaign's year-end filing, Santos currently maintains just over $28,000 in cash, with outstanding debts of around $755,000—all of which he currently owes to himself.
Newsweek has reached out to Santos' office to learn whether they have prospects lined up to take Marks' job. However, at this juncture, it may be hard to imagine anyone rushing to take the job.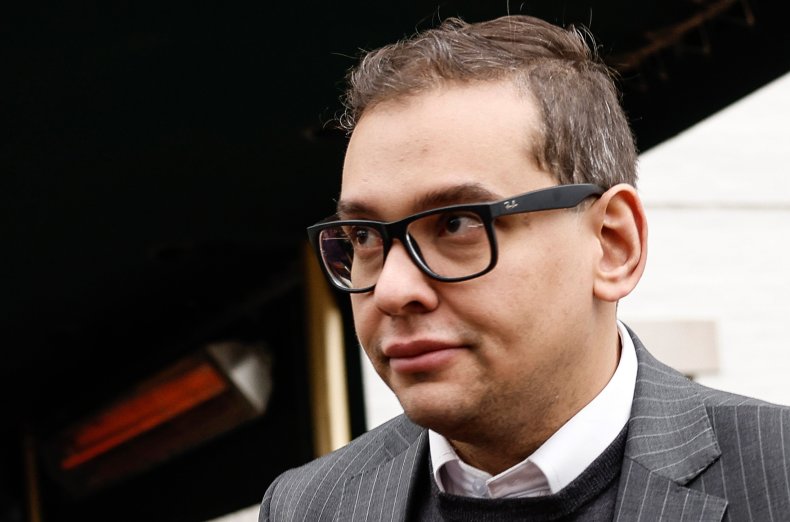 Since news initially broke that the New York Republican fabricated nearly every facet of his biography to get elected, Santos' campaign expenditures have been placed under a microscope.
Reporters and investigators have zeroed in on everything from his expensive taste in restaurants to a large number of expenditures inexplicably listed at $199.99—two cents below the FEC requirement before it requires receipts—as well as the source of financing for a campaign Santos has claimed he funded himself, even as his wealth and the veracity of his professional background have been called into question. Earlier this week, a New York Times investigation determined some $365,399 in nonitemized spending from his campaign, with no record of where it went or for what purpose.
"The mysterious expenditures, which list no recipient and offer no receipts, account for nearly 12 percent of the Santos campaign's total reported expenses—many times exceeding what is typical for congressional candidates," the Times reported.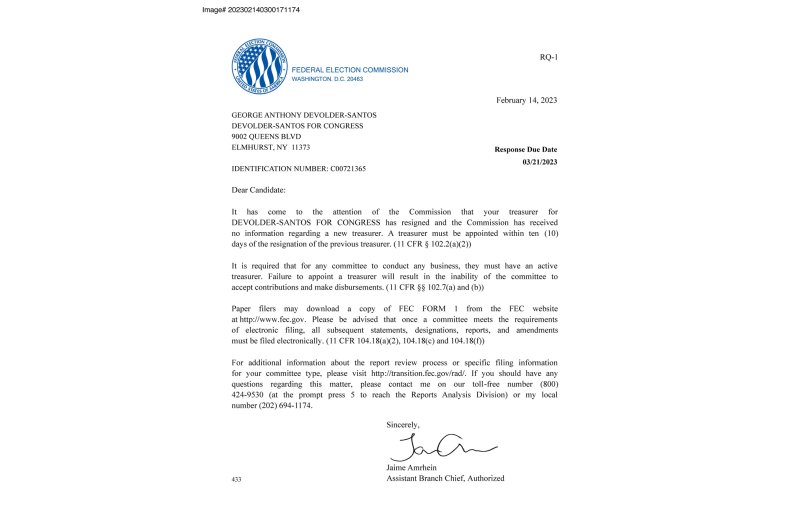 Typically, the job of a campaign treasurer is relatively straightforward. Working with a compliance team and, often, with legal counsel, a treasurer is responsible for registering the committee's paperwork with the FEC, depositing receipts, authorizing a campaign's expenditures, monitoring contribution limits and signing and filing all reports and statements about the campaign's finances on time.
Since Marks' resignation, there have been a number of different names listed as filling her role, prompting the FEC to push Santos' campaign for answers as to who will fulfill those responsibilities moving forward.
Shortly after Marks' exit, Santos' campaign filed a new statement of organization listing experienced Republican treasurer Tom Datwyler as filling the role, only for a lawyer representing Datwyler to publicly declare his client had, in fact, turned down the position and had not authorized the filing.
With another key filing deadline approaching, Santos' campaign filed paperwork bearing the signature of Andrew Olson, though his name has not appeared in any correspondence since. Today, Santos is currently listed on the FEC website as his own treasurer.
It might be understandable that nobody is rushing to take the job. Working with a candidate like Santos comes with a high amount of risk, and the penalties can be steep.
According to FEC regulations, a campaign's treasurer can personally be found liable for their role if the committee is found in violation of campaign finance law—even if the transgressions occurred under a different treasurer. And in the parlance of the FEC, those transgressions often equate to hefty fines, which the treasurer and the campaign they operate would both be liable for.
At least, that's how it would seem based on the language of the FEC website.
For a new treasurer to be implicated in those violations, one top campaign finance attorney told Newsweek, FEC regulations passed in 2004 appear to stipulate a more stringent set of guidelines in its rulemaking to determine intent in order to make a final judgment. While the sitting treasurer would be named in a complaint, the FEC would practice discretion when determining whether to hit them with penalties.
"So, the FEC seems to have indicated that a new treasurer will only be personally liable if he/she actually engages in some impermissible activity himself/herself," a former FEC official who wished to remain anonymous told Newsweek.
Update 02/16/23 3:24 p.m. ET: This article was updated with comment from a former FEC official.