George Santos Mocked for Old Karaoke Recordings of Disney, Leonard Cohen
George Santos has been mocked on social media, after clips of what appears to be him performing karaoke on singing app Smule resurfaced on the internet.
Four songs were performed on the app by a user named georgedevolder, a variant on the New York Republican's full name of George Anthony Devolder Santos, in the mid-2010s.
Uncovered by Rolling Stone magazine, the man identified as Santos can be heard performing "Let It Go" and "Friends Like Me" from Disney hits Frozen and Aladdin, Leonard Cohen's iconic "Hallelujah" and "Cups," as sung by Anna Kendrick in the 2012 movie Pitch Perfect.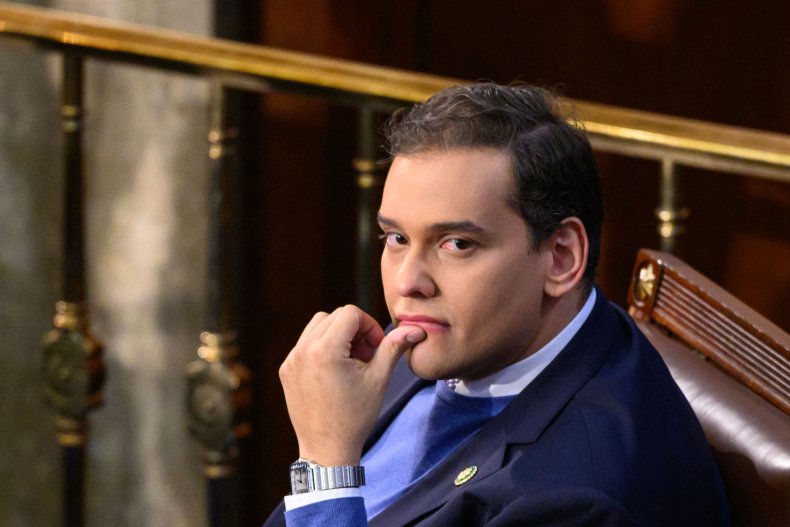 He also performed a number of duets with other Smule users, including songs from Disney hits such as The Lion King, Beauty and the Beast and The Little Mermaid.
Clips of Santos singing were shared on Twitter, sparking mockery from other users of the social media platform.
Harry Sisson, a self-described Democrat with 71,500 Twitter followers, tweeted: "It's been revealed that 8 years ago, George Santos posted multiple karaoke videos. Here's him singing Cups from Pitch Perfect..."
In response, referencing lyrics from the song, Twitter user Kevin Brogan said: "'You're gonna miss me when I'm gone'. Can't wait to find out."
Another platform user replied: "He should keep his day... nevermind."
A third wrote: "Oof. No wonder he changed his name."
However not everybody on the platform was so negative, with Richard Seeger commenting: "Well he's a much better at being a singer and drag performer than a politician..."
Last month Brazilian drag queen Eula Rochard provided a 15-year-old photo that she claimed showed Santos dressed as a drag performer in Brazil.
The House Republican initially labeled the claims "false," but after video emerged told ABC 7: "I was young and I had fun at a festival—sue me for having a life."
A clip of Santos apparently singing "Hallelujah" was shared on Twitter by The Recount, with two of the platform's users responding with gifs showing people covering their ears.
Audio purporting to be of Santos singing "Let It Go" was shared by Twitter user Dave Goss.
Santos is facing calls to resign from Congress after it emerged he fabricated much of his back story, including his claims to have graduated from Baruch College, worked for Goldman Sachs and Citigroup and lost four employees in the 2016 Pulse Orlando nightclub massacre.
The Republican has also been accused of lying about being the "grandson of Holocaust refugees," and losing his mother due to the 9/11 terrorist attack on the World Trade Center.
On Tuesday, Santos announced he had rescinded himself from the House Small Business and House Science, Space and Technology committees until an ethics investigation into his conduct is complete.
Santos has been contacted for comment.