George Santos' State of the Union Guest Was Fired for Agreeing to Go
The man attending the State of the Union address as the guest of embattled New York Representative George Santos was reportedly fired for accepting the invite.
President Joe Biden will deliver his second State of the Union speech on Tuesday, and the first one since the Republican Party regained control of the House of Representatives. Among those Republican members is Santos, a freshman congressman whose time in Washington has been marked by revelations about lies he has told about his background, and alleged frauds that he has committed in the past.
As Santos continues to dodge reporters in the U.S. Capitol and defy calls to resign, he is set to attend the State of the Union with Michael Weinstock, a former firefighter who ran as a Democrat for the same seat in 2020 that Santos now occupies. The congressman confirmed the news in a House floor speech on Monday.
Weinstock suffers from a neurological condition, neuropathy, rooted in his time working as a first responder. Due to his decision to accept Santos' invite, The New York Times reported on Monday that he has been fired from the law firm where he had worked.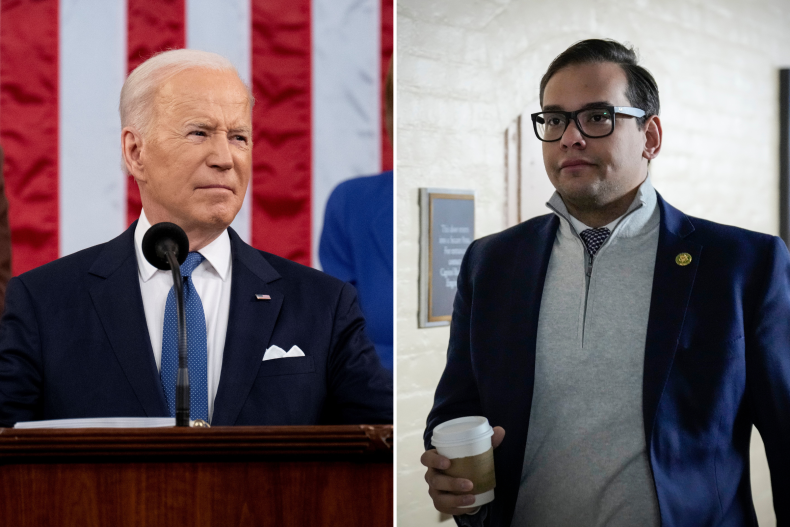 Weinstock told the paper that he is attending in order to raise awareness for other first responders in need of health care, particularly those who, like him, served during the September 11, 2001, terrorist attacks in New York City.
"I'm cautiously optimistic that I'll be able to stay focused enough on the issue of 9/11 responders receiving the health care that they need without being sullied by George Santos," Weinstock said to the Times.
Members of Congress are traditionally permitted to invite one guest each to the State of the Union. The guests are typically chosen as symbolic gestures to highlight support for certain issues.
While neither man has addressed the discrepancy in public, Santos' invitation to Weinstock has raised some eyebrows due to the congressman's prior lies surrounding 9/11.
The congressman had at one point claimed that his mother, Fatima Devolder, survived the attacks while working in the South Tower and later died from cancer in 2016 caused by "the toxic dust" created by the collapsing of the World Trade Center. Investigations later turned up immigration documents for Devolder from 2003, which stated that she had been out of the United States since 1999.
When confronted with these documents in a later interview with One America News, Santos claimed not to understand them and insisted that he and his mother were in New York City during the attacks.
"That, to me, remains a mystery because I was here, and I was 13 years old. So I want to understand where they're coming from with this," he said to OAN.
Newsweek reached out to Santos' office for comment.