George Shultz, Former Head of Treasury and State Departments, Dies at 100
George Shultz, former head of the U.S. Treasury and State departments, died Saturday. He was 100 years old.
"Our colleague was a great American statesman and a true patriot in every sense of the word. He will be remembered in history as a man who made the world a better place," said Condoleezza Rice, former Secretary of State and current director of the Hoover Institution, in a release sent to Newsweek.
Shultz held three different cabinet positions under former President Richard Nixon, including Treasury secretary, director of Management and Budget, and Labor secretary.
Shultz also served for six years as former President Ronald Reagan's secretary of state, where he helped shape U.S. foreign policy during the closed phase of the Cold War.
He encouraged Reagan to pursue dialogue with Soviet Union leaders despite opposition from the Pentagon and other government officials at the time.
"I always thought of Shultz as a stabilizer," John Lewis Gaddis, Yale University professor and Cold War historian, told The Wall Street Journal. "If you think of great ships going across the ocean, the captain sets the course, but somebody has to keep it on course."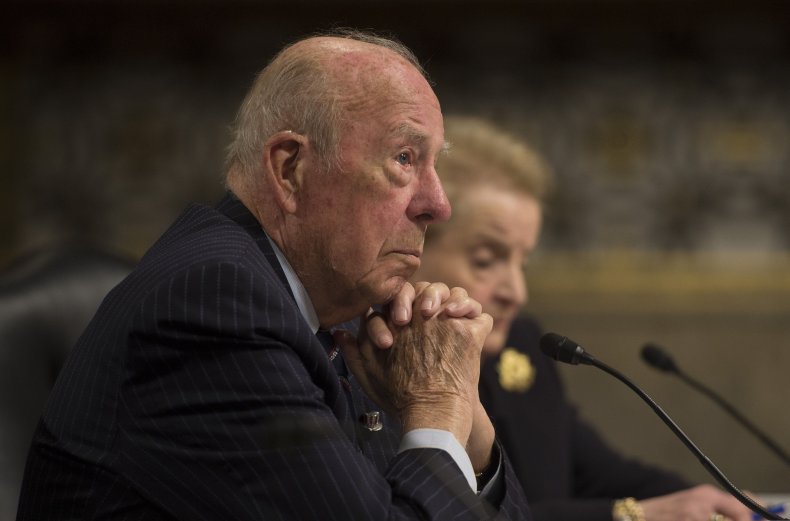 Shultz was also one of eight former Treasury secretaries who signed a letter urging the Senate to promptly confirm the appointment of Janet Yellen to the position in January, claiming that delaying confirmation would "create unnecessary risk." Yellen was confirmed later that month.
Shultz celebrated his 100th birthday on December 13 at a virtual gathering at the Hoover Institution.
Before his centennial celebration, Shultz wrote an op-ed for The Washington Post entitled "The 10 Most Important Things I've Learned About Trust Over My 100 Years."
"I've learned much over that time, but looking back, I'm struck that there is one lesson I learned early and then relearned over and over: Trust is the coin of the realm," wrote Shultz.
"When trust was in the room, whatever room that was—the family room, the schoolroom, the locker room, the office room, the government room or the military room—good things happened," Shultz added. "When trust was not in the room, good things did not happen."
Shultz died in his home in California.
He is survived by his wife, Charlotte Mailliard Shultz, and his five children—Margaret Ann Tilsworth, Kathleen Pratt Shultz Jorgensen, Peter Milton Shultz, Barbara Lennox Shultz White, and Alexander George Shultz—as well as 11 grandchildren and nine great-grandchildren.