George Soros Invests $125M in Democratic Super PAC as GOP Has Leg Up in Midterms
Billionaire George Soros is pouring $125 million into a political action committee ahead of the 2022 midterm elections.
The 9-figure investment will go to the Democracy PAC, Politico first reported. Soros launched the group ahead of the 2020 election cycle to serve as his spending vehicle.
Soros said in a statement shared with Newsweek that the PAC will "support causes and candidates, regardless of political party, who share a mission of protecting and strengthening the infrastructure of American democracy: voting rights and civic participation, civil rights and liberties, and the rule of law."
He said that the money isn't just for this year, but a "long-term investment" for political causes. He also announced that his son, Alexander, will be leading the Democracy PAC's efforts.
"Events of the last two years, particularly the January 6th insurrection and ongoing efforts to discredit and undermine our electoral process, reveal the magnitude of the threat to our democracy," Alexander Soros said in a statement. "It is a generational threat that cannot be addressed in just one or two election cycles. Democracy PAC is now positioned to pursue its mission of preserving and protecting our democracy well into the future."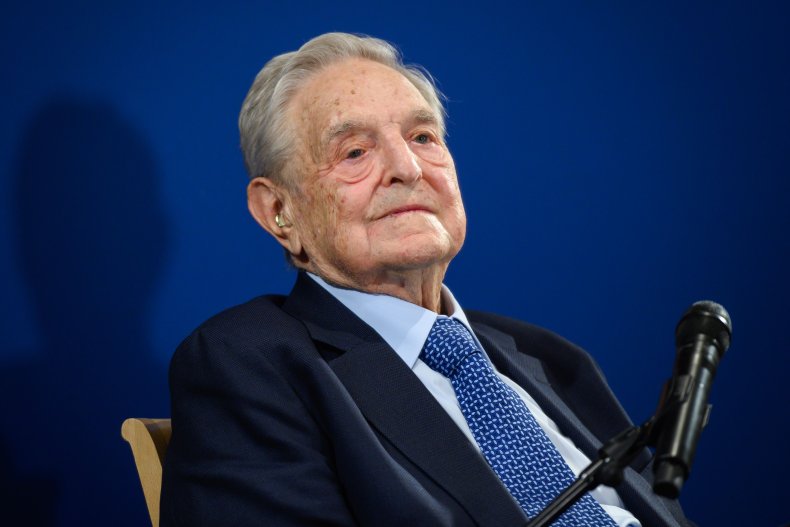 The massive investment comes as surveys show Republicans with an advantage heading into the election cycle this November. The GOP is aiming to retake control of Congress, as Democrats currently enjoy narrow majority control in the House of Representatives and Senate.
Polling data compiled by FiveThirtyEight currently finds Republicans have a 2-point advantage over Democrats on a generic congressional ballot. Approximately 44.2 percent of Americans say they'd back a GOP candidate in the election compared with 42.2 percent who would back the liberal candidate.
Plus, history may already be on the Republican Party's side. Midterms are typically a referendum on the party in charge, as seen in 2018 when Democrats took back control of the House after two years of Donald Trump's presidency, or in 2010 when Republicans made significant gains during Barack Obama's first term.
Bookmakers have also rated Republicans as having slightly better odds than the Democrats in winning control of Capitol Hill this November.
House Minority Leader Kevin McCarthy has teamed up with Newt Gingrich to produce a legislative agenda to pitch to voters on the campaign trail. Senate Republican Leader Mitch McConnell, on the other hand, appears to be focused on making the elections about Biden and the Democrats.
Another bad sign for Democrats is President Joe Biden's low approval numbers. Gallup's latest survey found 40 percent of Americans approve of the job he's doing as president, his lowest approval rating to date.
Gallup also recently found that Biden's leadership rating is lower than his predecessors, with just 37 percent of Americans describing the Democrat as a "strong and decisive" leader.