'George Washington' Says if Capitol Rioters Wanted Trouble There'd Be 'Piles of Bodies'
Five people died during the Capitol riot on January 6 and Isaac Yoder, who dressed as America's first president, George Washington, said if the mob wanted to mount a unified stand, the casualties would have been much higher.
"Most of us out there are on the side of the aisle who are the gun owners," Yoder told Newsweek. "If we had collectively gone there to cause trouble there would have been piles of bodies. We could have leveled things."
Yoder ventured over to the Capitol after hearing former President Trump speak and said by the time he reached the building, there "were people everywhere." Footage from the scene showed groups of people pushing past police officers and getting into physical altercations with law enforcement in an effort to enter the Capitol, but Yoder denies it's anything he would have done.
"If there's a police officer standing there guarding a door, you don't cross a police line. I certainly did not cross the police line. I never went against law enforcement," Yoder said.
Having walked through an open door, Yoder recalled that police officers never explicitly told him that he couldn't come inside. He had conversations with officers, and at one point, an officer asked if he could "keep going" in one direction instead of altering course.
When asked if he would cooperate with that, Yoder remembers telling the officer, "of course," and that he wasn't going "to have any trouble here." Wearing the George Washington costume in a nod to America's founding, Yoder estimated he was only inside the Capitol for a few minutes.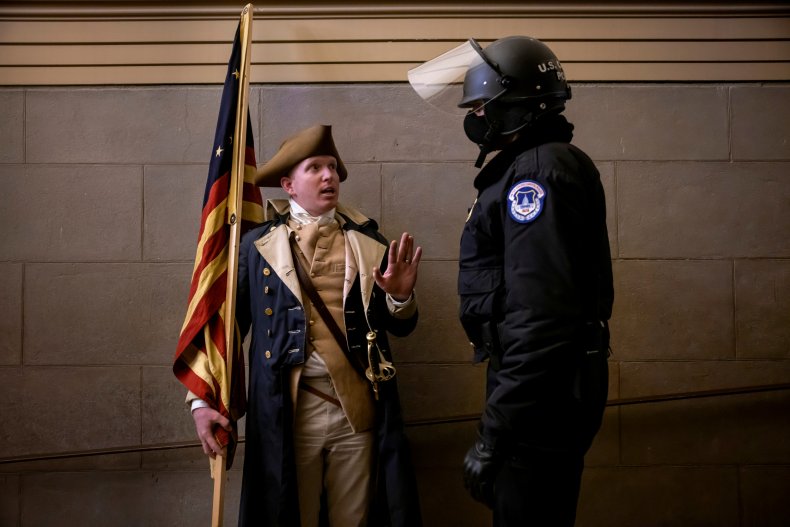 The breach of the Capitol cost five lives, including Capitol Police Officer Brian Sicknick's, and more than $30 million in damages. Sound systems were destroyed and stolen, lanterns were ripped from the ground, murals and furniture were left in need of repair and rioters broke windows and doors in an effort to gain access to the inside.
Yoder, who disagrees that riot is the correct label for what happened on January 6, didn't condone the damage that was done but said it signaled they weren't there to cause any real trouble. Had that been the intention, he said the result made them the "most pathetic group of people."
"We were there to preserve our country," Yoder said. "It was turning out to support our president, but also to stand up for our country and it's much bigger than Trump and the election."
For many, including Yoder, the driving force behind going to the Capitol was the 2020 election and the belief that it was stolen from Trump. It's a credence the president himself says he holds, and Yoder said if Democrats were confident President Joe Biden won fairly, they should have brought the issue before the Supreme Court to appease the naysayers.
After months of attacking the election's ability to be secure, Trump began challenging the results in court after news outlets declared Biden the winner. His legal efforts were in vain, as court after court sided against him in his quest to overturn the election results and the Supreme Court, with three Trump-appointed justices refused to hear the case.
"The Supreme Court didn't have the courage to overturn elections that should have been overturned because you're talking about decisive amounts, hundreds of thousands and even millions of votes," Trump told Fox Business' Maria Bartiromo on Tuesday. "The Supreme Court should be ashamed of itself."
Trump's claims that the election was stolen from him resulted in a historic second impeachment for fueling the January 6 violence. With the help of the public, investigators have identified hundreds of suspects and apprehended nearly 300 people for the alleged role they played in the riot.
Sentences for the charges against those who have been apprehended range from a fine to decades in prison, and federal law enforcement has vowed to continue the effort until all those involved are held responsible. When asked if he was concerned about the possibility of his own arrest, Yoder didn't seem all that fazed because he didn't think there were any "real legal ramifications" for his actions and that even if a case is brought against him, when everything is "hashed out" it'll turn out fine.
"That doesn't concern me," Yoder said. "The anarchy in government is what concerns me."