A Timeline of George Zimmerman's Bizarre Life After Killing Trayvon Martin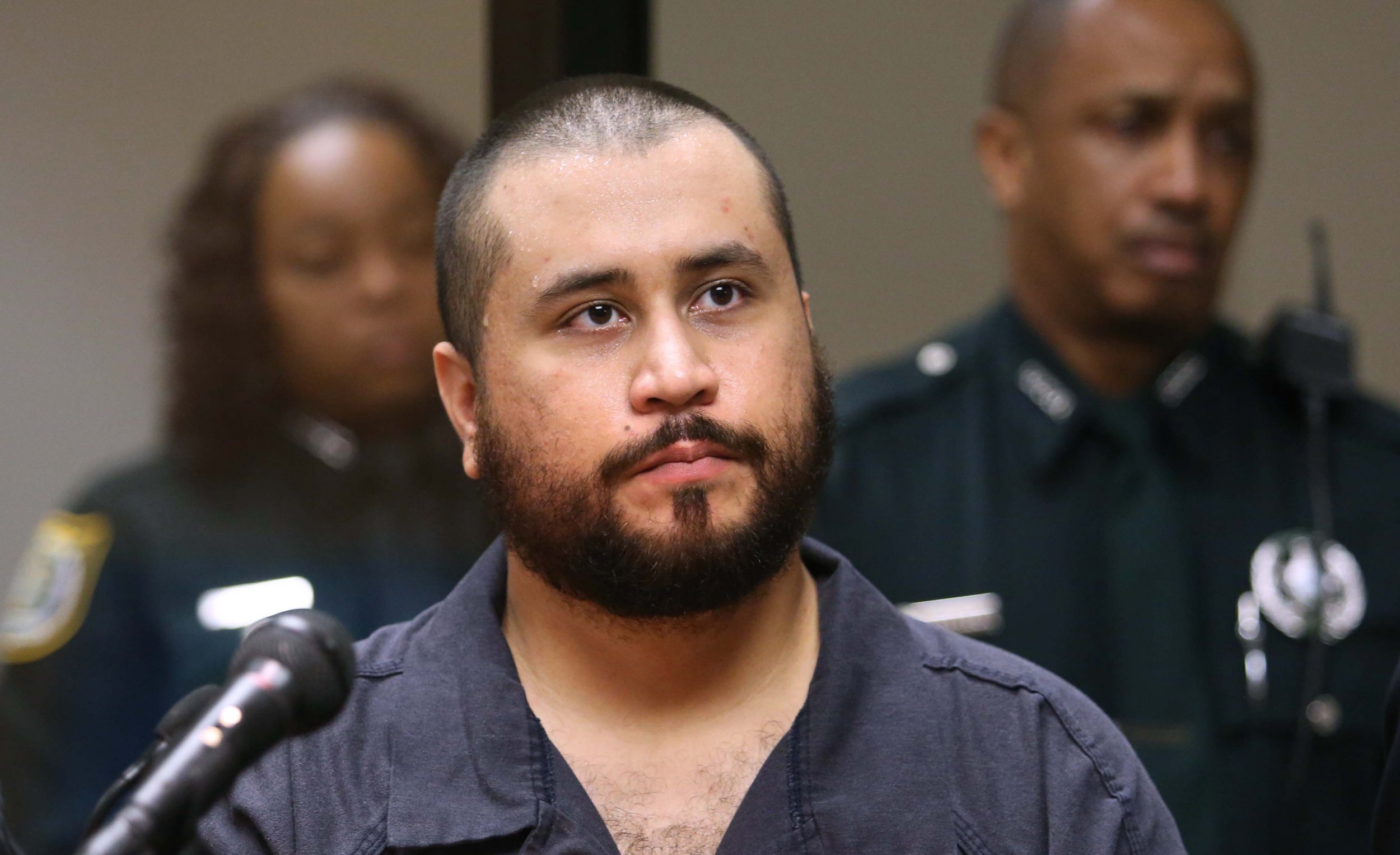 George Zimmerman this week announced that he would be putting the gun he used to kill Trayvon Martin in February 2012 up for auction. In the description of the item, Zimmerman called the Kel-Tec PF-9 9mm a "piece of American history." The bidding was set to start at $5,000, but before the auction could commence on Thursday, the listing was removed. Later in the day, another auction house picked it up. Zimmerman plans on using some of the proceeds to fight "Black Lives Matter violence against law enforcement officers."
Putting the gun up for auction was a bizarre and, some would say, deplorable move by a man who has failed to demonstrate any remorse for killing Martin, who was 17 at the time of his death. It was hardly surprising, though. Since being acquitted of murder charges in July of 2014, Zimmerman has found his name in the headlines for a variety of reasons, each seemingly stranger than the last.
February 26, 2012: Zimmerman kills Trayvon Martin, an unarmed 17-year-old, in Sanford, Florida. He would be charged with murder on April 11. Two days prior to being charged, Zimmerman launched a website to raise funds for his legal defense. Supporters donated over $200,000 before the site was shut down two weeks later. He is released on $150,000 bail on April 22.
July 13, 2013: Zimmerman is acquitted of all charges relating to Martin's death.
July 17: Days after being acquitted, Zimmerman rescues a family trapped in an overturned SUV in central Florida.
July 28: Zimmerman is pulled over for speeding in Texas. He is let off with a warning after telling the officer he has a firearm in the glove compartment. Dashcam footage captured the exchange.
August 19: Zimmerman is pulled over again, this time because the tint on his windows is too dark. According to TMZ, he got out of a ticket by citing the death threats he had been receiving.
August 22: Zimmerman shops for a tactical shotgun and poses for pictures in Cocoa, Florida. The gun he is looking at is made by the same manufacture of the handgun with which he killed Martin. Here is the shotgun in action:
September 3: Zimmerman is once again pulled over for speeding, this time in Lake Mary, Florida. He is issued a $265 ticket.
September 5: Zimmerman's wife Shellie files for divorce.
September 9: Shellie Zimmerman calls 911 after her soon-to-be-ex-husband punched her dad in the face and threatened to kill her family. "He is in his car and he continually has his hand on his gun and he keeps saying, 'Step closer.' He is just threatening all of us," she told the dispatcher.
Zimmerman is taken into custody, but no charges are filed.
November 18: Zimmerman is charged with aggravated assault after pointing a shotgun at his girlfriend, Samantha Scheibe. Zimmerman allegedly broke a table with the shotgun before pointing it at Scheibe "for a minute." He is released a day later on $9,000 bail.
December 11: Scheibe recants her statement and all domestic violence charges against Zimmerman are dropped.
December 21: Zimmerman sells a piece of artwork on eBay for $100,099.99.
Januray 22, 2014: Zimmerman debuts a new piece of artwork, titled "Angie," featuring prosecutor Angela Corey. His brother proudly tweets an image of the new work.
February 5: After agreeing to participate in a celebrity boxing match, Zimmerman says he wants to fight rapper DMX. "DMX has promised to 'beat his ass,' but no contract or paperwork has been signed or agreed to yet," DMX's spokesman told CNN.
February 8: After a fight with DMX had been scheduled for March 15, promoter Damon Feldman announced that the bout had been canceled. "Zimmerman was the wrong person to have in this," Feldman told Rolling Stone. "I looked into the eyes of my son and daughter today and couldn't imagine someone killing them and getting off scot-free. It just really hurt. It was a tough decision because I could have made two million dollars here, but at least I have my dignity. I'm happy. Thank you."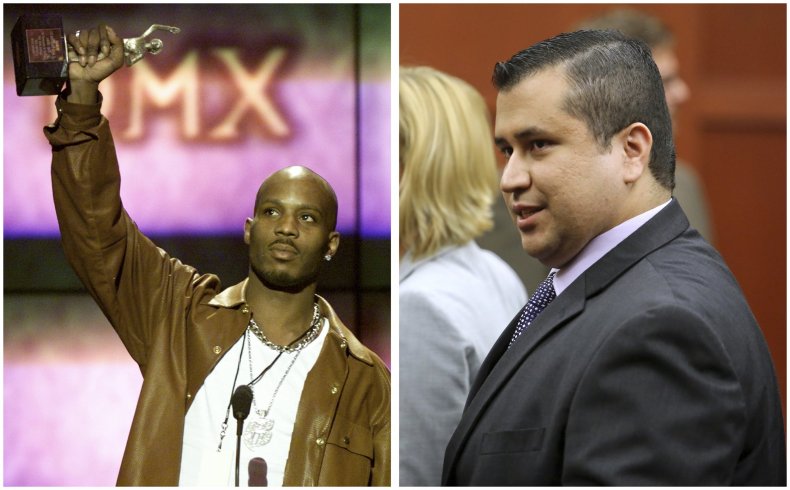 February 16: Zimmerman says he is homeless, receiving death threats and suffering from PTSD in a televised interview with Univision.
March 8: Despite protests, Zimmerman appears at a gun show in Orlando, Florida, to sign autographs. The show was relocated from its original venue because of backlash.
June 30: A Florida judge throws out a lawsuit filed by Zimmerman against NBC. The defamation suit claimed that NBC edited a story on Trayvon Martin's death to make it seem like Zimmerman voluntarily told a 911 operator that Martin was black.
July 27: A police report states that Zimmerman is working as a security guard at a gun and motorcycle store in DeLand, Florida. It was later discovered that Zimmerman was not employed by the store; he was only "patrolling" the area as a favor to the owner because of a recent burglary.
September 2: Zimmerman allegedly threatened to kill a man in a road rage incident in Lake Mary, Florida. Not only that, but he later showed up at the man's workplace. According to local police, Zimmerman pulled up next to the man in his truck and yelled, "Why are you pointing a finger at me?" After the man pulled into a gas station to call 911, he realized the truck driver was Zimmerman, who, gun in hand, allegedly said, "Do you know who I am?" and threatening to kill him. The man saw Zimmerman outside his workplace two days later. As always seems to be the case when Zimmerman gets into trouble, no charges were pressed.
October 1: Citing insufficient evidence, officials say federal charges are not likely to be brought against Zimmerman for the death of Trayvon Martin.
January 9, 2015: Zimmerman is arrested for aggravated assault with a weapon after allegedly throwing a wine bottle at his girlfriend. Once again, charges will not be filed.
February 24: The Justice Department officially closes its investigation into the death of Trayvon Martin.
March 24: In an interview posted online by his lawyer, Zimmerman criticizes Obama's response to Trayvon Martin's death, referring to the president as "Barack Hussein Obama."
Unfortunately after even after Jay Carney, his press secretary stated in the White House briefing that the White House will not interject in a local law enforcement matter and at most a state criminal matter, President Obama held his Rose Garden speech stating if I had a son he would look like Trayvon. To me that was clearly a dereliction of duty pitting Americans against each other solely based on race. He took what should have been a clear-cut self-defense matter and still to this day on the anniversary of incident he held a ceremony at the White House inviting the Martin-Fulton family and stating that they should take the day to reflect upon the fact that all children's lives matter. Unfortunately for the president I'm also my parent's child and my life matters as well. And for him to make incendiary comments as he did and direct the Department of Justice to pursue a baseless prosecution he by far overstretched, overreached, even broke the law in certain aspects to where you have an innocent American being prosecuted by the federal government which should never happen.
May 16: A man is charged with firing shots into Zimmerman's truck in Lake Mary, Florida.
August 18: Zimmerman unveils a new piece of artwork featuring the confederate flag to benefit a Muslim-free gun shop in Florida.
September 28: Zimmerman goes on a Twitter rant after retweeting a picture of Trayvon Martin's corpse. "Gee..I sure hate offending people that have plotted and tried to kill me and my family...," he wrote in one tweet. His account has since been suspended.
January 6, 2016: Zimmerman criticizes President Obama for crying while discussing mass shootings, calling him a "disgrace to the country" and "a piece of garbage."
January 23: Zimmerman's divorce is finalized.
May 12: Zimmerman attempts to sell the gun he shot Trayvon Martin with at auction. The listing is removed shortly after it is posted, after which another auction house picked it up.
A previous version of this article mispelled the name of the town in which Trayvon Martin was killed.