Georgia Reinstating Abortion Ban May Seal Herschel Walker's Fate in Runoff
The Georgia Supreme Court on Wednesday reinstated a ban on statewide abortions conducted after six weeks of pregnancy, a decision that could have major consequences for Republican Herschel Walker.
The higher court's granting of an emergency stay of a lower court's injunction in State of Georgia v. SisterSong Women of Color Reproductive Justice Collective et al. comes less than two weeks before Walker and incumbent Democratic Senator Raphael Warnock face off in a December 6 runoff.
It reverses a November 15 ruling made by Fulton County Superior Court Judge Robert McBurney that allowed for abortions to continue to occur past six weeks.
That earlier decision was described as "remarkable" by Georgia Attorney General Chris Carr's office in court documents, reported the Associated Press, and relied on a "wholly unsupported theory that has no basis in law, precedent, or common sense."
The one-page order said that seven of the nine Georgia Supreme Court justices concurred, while one was disqualified and another did not participate.
"We are pleased with the Court's action today," Kara Richardson, spokesperson for Carr, told Newsweek. "However, we are unable to provide further comment due to the pending appeal."
Walker, the Donald Trump-endorsed candidate who has run on a pro-life platform, has been accused of pressuring two women to have abortions.
When asked if this decision could help Democrats in the runoff, political analyst Craig Agranoff told Newsweek, "Yes, it is one of the important factors that got people motivated during the midterms."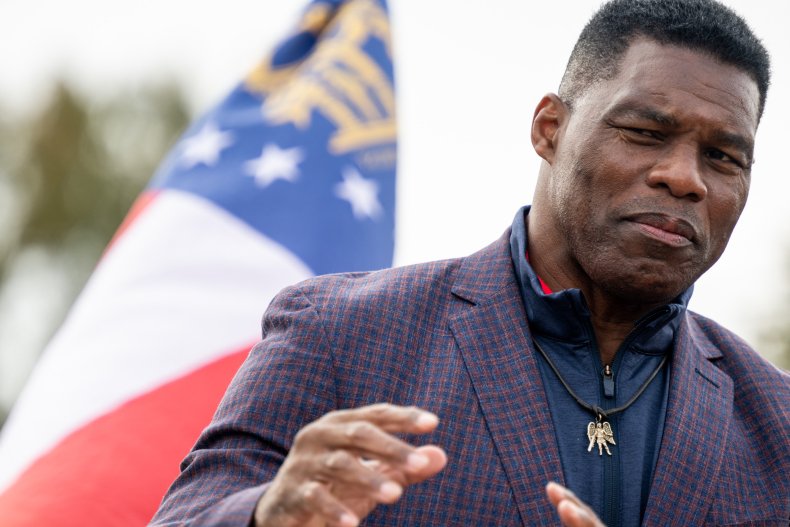 The Atlanta-Journal Constitution reported that Warnock calls himself a "pro-choice pastor" and has not been specific about any abortion limits.
While speaking November 19 to students at Emory University in Atlanta, Warnock said he believes "in a woman's right to choose" and claimed that Walker "wants a nationwide ban on abortion."
Warnock also said his opponent believes in no exceptions in cases of rape or incest, or to protect the life of the mother. Politifact described Warnock's statements as "mostly true."
An AP exit poll showed that seven out of 10 Georgia voters said abortion was either the single most important factor or an important factor in their midterm vote.
Katie Glenn, Georgia policy director for Susan B. Anthony Pro-Life America, told Newsweek that the anti-abortion organization is happy the law is back in effect after what it believed was an incorrect ruling regarding the injunction.
She said Carr deserves credit for "actively defending the law" and appealing the ruling to the higher court.
"We were really glad to see the Georgia Supreme Court uphold the will of Georgia voters and let the heartbeat bill stay in effect," Glenn said. "We think it's terrific they acted in such speed; sometimes it takes longer for courts to act....It signals the law is on strong standing even as the case continues."
The organization said following the midterms that failed GOP Senate candidates Mehmet Oz in Pennsylvania and Adam Laxalt in Nevada buried "their heads in the sand" by not being more vocal about Republicans' views on reproductive rights.
On November 9, the group announced it will spend at least $1 million in the Georgia Senate runoff election on behalf of Walker.
NARAL Pro-Choice America President Mini Timmaraju called the decision "a total affront to the millions of Georgians who are sick and tired of being denied their fundamental freedoms."
The organization's Georgia-based contingency has 83,000 members who will be organizing on Warnock's behalf due to this issue.
"While disappointing and deeply frustrating, we were not surprised when the Kemp administration filed a petition for an emergency stay following last week's ruling," Monica Simpson, executive director of SisterSong Women of Color Reproductive Justice Collective and lead plaintiff in the case, said in a statement.
"The governor and attorney general of Georgia are doubling down to control access to reproductive health care, and while the stay was granted, we will not stop fighting until this ban that is steeped in white supremacy is gone.
"All Georgians—including Black women and Queer, trans, low-income, and rural people—should have the freedom to decide to have children, to not have children, and to raise the families they have in thriving communities. We remain undeterred from realizing this vision," she added.
Julia Kaye, staff attorney with the American Civil Liberties Union's Reproductive Freedom Project, said the reinstatement of the ban "will cause immense harm"—notably to Black Georgians and those with limited resources who cannot afford to travel out of state and are "most likely to suffer severe medical consequences from forced pregnancy and childbirth."
"While this ruling is devastating, the case is not over," Kaye said. "We will never stop fighting to ensure that everyone, no matter their geography, race, or income, has the power to control their own bodies and futures."
Newsweek reached out to Walker and Warnock for comment.
Update 11/23/22, 4:15 p.m. ET: This story was updated with comment from NARAL.