Georgia Announces Limited Signature Match Audit After Pressure From Trump
Georgia Secretary of State Brad Raffensperger on Monday announced a limited signature match audit of absentee ballot envelopes in Cobb County after weeks of pressure from President Donald Trump and his supporters—although the audit will not change the outcome of the state's election.
The limited signature check audit—which is unprecedented—will determine whether voter signatures on envelopes match those on file for registered voters in Georgia's third most populous county. Georgia's leaders decided to carry out the audit in a bid to build confidence in the process, even though there is no evidence to suggest there was any widespread problem with absentee ballot signature verifications when votes were initially counted.
"I feel we need to take steps to restore confidence in our elections," Raffensperger, a Republican, said during a press conference on Monday, The Atlanta Journal-Constitution reported. "Starting immediately, we are pulling all of our resources together with [the Georgia Bureau of Investigation] to conduct a signature match audit in Cobb County."
Trump previously described Raffensperger as an "enemy of the people" in regard to his resistance to pressure from the president and other GOP officials to overturn his state's election results. Raffensperger has said that he voted for Trump and donated to his campaign, noting that the president "threw" him "under the bus anyway." The Georgia GOP official previously pushed back against accusations that there was a failure to match signatures properly.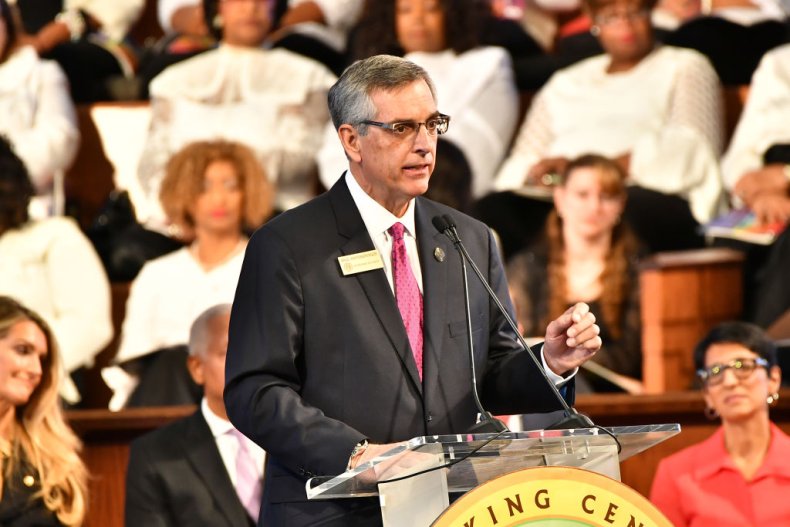 In an early Monday morning tweet, Trump again attacked Georgia and urged the state to look into signature verifications. He took aim at Governor Brian Kemp, a Republican whom Trump endorsed in 2018. After Georgia went for President-elect Joe Biden, the president has said he regrets endorsing Kemp.
"What a fool Governor @BrianKempGA of Georgia is. Could have been so easy, but now we have to do it the hard way. Demand this clown call a Special Session and open up signature verification, NOW," Trump tweeted. The president has repeatedly tweeted similar messages about Georgia's leaders over the past few weeks.
Kemp expressed his support for the signature match audit on Monday. "People want to have confidence in the election. That's why I felt like it would be good to do a signature audit just to bring people peace of mind," the governor said, according to the Journal-Constitution.
Raffensperger said that the entire state may be audited but said he wanted to start with Cobb County. Notably, the audit will only verify whether signatures on envelopes match those on record. Ballots will not be checked, as voters have a constitutional right to a secret ballot under Georgia's state constitution.
The announcement of the audit came as Georgia's state electors cast their 16 electoral votes for Biden on Monday. The former vice president won the state by a narrow margin of nearly 12,000 votes. This automatically triggered a hand recount, as required by Georgia's state election law. The state also carried out a machine recount—with neither subsequent tally altering Biden's lead significantly.
But Trump has insisted, without evidence, that he lost in Georgia—and in multiple battleground states—because of widespread voter fraud. The president and his supporters have mounted legal challenges in courts across the country, but nearly all have failed, with judges—including some appointed by Trump or other Republicans—pointing out that the allegations are not backed by evidence.
Attorney General William Barr, who was appointed by Trump and has been widely seen as one of his most loyal Cabinet members, asserted at the beginning of December that there is no evidence of voter fraud that would change the election's outcome.
Newsweek reached out to the White House and the Trump campaign for comment but did not hear back before publication.