Georgia Congressman Doubles Down on His RBG Tweet and Pro-Life Stance: 'It's Very Personal for Me'
Republican Congressman Doug Collins continued to push for a conservative Supreme Court justice to replace Ruth Bader Ginsburg on Saturday. The U.S. representative from Georgia is specifically calling for a replacement to undo, or at least stand against, the late trailblazer's record of pro-choice advocacy.
"It's very personal for me," Collins told reporters from Channel 2, an ABC-affiliated news station based in Atlanta, during a rally near Gainesville. The congressman is currently campaigning for a Senate seat ahead of Georgia's special election this November.
His latest comments followed a controversial tweet shared to social media on Friday—after the announcement of Ginsburg's passing—which suggested President Donald Trump should nominate a successor that does not support abortion rights. Trump pledged to appoint a nominee promptly in the wake of Ginsburg's death.
"RIP to the more than 30 million innocent babies that have been murdered during the decades that Ruth Bader Ginsburg defended pro-abortion laws," Collins wrote on Twitter. "With @realDonaldTrump nominating a replacement that values human life, generations of unborn children have a chance to live."
Ginsburg, a feminist icon who fought for gender equality throughout her decades-long tenure on the Supreme Court, died on Friday after a lengthy battle with metastatic pancreatic cancer. She was 87 years old. Her passing sparked widespread concern about the future of Roe v. Wade, a landmark 1973 Supreme Court ruling that legalized abortion, of which Ginsburg was a vocal proponent.
"The decision whether or not to bear a child is central to a woman's life, to her well-being and dignity. It is a decision she must make for herself," Ginsburg said in 2018. "When Government controls that decision for her, she is being treated as less than a fully adult human responsible for her own choices."
Collins justified his tweet in further comments to Channel 2 on Saturday. He also told reporters he hopes Trump will appoint a Supreme Court replacement who will overturn Roe v. Wade, according to the news station's report.
"The truth was about being honest about where we're going and what the president's going to do...Sometimes in life, there's just polite, and there's just the truth. That was the truth," the congressman said in reference to his Friday statement, which preceded a series of additional tweets articulating his pro-life stance posted on Saturday.
"For me it was about focusing on what is ahead in this seat that I believe the President needs to fill, and fill quickly," he continued. "There was nowhere in there where I was celebrating a death...I was making a statement."
Newsweek reached out to Collins' office for additional comments, but did not receive a reply in time for publication.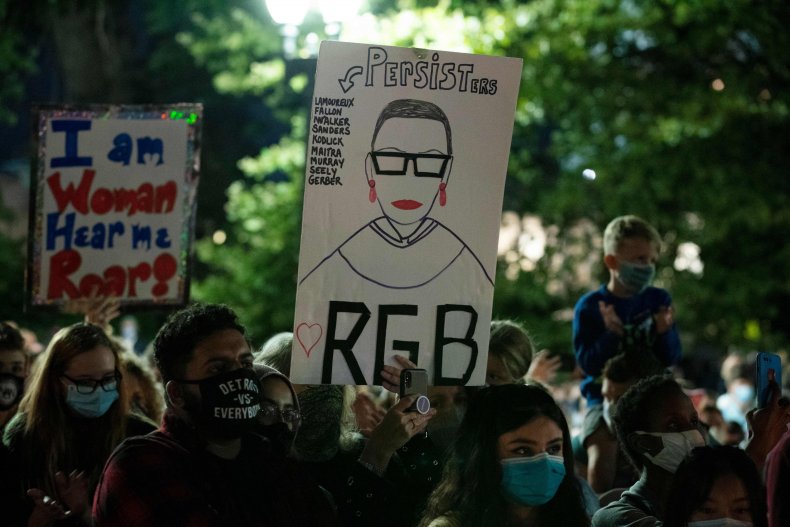 Correction 8:55 PM ET: to fix a typo on Ruth Bader Ginsburg's last name from an earlier version of this story.