Georgia Democratic Challengers Reportedly Raise Almost $90 Million as Polls Show Dems Closing Lead
Democratic candidates Reverend Raphael Warnock and Jon Ossoff in Georgia's runoff elections have raised roughly $90 million, as both tighten the race with their incumbent Republican opponents Senators Kelly Loeffler and David Perdue, respectively.
On Thursday, The New York Times reported that Warnock has pulled in $40 million since the November 3 general election, with Ossoff following closely behind.
Warnock's campaign was unable to confirm its fundraising totals to Newsweek.

Newsweek also reached out to Ossoff's campaign for confirmation and additional comment, but did not hear back before publication.
Several prominent Democrats have launched their own fundraising efforts to help the Warnock and Ossoff campaigns.
Former gubernatorial candidate Stacey Abrams' organization, Fair Fight, previously confirmed to Newsweek that it raised $9.8 million in the first four days of its fundraiser.
On November 12, Representative Alexandria Ocasio-Cortez of New York announced her grassroots initiative supporting Warnock and Ossoff pulled in $370,000 in donations.
Senator Bernie Sanders and former Texas congressman Beto O'Rourke also sent out fundraising emails on behalf of Warnock last week, asking supporters to contribute to the campaign.
Warnock has widened his lead over Loeffler with an advantage one-percentage point, according to a new InsiderAdvantage/FOX 5 Atlanta poll. The survey released Tuesday also showed that Ossoff and Perdue are virtually tied in their own race.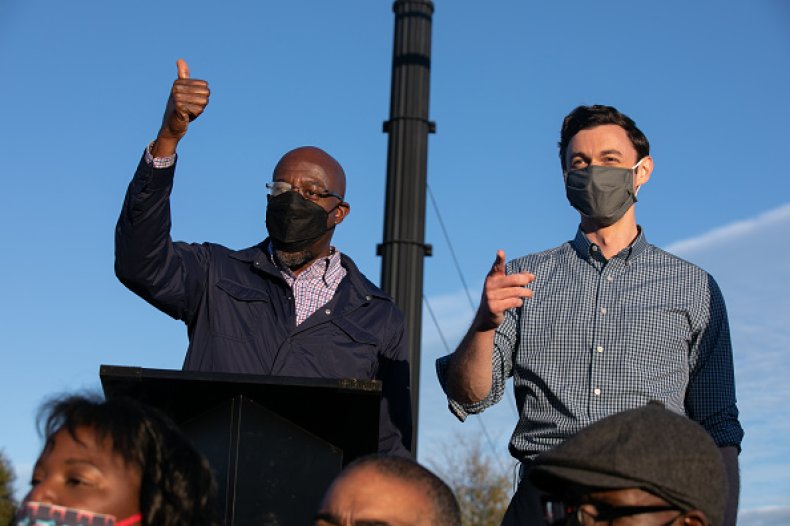 Millions may be pouring into Democratic fundraising halls, but the Republicans have also managed to draw in enormous sums of cash.
The two Republican Georgia senators and the National Republican Senatorial Committee announced they had collected $32 million in just the first six days after the November 3 general election.
Loeffler and Perdue have already outspent the Democrats in advertising, with the Republicans exceeding their challengers $77.2 million to $49.3 million, according to Kantar's Campaign Media Analysis Group.
Loeffler, one of Congress' wealthiest members, has spent the most of the four candidates. She has spent nearly $42 million in television time—more than two times what the senator spent up until the general election.
According to CNN, her opponent Warnock has reserved $24.4 million in ads, while Perdue has booked $19.3 and Ossoff has dropped $13.7 million.
The 63-day campaign has become the focus of the nation's political discourse.
With both Senate races in Georgia headed to a January 5 runoff election, the Democrats are aiming to take the Senate majority. If both Warnock and Ossoff win, the Senate would be pulled to a 50-50 tie. That would give Democrats control of the chamber as Vice President-elect Kamala Harris would be be the one to cast the tie-breaking vote.
The ads from Georgia have highlighted the national implication of the runoffs. The Republican incumbents have attempted to portray their challengers as socialists and emphasized the effect it will have over the Senate. Meanwhile, Democrats have criticized their opponents by targeting their responses to the coronavirus pandemic.
Loeffler and Warnock are set to debate on December 6. Ossoff will take the stage alone on the same day because of Perdue's refusal to participate.