Georgia Democrats Accuse Loeffler of Violating Senate Ethics Rules by Soliciting Campaign Contributions on Federal Ground
The Georgia Democratic Party accused Republican Senator Kelly Loeffler of violating Senate ethics rules on Wednesday by soliciting campaign funds inside the halls of Congress during an interview with Fox News' America's Newsroom.
In the interview, Loeffler encouraged viewers to visit her website to "chip in five or 10 bucks" and get involved with her campaign, a solicitation on federal ground that Democrats say was a clear violation of Senate ethics rules.
"Well look, we know that hundreds of millions of dark, liberal money is pouring into our state. That's why it's so important that everyone across the country get involved. They can visit KellyForSenate.com to chip in five or 10 bucks, and get involved, volunteer," she said.
According to the U.S. Senate Select Committee on Ethics, it is prohibited for Senate members to "receive or solicit campaign contributions in any federal building."
In response, Alex Floyd, a spokesperson for the Democratic Party of Georgia, described Loeffler's act as "shameless fundraising."
"This kind of shameless fundraising in the halls of the Senate is a clear ethics violation, and yet another example of how Senator Kelly Loeffler is looking out for herself," Floyd said in a statement.
"Instead of using her time in Washington to fight for coronavirus relief, she's doing what she thinks is best for her political campaign," he added.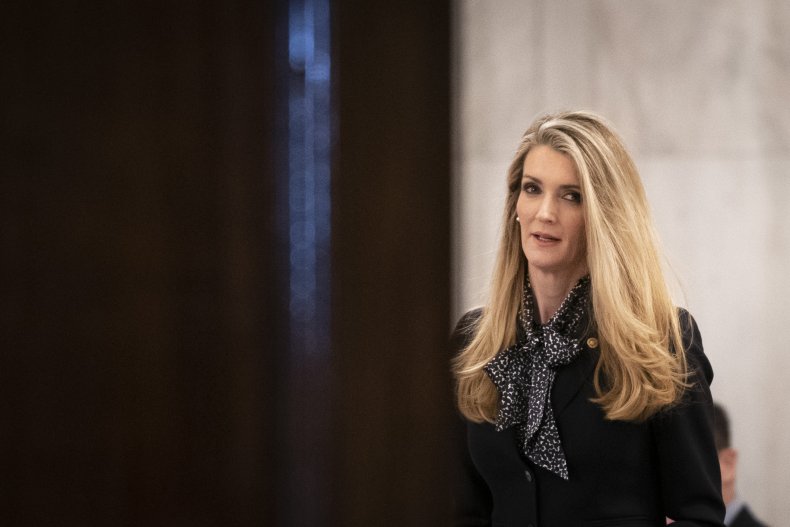 On Thursday, the Democratic Party of Georgia told Newsweek it is filing a formal complaint with the Senate Ethics Committee, and a request for investigation from the Department of Justice following Loeffler's alleged solicitation.
"She broke not only Senate rules but also federal law, and we've filed these complaints to ensure she's held accountable for her actions," said Scott Hogan, Executive Director of the Democratic Party of Georgia.
Newsweek reached out to a representative from the Loeffler campaign for additional comment, but did not receive a response in time for publication.
Loeffler isn't the first GOP candidate to be accused of violating Senate ethics. In October, South Carolina Senator Lindsey Graham received two formal complaints with the Senate Ethics Committee for doing the same for his re-election campaign.
The violation came after Senate Judiciary Committee's hearings for then-Supreme Court nominee Amy Coney Barrett on federal ground, when Graham was asked by reporters about fundraising for his re-election contest, and how the Supreme Court proceedings were affecting the race, the Associated Press reported.
"I don't know how much it affected fundraising today, but if you want to help me close the gap—LindseyGraham.com—a little bit goes a long way," he said. The statement prompted both the South Carolina Democratic Party, and the nonpartisan Campaign Legal Center to submit formal complaints to the committee.
On January 5, Loeffler will face off against Democratic candidate Raphael Warnock in a high-stakes Georgia runoff race.
Two Senate seats are up for grabs in the state, leaving Loeffler and her fellow GOP incumbent David Perdue to defend their seats against Warnock and Democratic candidate Jon Ossoff. If both Democrats win, the Democratic Party would regain control of the Senate.
Updated 11/19/20, 10:16 AM ET, with the Georgia Democratic Party announcing it would file a complaint in regards to Loeffler's alleged solicitation.