Georgia Democrats Favored by Bettors to Take Control of Senate
Betting sites have given favorable odds to Georgia Democratic Senatorial candidates Jon Ossoff and Raphael Warnock winning their races over the Republican incumbents, Senators David Perdue and Kelly Loeffler, respectively.
The odds of the victory stand at an implied 64 percent for Ossoff compared to an implied 50 percent chance of victory for Perdue, according to the betting website Sports Betting Dime. The same website gave Warnock an implied 56 percent of winning compared to Loeffler's implied 58 percent chance of winning.
The odds stand in contrast to political polls leading to the hotly contested Senate race which showed the Democrats and Republicans nearly tied. The political polling aggregation site FiveThirtyEight showed Ossoff and Warnock leading Loeffler and Perdue by around two percentage points just hours before the polls opened.
Sports Betting Dime's Lead Oddsmaker, Sascha Paruk told Newsweek that the odds are the average of the odds available in online betting markets.
"The odds have shifted over the course of the day because some sportsbooks continued to accept wagers," Paruk said. "As money was bet on one candidate or the other, the odds shift in their favor."
"This happened during the general election as well. Donald Trump was roughly a -500 favorite late into the night, but the world awoke to Biden as the odds-on chalk. Bettors may have learned from this," Paruk concluded.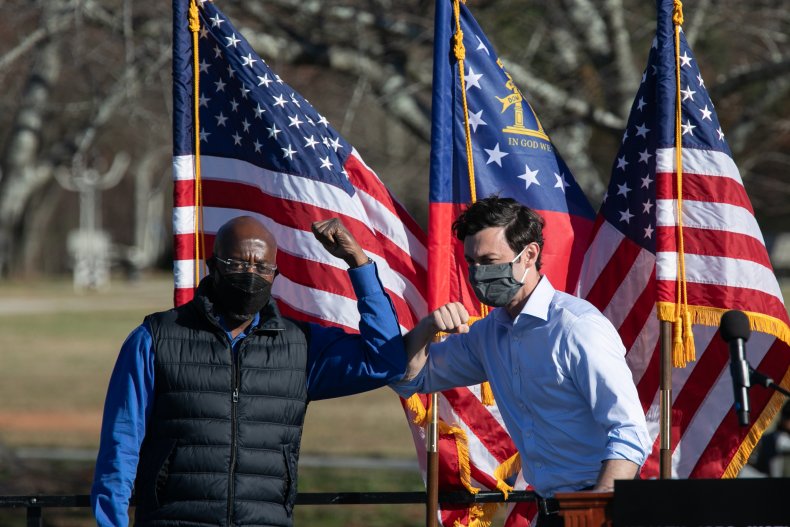 Sports Betting Dime's odds differ with those of the betting odds website Oddschecker, which aggregates betting data from dozens of bookmakers.
On Tuesday morning, Oddschecker gave Warnock 6-11 odds to win, an implied 64.52 percent chance of victory, and Loeffler 7-5 odds to win, an implied 41.67 percent chance of victory. The site also gave Ossoff 4-5 odds to win, an implied 55.56 percent chance of victory, and Perdue 42-41 odds to win, an implied 49.5 percent chance of victory.
However, by Tuesday afternoon, Oddschecker gave Warnock 4-7 odds to beat Loeffler, an implied 63.69 percent chance, and Loeffler 13-10 odds to win, an implied 43.48 percent chance. The same site gave Ossoff 4-5 odds to win, an implied 55 percent chance, and Perdue 11-13 odds to win, an implied 54.05 percent chance.
The race is closely watched because it will determine party control of the U.S. Senate. The betting odds, however, may not hold the best forecast seeing as betting odds on Election Night shifted in favor of President Donald Trump. He ended up losing by over 7 million votes.
The Republicans' chances could be complicated by unverified assertions from Trump, his re-election campaign and his supporters that the state's Republican governor and secretary of state allowed the election to be rigged in favor of Democratic President-elect Joe Biden.
Trump, his re-election campaign surrogates and his supporters have all criticized Georgia's Republican Secretary of State Brad Raffensperger and the state's Republican Governor Brian Kemp for declaring that Biden fairly won the state, thus contradicting Trump and his supporters' claims of widespread voter fraud.
As a result, some Republicans have vowed to "punish" the local Republican party for helping validate Biden's victory by not voting in the Senate race. Others simply distrust the electoral process and refuse to participate, having believed Trump's claims of massive vote rigging.
Update (1/5/2020, 8:05 p.m.): This article has been updated to include a statement from Sports Betting Dime's Lead Oddsmaker, Sascha Paruk.