Betting Odds Flipped to Favor Trump Win, Just as They Did on Election Night 2016
The betting site Betfair currently has its odds for Republican President Donald Trump to beat Democratic nominee Joe Biden 51 percent to 49 percent.
As of Monday, bookmakers had the odds of a Trump win at 40 percent. That was an increase from previous odds which had put Biden's odds at 65 percent to Trump's 35 percent chance of a win.
"Donald Trump is now favourite to win the election for the first time, surging by 27% on Betfair Exchange since polls closed," Betfair spokesperson Sam Rosbottom said in an email. "In a remarkable turn of events, Trump has overtaken Biden significantly and is now in pole position, suggesting it could be a very nervous night ahead for Biden."
Leading U.K. bookmaker, Oddschecker, concurred, saying, "America went to sleep knowing Joe Biden was the sportsbooks' favorite to win the 2020 U.S. Election, that hasn't changed, but the gap between Donald Trump and Biden has been severely narrowed overnight."
On November 2, Oddschecker had Biden's election odds at a 65.2 percent chance of winning. By Election Day, that percentage had dropped to a 61.9 percent chance.
In 2016, bookmakers gave Trump less than a 20 percent chance of winning on the day before election day, according to OddsChecker, a site that aggregates odds from dozens of bookmakers. His 2016 odds were 20 percentage points lower than his odds leading into Election Day 2020.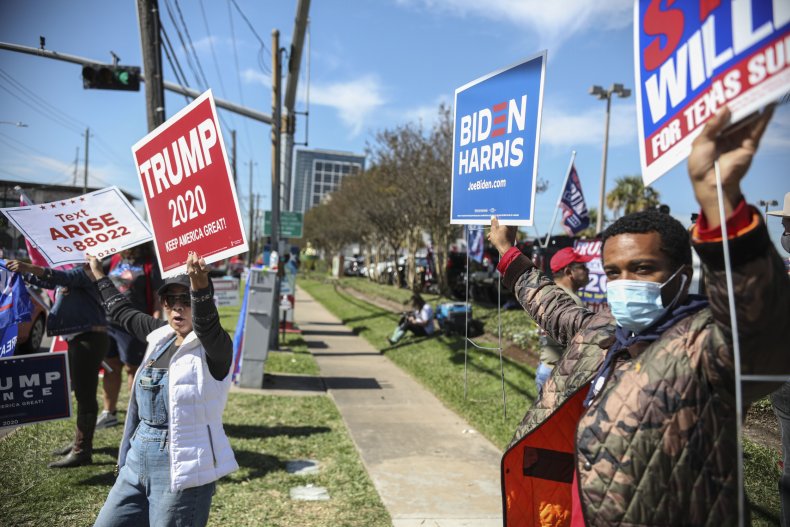 Biden has led Trump in every national poll released this month, according to data maintained by FiveThirtyEight and the polling aggregator RealClearPolitics.
Trump has repeatedly cast doubt on national polling as flawed and inaccurate though, contending that the race is much closer than polls indicate. As proof, he has pointed to national polls in 2016 that largely showed him trailing behind Clinton.
While speaking at a Biden campaign rally on October 21, former Democratic President Barack Obama said he isn't following polls and encouraged people to go out and vote no matter what polling says.
"We cannot leave any doubt in this election," Obama said. "We can't be complacent. I don't care about the polls. There were a whole bunch of polls last time [that] didn't work out."
Pollster Frank Luntz told Newsweek in late October, "Based on polling right now, if Trump should win the electoral college, it would be a devastating blow to the polling industry. None of the major pollsters could claim that they got it right."
Luntz added that if national polling firms fail to predict Trump victories in both 2016 and 2020, their industry with be thrown into upheaval over massive public distrust.
Newsweek contacted the Trump campaign for comment.