Georgia Dems Balk at Clarence Thomas Statue: 'I'd Rather Them Keep a Confederate Monument'
State Republican lawmakers in Georgia are pushing forward an effort to erect a statue of conservative Supreme Court Justice Clarence Thomas at the state Capitol, but some Democrats are outraged at the proposal.
Thomas is currently the longest-serving justice on the Supreme Court, appointed by former President George H.W. Bush and seated in 1991. The top judge—who hails from Pin Point, Georgia—is also only the second Black justice to serve on the nation's top court.
While GOP lawmakers in Georgia, led by state Senator Jason Anavitarte, believe it's appropriate to set up a statue of Thomas by the state Capitol, some Democrats vehemently disagree. State Representative Donna McLeod, a Democrat, said she'd prefer a monument to a Confederate leader over Thomas.
"I'd rather them keep a Confederate monument than a statue of Clarence Thomas," McLeod said, according to The Atlanta Journal-Constitution. "That's how much I don't like the idea."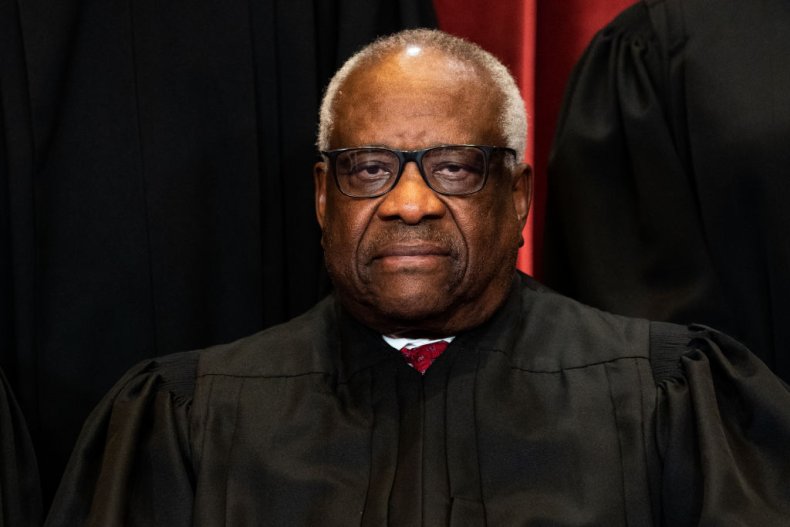 Monuments to Confederate political and military leaders across the country have increasingly been removed from the public by local officials or vandalized by protesters. The southern Confederate states aimed to secede from the U.S. in 1860 as they hoped to continue enslaving Black Americans. The Confederacy collapsed in 1865 with the victory of Northern troops in the Civil War.
Thomas was accused of sexual harassment by Anita Hill during his contentious confirmation hearing in 1991. Despite her allegations, Thomas was narrowly confirmed to the Supreme Court. Since then, he has been one of the most reliably conservative votes on the nation's top judicial body.
The justice considers himself an originalist, which means he aims to interpret the Constitution as the nation's founders originally intended. He has voted against allowing same-sex marriage, supported restrictions on women's reproductive rights and opposed gun regulations during his tenure with the Supreme Court.
"The grounds of the Georgia Capitol should be a place where visitors can connect with their elected officials, as well as a place that provides opportunities to learn about Georgia history," Anavitarte said in a late September press release.
"The grounds of the Georgia Capitol currently include statues and monuments to many notable Georgians. Justice Clarence Thomas, as a Georgia native and as a dedicated civil servant with nearly 30 years of service on the Supreme Court of the United States, it is only fitting and proper that a statue of him be displayed at the Capitol. Justice Thomas is only the second African American United States Supreme Court Justice and only the fourth from the State of Georgia," the Republican lawmaker explained.
Despite being well-known as a reliably conservative vote on the Supreme Court, Thomas recently suggested that the top judicial body should not be viewed as overtly partisan. He compared the top court to a referee during a mid-September speech at the University of Notre Dame in Indiana.
"I think the media makes it sounds as though you are just always going right to your personal preference," Thomas said. "So, if they think you are anti-abortion or something, personally, they think that's the way you always will come out."
"If a referee makes a call and it favors Notre Dame and Notre Dame wins, people would say, 'Well, that was fine referee,'" Thomas said. "But, if the referee makes that very same call and it works against Notre Dame, 'Oh my goodness, This guy can't even see.'"
Newsweek reached out to Anavitarte for further comment but did not receive a response before publication.